Archived Rumble
WCU students start semester amid pandemic
Wednesday, August 26, 2020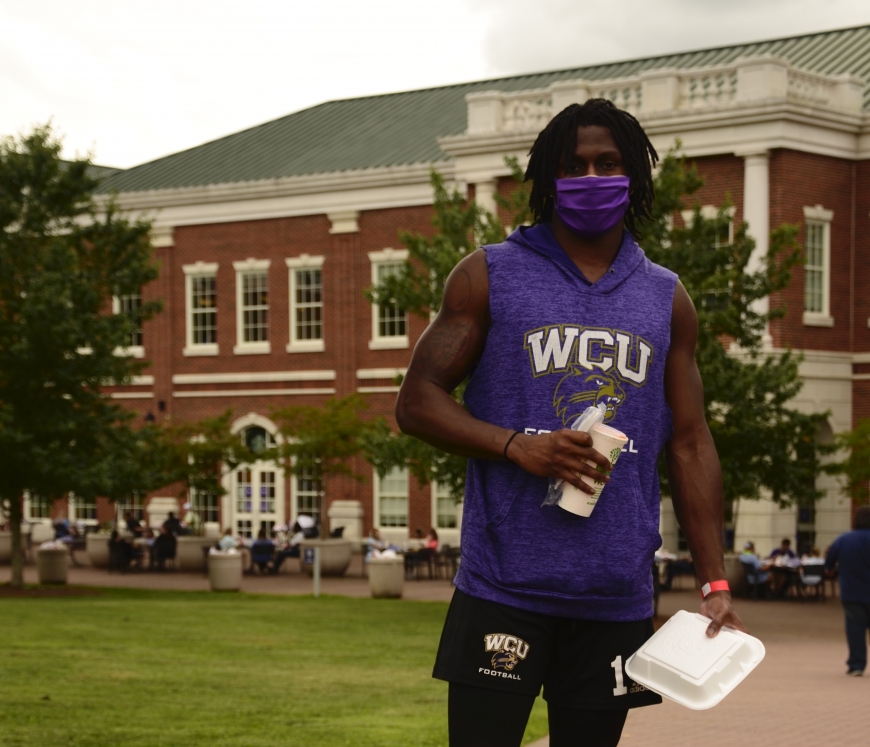 Even outdoors, masks are a frequent sight on the Western Carolina University campus.
Holly Kays photo
The second week of classes at Western Carolina University is now underway, and while the COVID-19 Pandemic means that it's shaping up to be an unusual semester, many students seem to be happy with how the university is handling the situation.
"I think that Western's been doing a really good job," said Preston Pyatt, a Franklin resident and fourth-year student who is beginning his first year at Western. "They provided us with hand sanitizer and face masks. They have all the regulations, like whenever you're inside you have to have a mask on and they recommend whenever you're (outdoors on campus) to have a mask on, which a lot of people do keep up with. I feel like a lot of the regulations they've put in place really do prevent the spread."
Still, Pyatt said, he'd be surprised if COVID-19 doesn't eventually shut things down.
"I'm hoping that we get to be here for a good while, but I'm not expecting to be here the whole semester, unfortunately," he said.
For freshman Khadija Davis, the typical first-year challenge of finding one's place in a campus of 10,000 people have loomed larger than the fear of COVID-19.
"I was very nervous because when I first got here I was kind of by myself," said Davis, who came from Charleston, South Carolina. "My friend wasn't able to move in until the 14th. It was new meeting new people and just having an experience of being on campus and everything. I just felt like this is going to be my new home, and I have to get used to it. So far I'm adjusted."
Having to wear a mask everywhere still feels a little weird, she said, but after spending the last part of her senior year of high school behind a computer screen, it's "liberating" to be on campus, even if many classes still take place online.
This semester is junior transfer student Janeissa Romero's first year at Western, but COVID-19 didn't scare her away.
"I work in healthcare, so I know what it's like," said Romero, who is a medical assistant. "I'm not too nervous about it because I know how to deal with it at this point."
For senior Trace Cook, the hardest part has been foregoing some of the social aspects of campus life that make it such a great place to be — especially given that this is his last semester.
"The most difficult thing is resisting the urge to be overly social, because it's just a jovial place," he said. "You have all these young people and you want to go out and fist bump and you want to get in close groups and do stuff. That's been a little disappointing that part of it has been reduced, but other than that, my classes are fascinating as usual, studying what I love."
Instead, he spends his evenings out by the fountain playing guitar, or else participating in worship with the Campus Catholics — the group has a good social distancing system, he said.
"I feel pretty safe with the parameters the university has set up," he said. "However, I am a little disappointed in the way some of my fellow students are disregarding those parameters, and that concerns me, but the fact that I'm following those parameters and social distancing makes me feel secure. My largest concern is that everyone who is not paying attention is going to get us sent home, and I'd like to finish my final semester here on campus."
As of Wednesday, Aug. 26, 58 students, three employees and three subcontractors had been diagnosed with the disease since July 1, with 28 of the student cases, none of the employee cases and all three subcontractor cases confirmed in the week of Aug. 17-23.
It's shaping up to be an unusual semester for sure, but many students seem to be happy with how the university is handling it.
The university is reporting positive cases to the Jackson County Department of Public Health for contact tracing.
"After speaking with the health department this week, I believe they are diligently trying to determine if the students' exposure occurred before they arrived on campus, because most have not been here the 14-day period that is the incubation period of the virus," said Pam Buchanan, director of health services for WCU, in a statement Friday, Aug. 21. "We will learn more as that process is completed and any commonality if determined."
During the week of Aug. 17-23, 177 COVID-19 tests were administered on campus, with 22 of them — 12.4 percent — coming back positive. Of the 55 beds available for isolation and quarantine of on-campus students, 25 are currently in use, with 80 students in quarantine or self-isolation off-campus. Madison Residence Hall has been set aside for quarantine and isolation of on-campus students.
Current data about COVID-19 numbers at WCU is available at www.wcu.edu/coronavirus/reporting.aspx.