Archived Rumble
Check your breasts
Thursday, October 01, 2020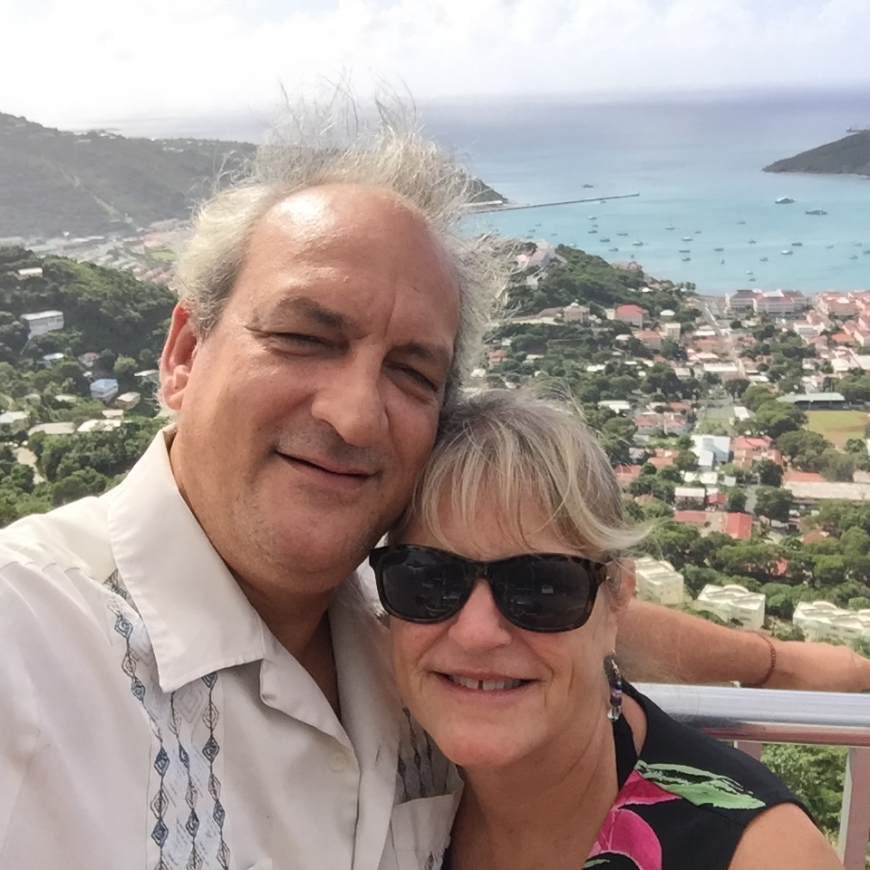 By Jonathan Austin
Susan Austin was 56 when she saw an ad on television about how women should be doing self exams to see if they can find lumps in their breasts. Obvious lumps can be an early sign of breast cancer.
"It was October and a breast self exam commercial came on, because it was Breast Cancer Awareness Month," she said. "I got up right then. I went to the shower and did a breast check."
She found a lump. She'd had her annual mammogram, but now, there it was; a large lump in her left breast. "I didn't have to press deeply, it was obvious. It was a very large lump. It stuck out in my breast, and felt like a wart," she said.
Fear gripped her. She knew her mother had dealt with breast cancer, and a friend had died when her breast cancer could not be controlled with standard treatment. "It was very scary. My knees were weak," she said.
I'm Susan's husband. That day she told me what she found. We agreed that she needed to immediately address her concern.
"I called my doctor, and he scheduled an appointment for me to come in," Susan said. "He agreed I had a lump, and sent me to get an ultrasound mammogram at Haywood Regional Medical Center. He was supportive but said we needed to wait for the results," she said.
"They also did a needle biopsy in outpatient surgery, and the results were that I had breast cancer. It was in the left breast and in the lymph nodes under my armpit, which meant a stage 3 diagnosis, because it had spread," she said.
"Within a week I was in surgery to have that left breast and the lymph nodes removed. Initially the right breast wasn't involved," Susan said. "Afterward I was in pain, and I was saddened."
It felt like an important part of her life had been cut away.
"When I went home I had to collect the drainage in a tube inserted along my rib cage, draining out of the surgical wound. It was just part of the process," she said.
"I healed well, then I began six months of chemotherapy and then 28 days of radiation treatment," she said.
The doctors at the radiation center in Clyde selected a specific mix of chemo for Susan. It was called 'The Red Devil.'
"Nobody ever tells you how much the Red Devil is just the hardest chemo," Susan said. "That's when I lost my hair. My hair was coming out, so a friend cut it all off."
In support, I also shaved my head. Susan and I were equally bald. However, mine began growing in again, while her head remained bare. The solution, as every woman who has had chemotherapy knows, is to get a wig.
"There's a place in North Asheville, a wig store for cancer patients, and I picked out a wig that resembled my natural hair," Susan said. Nonetheless, there is no denying the mental impact of everything: surgery, weakness, fear, losing your hair. "It's depressing, because I knew I was bald," Susan said.
"My brother is a church organist and there was a party for him as he left his Asheville church for a new job outside New York City. We wanted to be there to help him celebrate. I dressed up and put on my wig. My youngest son, Michael, was there. He'd driven up from near Raleigh and his head was shaved, as well," she said. "Michael and I went into the bathroom and I removed my wig to see our bald heads side-by-side. We took a selfie. We were laughing because we were bald buddies."
Susan still had her right breast and had received a knitted prosthetic to put in her bra to simulate the missing left breast. "The prosthetic has a funny name, knitted knocker, made by a group of women who understand what is missing and want to provide some solace," she said.
Yet Susan still felt awkward, one-breasted, out of balance. She also feared the return of cancer.
"I had a conversation with my surgeon about taking the other breast, because that would mean no more breast cancer. I thought I still had a target on my chest. My children told me I didn't need them anymore, if I wanted to get rid of the one that remained," she said. "Jonathan and everyone were supportive of me doing what I felt I needed to do," she said.
"I knew a woman whose cancer came back in the other breast, and she didn't survive it. That weighed on me. That was my worry, and my surgeon acknowledged that he could remove the remaining breast, which would eliminate the risk of further breast cancer," she said.
So that's what we did.
"But I miss my breasts," Susan said. "I don't feel comfortable. I think I was 12 when I got a bra, and I was in my upper 50s when I had my cancer surgery. It was not easy to decide to have the other one removed, but I came to believe it was the best thing to do," she said.
Did the loss of her breasts change her?
"I believe it's the cause of my depression. I don't talk about it, like a dummy. It was worth doing it, to eliminate the cancer, but now, going on two years, I am thinking about having reconstructive surgery. I think it would make me feel better. But I don't know. I am in such turmoil whether to do it or not. I like not having to wear a bra, but I also miss it, terribly," she said.
Susan knows the surgery saved her life, and she is forever thankful to the doctors and support staff who accompanied her through the battle.
She also has advice for women of all ages. "Do a breast check, every month, because it can arrive fast and furious. I had mammograms once a year, but this just popped up. Take care of yourself. Check your breasts."