Archived Rumble
Greek Yogurt Banana Bread
Wednesday, October 28, 2020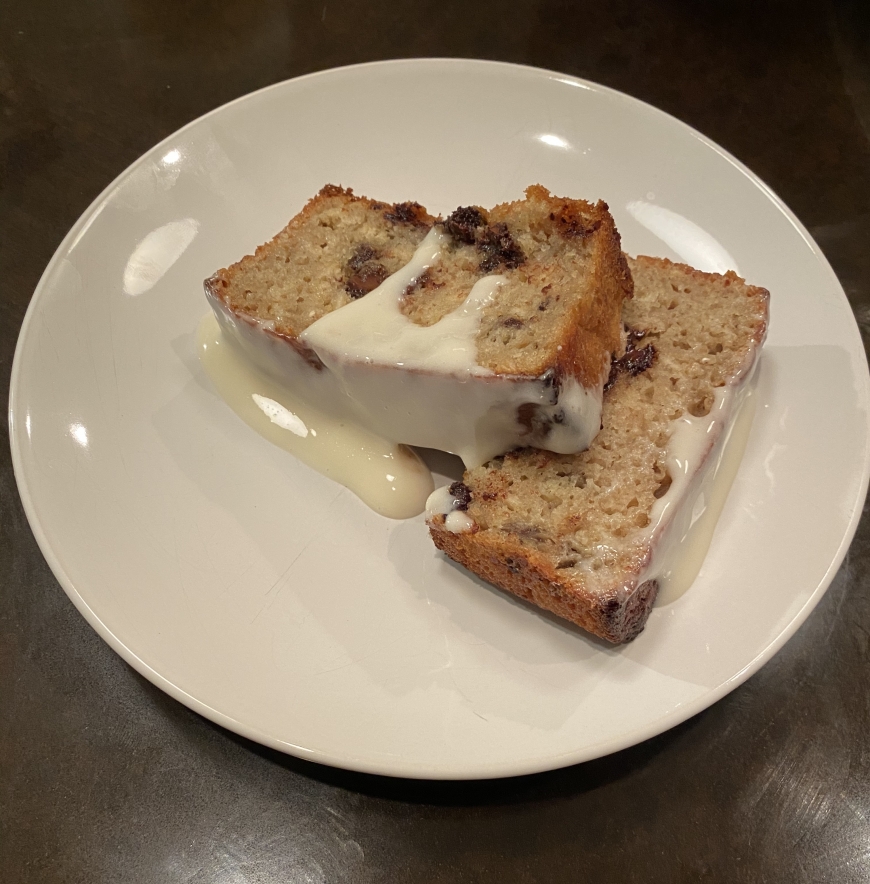 Banana cake with chocolate icing was a staple during childhood. Banana bread is a staple of the comfort food genre.
My mother, brother and sister have birthdays on July 22, July 26 and July 28, respectively. Each year, the week that their birthdays fell on was the pinnacle of summer. Birthday parties, waterslides, friends, grandparents, cousins, cookouts, sparklers … and of course, banana cake.
I don't remember how or when we started having banana cake for July birthdays, it could have been a forever thing, but I do know that the flavor of it has become synonymous with celebration, family and comfort.
Growing up, summertime birthdays were a real affair at the McLeod household. A porch party with a stellar theme, family and friends, a waterslide all the way down the hill in the backyard, homemade piñatas full of candy, a full spread of delicious food and a relaxed but regimented schedule run by the party queen herself, my mom, Loretta McLeod.
The piñata making would start a few days before the party, with a giant balloon and carefully layered strips of newspaper soaked in flour and water. Once dried it was ultimately painted or shaped to match the theme of the party. Decorations and costumes were a multi-day affair as well. The dress-up box would get raided for all it had to offer, banners were painted and streamers were strung.
The cake making was saved for the day of. There was a system that I don't think I could ever forget. We let the frozen bananas defrost on the preheating oven. Meanwhile we mixed together dry ingredients in one bowl and wet ingredients in another, save bananas and sourcream. Then we peeled the bananas which, every single time, were inevitably still so cold it hurt your hands to peel them. Then we'd mash the bananas with a masher, something we were each wildly thrilled about at one age or another. Then we'd add the bananas to the wet mixture.
And then came the magic trick. Every time we made the cake my mom would tell us that we had to alternate adding a portion of the dry ingredients to the wet ingredient mixture and stirring, and a portion of the sourcream to the wet mixture and stirring. She always said it made it more fluffy. Or was it that it made it softer? More creamy? Or did it make it taste better? I think it was about fluffiness.
When I was making my Greak Yogurt banana bread today, as I was alternating adding yogurt and dry ingredients, I realized I couldn't remember exactly why I was taking this extra step. But I knew I learned it from my mom, who had learned it from her mom, and I came to the conclusion that that's what really mattered. I trust those women, and the others in my family, with the magic they have instilled in my life. That's why I don't question whether I should alternate these ingredients, I know it must create some benefit. If nothing else, it makes us think of each other. I trust that there are some things moms just know, and we'd do well to remember them, no matter how big or how small.
The importance of family and celebration, of jumping into every body of water you come across, of always packing snacks, of not being too "chicken" to dance, of creating meals for people you love to gather around the table and enjoy.
This banana bread loaf is a continuation of banana cake. As the years have gone on, mom discovered the marvels of mascarpone frosting. A delicate and tangy alternative to the chocolate frosting we loved as kids.
I love adding greek yogurt or sour cream to most cakes and eventually had to try it with banana bread as well. You could substitute sour cream for greek yogurt, or use less sugar and substitute coconut cream for yogurt. You can add nuts or leave them out, use oats or not, frost the loaf or not. You could leave out the chocolate chips, but whatever you do, I recommend alternately adding the cream and dry ingredients.
Recipe:
(Makes two full loaves)
For the bread:
½ stick of butter melted
1 C. brown sugar
1 C. cane sugar
1 Tbsp. vanilla
1 Tbsp. lemon juice
1 C. Greek Yogurt
2 eggs
5 overripe bananas
2 ¼ C. flour
1 ½ cup oats
1 Tbsp. cinnamon
1 tsp. Salt
1 tsp. Baking soda
1 tsp. Baking powder
For the Frosting:
¾ cup Greek Yogurt
2 tsp. Vanilla
2 tsp. Lemon juice
2 cups sifted confectioners sugar
Directions for the bread
Preheat oven to 375 degrees

Whisk together melted butter, sugar, vanilla, lemon juice, eggs and mashed, extra-ripe bananas until creamy.

In a separate bowl, whisk together flour, oats, cinnamon, salt, baking soda, baking powder

Add a third of the Greek Yogurt to the banana mixture and combine

Add a third of the flour mixture to the banana mixture and combine

Continue adding yogurt and flour mixture alternately until all combined

Bake loaf at 375 for 30 minutes, or until cooked throughout. (toothpick test)
Directions for the frosting
Combine yogurt, vanilla and lemon juice in a bowl

Sift powdered sugar into the yogurt mixture, whisking as you go, until all combined. Taste test as you go to make the frosting as tangy or sweet as you like!
Leave a comment
1

comment
Hannah, I was just sharing my memories of Lori's Banana Cake with Chocolate frosting last week with my sister. Everything you described, pinatas, great food, water slides, ice cold drinks, dress up clothes, porch time- all came flooding back to me as I described that yummy cake!
I will try your banana bread recipe soon. Cheers to the McLeod July birthdays!

Monday, 07/12/2021