Archived Rumble
Q & A with local mom and teacher Kristie Easler
Wednesday, December 02, 2020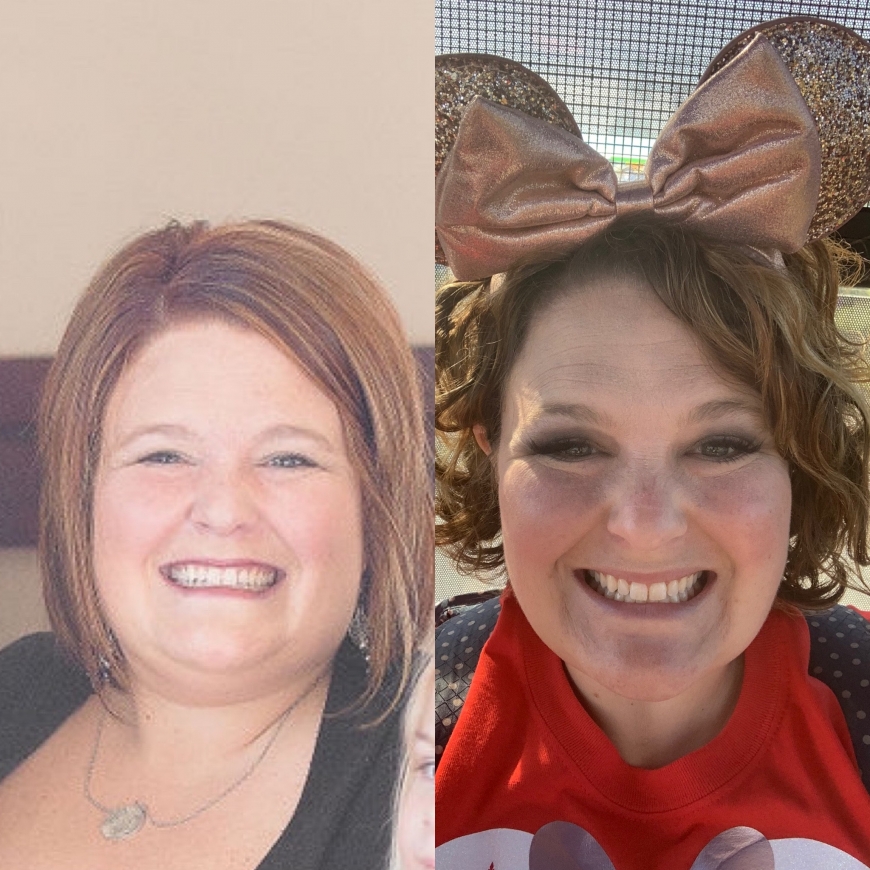 Rumble: What motivated you to get healthier and work on a physical transformation?
Kristie: I was motivated by turning 38! No, really, this was something that was always on my mind. I decided I would be at a healthy weight and BMI by the time I turned 40. I have always struggled with my weight and the ability to lose it due to many factors including grief, hypothyroidism and infertility. After seeing one of my friends get healthy and lose weight, I decided to ask her what she was doing. After her story and a lot of research, I chose to make the jump to a healthier life. The last few years I've been in a fog of grief after losing my dad suddenly and unexpectedly. The fog settled some and I saw myself just making it through instead of living every day at my best. Everything was strained by my grief and pain. When in quarantine I had more time to reflect on where I was and where I wanted to be in the future. Even though it was a difficult time in the world, it made me stop and evaluate myself and life. The conclusion was that it was time to make some changes.
Rumble: When did you start this journey?
Kristie: I officially started July 6, 2020
Rumble: What programs, exercise regimens, strategies, eating plans, etc. have you been using?
Kristie: The only reason I have been successful is because I'm working from the inside out. The habits I'm focused on build on each other and I adjust when needed. I am reading and journaling through two informative resources that walk me through my thinking, habits, my "why," and how to create a healthy life. I began eating six times a day and drinking up to 100 oz. of water. I am also moving more! I've learned it's not about what you do but why you do it. The goal is to focus on one habit at a time and adjust when needed. I'm always reflecting and not just going through life unaware. All of my decisions matter. One bite of something that isn't in my best interest can hinder my transformation.
Rumble: Tell us more details about your experience.
Kristie: I have lost 62 lbs. so far but every week I discover non-scale victories that outweigh the pounds I've lost. Being able to run some without getting out of breath, being stronger, going down in clothing sizes, feeling more confident, my rings being looser and so much more! Not only have my healthy habits been positive for my body but also my faith, relationships, sleep and grief. Every positive choice I make enhances my daily life. I have gained so much more than I have lost in this journey. I am working through it and every day learning and growing (well shrinking, actually). The community I have in my program has been super encouraging and helpful. My family and friends are very happy for me and are always commenting on the changes they see not only in my physical appearance but also in my daily outlook. Struggling with grief changed me and now I'm really giving myself some attention and doing what's best for me. I see me again. What a relief!
Rumble: Do you have an ultimate goal with this transformation?
Kristie: I have more to go and haven't finalized my goal weight yet. I want to be in a healthy BMI and weight range. As I get closer I will know. Honestly, it's not about a number but about my health and how I feel. I know I have to lose at least 100 lbs. When I started this journey that number sounded devastating but now I know I can get there and beyond with the healthy habits I've established.
If you would like to know more about Kristie's journey or have questions for her, you can send her an email at This email address is being protected from spambots. You need JavaScript enabled to view it..