Archived Rumble
Celebrating rich traditions on Hanukkah
Wednesday, December 09, 2020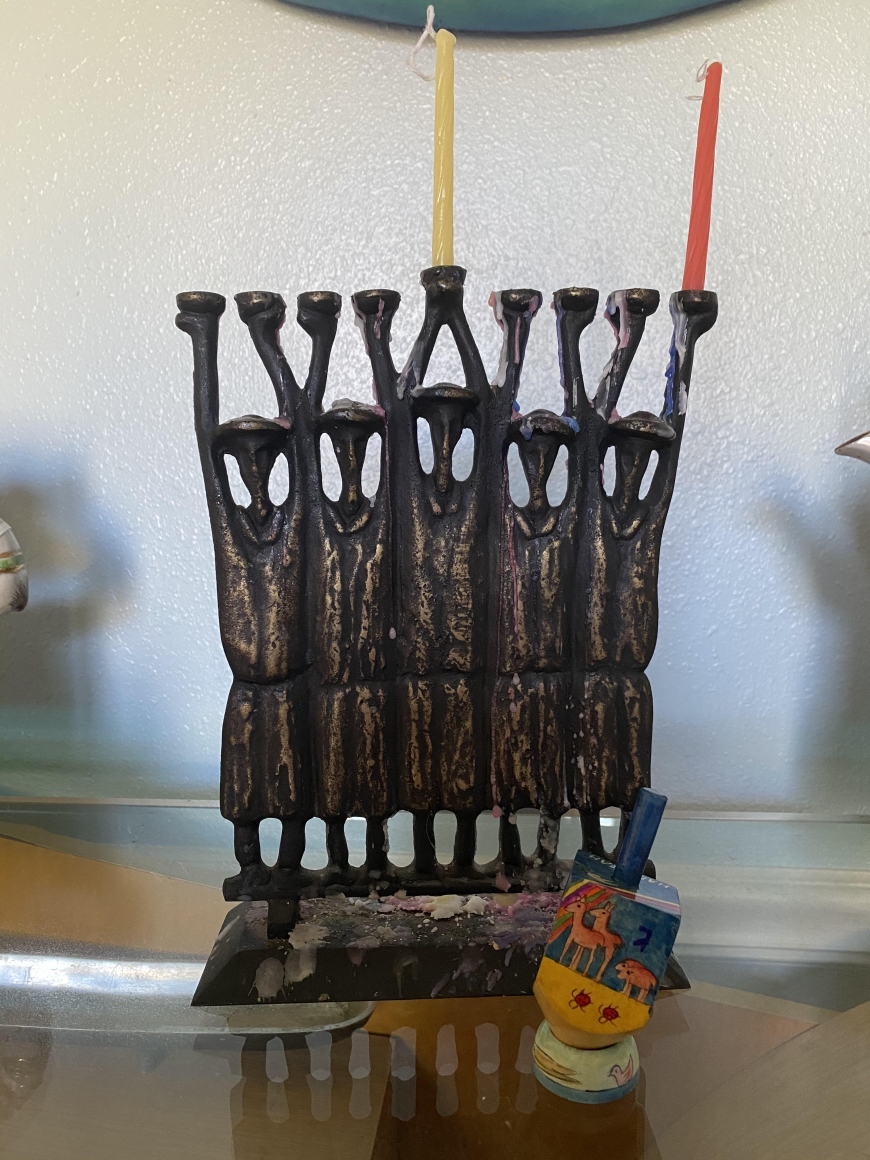 Birenbaum's family lights the menorah to celebrate Hanukkah
Hylah Birenbaum of Waynesville shares how she and her two sons celebrate Hanukkah traditions that have been passed down in her family.
Rumble: Growing up, how did your family celebrate Hanukkah?
Hylah Birenbaum: Birenbaum means pear tree in German so my mom bought a wooden tree with no leaves and we would decorate it with blue lights and little pears for decorations — that was our Hanukkah bush. Hanukkah is the season of lights so everything is bright and festive. We light the menorah for eight nights and it's just a long joyous holiday. Mom would also make us stockings to hang but they were in the shape of a dreidel so instead of a spinning top, it was a pouch to put gifts in. Growing up there wasn't a traditional big feast — just a normal meal, but I've broken that tradition and I make latkes with my dinner.
Rumble: How does your family celebrate the holidays today?
Hylah: I make Latkes, which are fried potato cakes and it's tradition to cook them in oil. ( Oil is significant because Jews celebrated their victory over a tyrant king. The Maccabees fought against the Syrians for three years and were successful. When they rededicated the Temple and lit the menorah they only found enough oil for one day, but the small amount burned for eight days.) We also light the menorah, which is a candelabra, for eight nights. You use the shamash (the helper candle) to light all the other candles. Hebrew is read from right to left so you light the candles the same way from right to left. The boys take turns lighting the candles and there's two Hebrew prayers we sing together.
The boys get one present a night for eight nights, but these gifts don't have to be anything elaborate — underwear, socks or a book can be a gift. We also celebrate Christmas because their father is Lutheran so we have a Hanukkah bush-Christmas tree at our house. It's a silver pencil tree with silver lights and blue balls and decorations the boys have made at school.
Rumble: What do your kids think of celebrating Hanukkah when most of their friends/peers celebrate Christmas?
Hylah: They love it and they also get the best of both worlds by celebrating both. They get eight Hanukkah gifts and then one big Christmas gift. I love the history of the Jewish holidays and I try to teach that to my kids because I want them to keep that heritage as they get older. I went to Temple, Hebrew school and had a bat mitzvah growing up in New York and Florida, but here it's hard to get to Temple because the closest one is in Asheville so we don't go regularly, but I want my kids to understand the history and the traditions.
Rumble: Can you share a special recipe with us for Hanukkah?
Hylah:
Latkes recipe
10 medium potatoes
2 medium onions
3 medium eggs
1/4 cup matzo meal
S/P
Vegetable Oil
Peel skin off potatoes. Grate potatoes on large hole grater. Squeeze out liquid from potatoes. I roll in clean dish cloth and squeeze out.
Grate onions and add to potatoes
Mix in eggs, matzo meal, s/p
Heat oil in frying pan. Drop tablespoon mixture into oil and fry turning once.
When golden and crisp on each side drain on paper towel
Serve with applesauce or sour cream