Archived Rumble
Going Green For Collards Week
Wednesday, December 09, 2020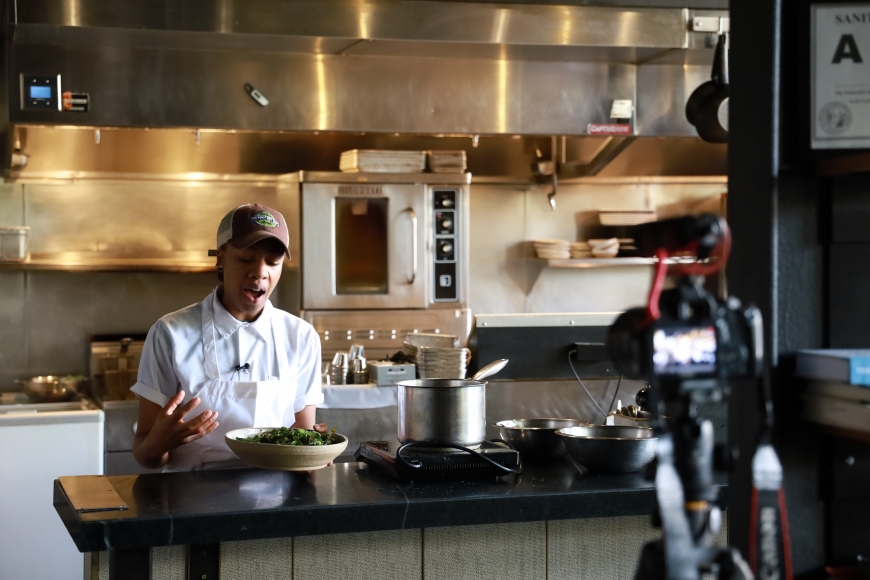 Asheville Chef Ashleigh Shanti will present on different ways to eat collards.
Nationwide and virtual, in collaboration with the Culinary Breeding Network, The Heirloom Collard Project is excited to announce Collard Week.
Join an impressive collection of speakers for four days of collards from Dec. 14-17. Michael Twitty, Ira Wallace, Jon Jackson, Amirah Mitchell, Ashleigh Shanti and others will lead online presentations throughout a week of events celebrating collards. Immerse yourself in food history, seed stewardship, gardening, farming, cooking and more. Join the conversation as part of the Heirloom Collard Project.
The Heirloom Collard Project is a national effort led by Southern Exposure Seed Exchange, Seed Savers Exchange, Working Food and The Utopian Seed Project to celebrate the beloved but often underappreciated collard. The Heirloom Collard Project is building a coalition of seed stewards, gardeners, farmers, chefs, and seed companies working to preserve heirloom collard varieties and their culinary heritage.
In 2020, over 230 gardeners and farmers are growing, evaluating, tasting and celebrating 20 heirloom collard varieties from Seed Savers Exchange seed bank collection in a national community science project. Ira Wallace of Southern Exposure Seed Exchange has been promoting collards across the Southeast for many years and is a founding voice of The Heirloom Collard Project.
In an interview with The Local Palate, Wallace said, "When we started this project, people weren't thinking about collards, and they still aren't really."
Growing collards and saving seeds is important, but celebrating the food and culture is just as critical. That's where Collard Week comes in.
Lane Selman of Oregon State University and Culinary Breeding Network is known for organizing celebratory events focused on elevating and educating food. Covid-19 forced a change in structure to the Culinary Breeding Network's traditional events, but Selman turned the challenge into an opportunity and launched a series of crop-focused virtual celebrations.
"We are thrilled to add collards to our Eat Winter Vegetables project and Winter Vegetable Sagra lineup this year," says Selman. "We hope the history, cultural stories, growing tips, and cooking lessons shared during Collard Week will inspire viewers to eat more collard greens this winter season and well into the future."
Collard Week will be an exciting celebration of collards, but it also won't shy away from harder topics. Michael Twitty's kick-off presentation, The History and Significance of Collards in the South, promises to be a fascinating exploration of complex issues. Twitty states this himself on his blog, Afroculinara, "The collard's complicated story with African Americans really speaks to the way food can unravel the mysteries of complex identities."
Shanti, who until recently served as the Chef de Cuisine at Benne on Eagle in Asheville, will be presenting four different ways to prepare collards during her presentation. She said she was happy to get involved with this effort thanks to the working relationship she's built over the years with Chris Smith with Utopian Seed Project.
"He would often pop into the restaurant as farmers often do. He is intensely passionate about the crops he's working on and studying and has a passion for collards I'd never seen anyone have before," she said. "I had no idea there were more than 20 varieties of collards."
As Smith would drop off some of these different varieties he would grow, Shanti said she would try them out and started to get a true sense of the differences in texture and taste among the collard crops.
"I always knew when things slowed down for me, I would definitely find a way to work with him — it was just a matter of waiting for the right time. I'm happy and thrilled to work on this project."
As a chef that strives to honor her African and southern roots, Shanti is no stranger to cooking a pot of stewed collards, but more recently she's enjoyed playing around with new ways of eating them.
"Just in the last couple of years, I've started dabbling in using raw collards for salads. I had never thought about the flavor profiles until Chris dropped off varieties to compare. It's neat because some of them are incredibly sweet and some are sour and bitter," she said. "But I typically cook them in a big pot with ham hock or a smoked turkey leg, but you can also strip them off the stems and ferment or pickle them."
Registration is free via heirloomcollards.org.
Collard Week Schedule - www.heirloomcollards.org/collard-week-2020/