Archived Rumble
A Little Sister For Christmas
Wednesday, December 16, 2020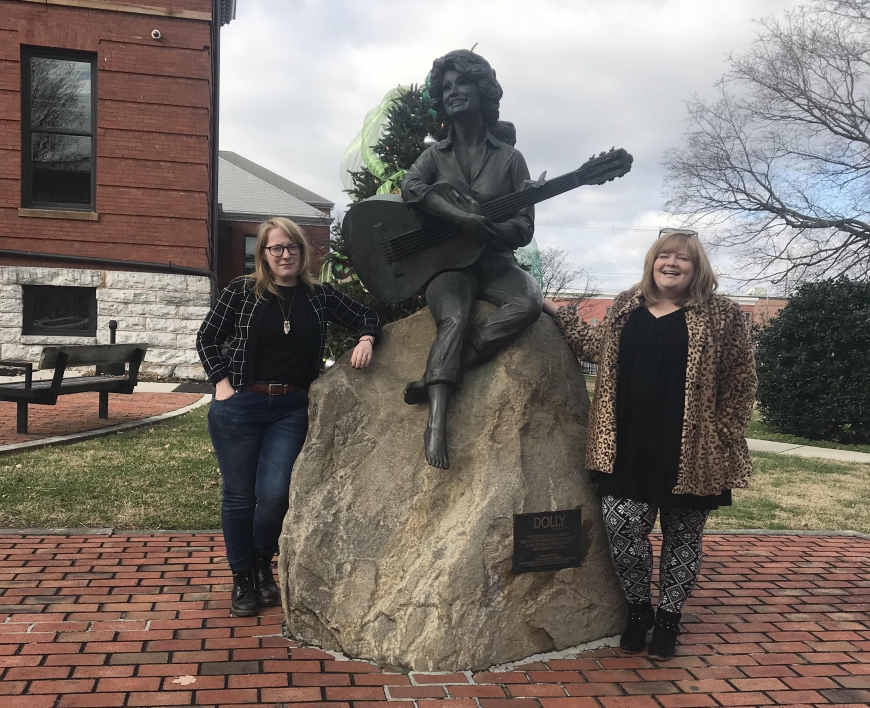 Jessi and Leilah Stone pictured next to the Dolly Parton statue, Christmas 2018.
After living in different states for the last 10 years, I'm finally within a short driving distance of my little sister. Her recent exodus out of New York City and into Asheville is literally the best Christmas gift I could ever ask for and I'm grateful.
You could say this is the second time Leilah has been a welcomed Christmas gift. It was Christmas 1992 when I found out Mom was finally going to give me a brother or sister after being the baby in the family for 8 years. At the time, my brother was 16 and was too cool to hang out with me and I wanted a little sister to love and worship me like I worshipped my older brother.
On June 11, 1993, Jacqueline Leilah Stone made her debut — three weeks early and a little sickly. Weighing in at 5.5 pounds, the doctors couldn't get her temperature regulated so they kept her for five days trying to stabilize her before she came home with us. I remember getting to hold her for the first time in the hospital. I thought she'd look more like me — I was born with a full head of dark red hair, a big round red face and deep blue eyes. Leilah on the other hand came into the world with a little orange peach fuzz, a longer pale face and beautiful bright blue eyes.
I adored her. I couldn't wait for her to start talking, a wish I quickly regretted as soon as the squawking began. A lot can change in eight years. When I was a baby, my parents were young(er) and barely getting by. On my first birthday, we were moving into our first house — a doublewide on some land my grandfather gave us. My dad likes to tell the story of how the AC was not working yet and how hot it was in late August as they watched me dig into my birthday cake.
When Leilah was born, we had just added on an addition to the house to make room for her, and my parents were doing much better financially. When I was a baby, dad worked days laying brick, and mom worked nights bartending so they took turns taking care of me or finding a friend or relative to babysit me while they worked. When Leilah was born, mom — now 39 years old — was able to stay home with her because my dad was making a good living selling homes. I make all these comparisons to illustrate the very different worlds siblings can grow up in despite being from the same family. My older brother would probably agree that he too grew up very differently than I did. We're all eight years apart and I'm in the middle. Today we're 43, 35 and 27, respectively, which means we're all now grown adults who can understand and relate to each other.
As I've gotten older, I have so much appreciation for being close to my siblings, and I'm in constant awe of the people they've become. I treasure the few times a year we can all be together whether it's spoiling my brother's children at Christmas or dancing the night away at my sister's wedding last fall in Florida.
This was not always the case. Leilah was difficult to say the least. She threw fits, cried until she got what she wanted, obsessed about every little thing and would eventually strip me of my easy going temperament by the time I was 15.
With no patience left and teenage hormones in full rage, Leilah and I butted heads often. Mom and Dad divorced when she was 3 and with mom back to work, I was left with this little heathen most of the time. When she was a teen, I was graduating college and getting married. I made the mistake of trying to be a mother to her more than I was a big sister — that didn't work and made our relationship harder. I've learned there's no controlling her, and now that she's 27 with a big girl job and a marriage of her own, we can relate.
Leilah has been in New York City for the last several years, graduating with her master's from Parsons School of Design and landing an assistant editor job with Metropolis Magazine. I couldn't be more proud of her, but I've also worried about her and wished I could see her more. Then this pandemic hit and living in her tiny apartment in Brooklyn just wasn't where she needed to be. After months of trying to figure out the right move, she and my brother-in-law Ryan moved into a house in Asheville this week.
I keep telling them they'll never want to go back to NYC after being here. I said my stint in WNC wouldn't be long either and that was 8 years ago. I can't imagine living anywhere else. However long she ends up staying, I'm excited to have this next chapter of our lives be one we do together, no matter what 2021 may bring. We never know how much time we will have together, but it makes it that much more important to savor every moment.
So this holiday season, hug your siblings tight if you're lucky enough to have them. No one will ever understand where you come from and know where you're going more than they will. That's a true blessing.