Archived Rumble
New Art 'Blooms' At Asheville Gallery
Wednesday, December 23, 2020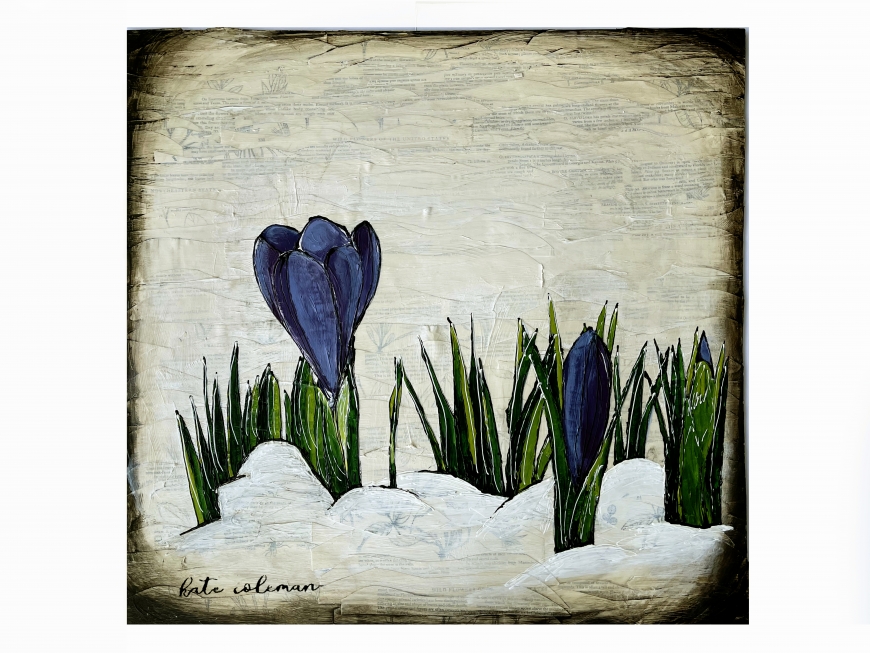 'The Crocuses,' by Kate Coleman, 24x24, mixed media
"Blooms" marks Asheville Gallery of Art's second new member show of the new year and celebrates the early signs of spring through the beauty of nature, new life, and of course, florals. Viewers can expect to see a variety of work from this month's featured artists: Kate Coleman, Cynthia Llanes, Jacqueline Oliver, and Claire Simpson-Jones. From figurative work to still life's, every piece connects with the "Blooms" theme and brings a preview of what's to come.
Kate Coleman has been a professional artist for more than 18 years. She is best known in the gallery for her large, whimsical bird portraits, and her most recent work employs her signature style of acrylic paint and collaged vintage book pages to create a unique, textured image. For "Blooms," Coleman turns from fauna to flora, creating layered paintings of plant life that have personal and biographical meaning.
Cynthia Llanes has created art from a young age, starting with designing clothes for her dolls and then working as a textile designer in the Los Angeles fashion district before moving to the Blue Ridge Mountains and pursuing an art career. Llanes is a mixed media artist, creating vivid depictions of nature's beauty with color and texture. Her paintings for "Blooms" are inspired by some of her favorite poet's descriptions of flowers and are exclusively painted using alcohol ink, which creates especially bright, saturated colors perfect for florals.
Jacqueline Oliver creates narrative paintings and ink drawings inspired by the natural world, depicting plants, animals, and people in her illustrative style. Her work often contains hidden details to reward the curious viewer. She works in a variety of mediums, from acrylic to paper cutting, and her artwork for "Blooms" celebrates the new life that emerges in springtime.
Claire Simpson-Jones works primarily as a watercolorist, painting landscapes and women in nature to capture the important role of nature in our lives. Her paintings reflect her deeply rooted passion for the natural environment and are inspired by her extensive travels near and far. "Blooms" features Simpson-Jones watercolor figures in a new context, mingled with soft florals in a peaceful, serene environment.
The Asheville Gallery of Art invites viewers to experience "Blooms" and be invigorated by a sneak peek of spring. Visitors can view "Bringing in the Light" through the end of February, Thursdays—Sundays from noon to 5 p.m., or by private appointment.