Archived Rumble
Senior Prospers in Teaching Program Despite Pandemic
Wednesday, January 13, 2021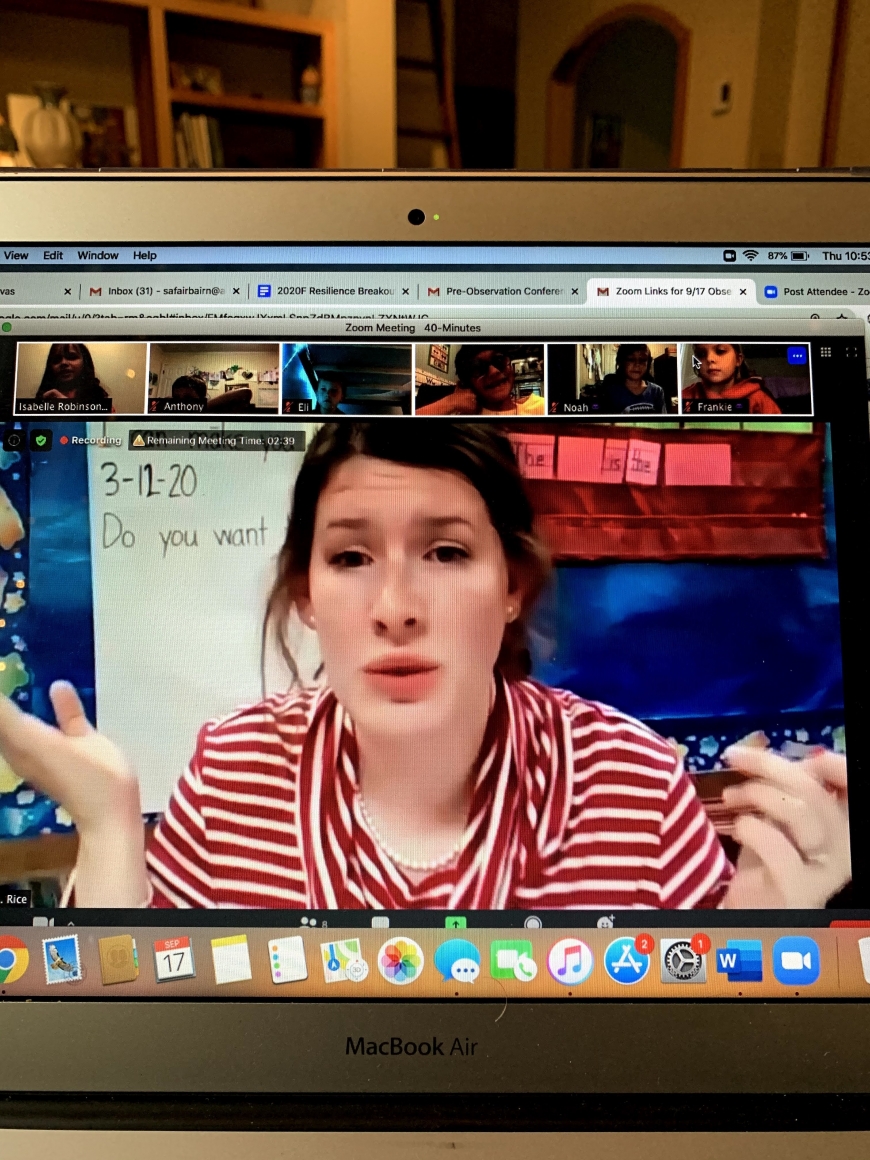 Jorden Rice, a graduating senior at Brevard College, is on the path to realizing her dream of becoming a teacher following a remarkable student teaching experience this past semester in the remote-learning environment necessitated by the COVID-19 pandemic.
Rice is set to graduate this month from Brevard College with a Bachelor of Arts degree in Integrated Studies with a concentration in Elementary Education which will provide the native of Henderson County with a licensure to teach in elementary schools (K-6).
As part of the program at Brevard College, Rice was required to complete a student teaching experience. Typically, these student teaching programs at BC involve an in-person, hands-on experience at a physical school. In the midst of a global pandemic however, Rice had to pivot to an all-remote setting for her student-teaching experience that proved to be both challenging and rewarding.
"Teaching during a pandemic was like reinventing the wheel," said Rice. "Virtual teaching was very hard because of limited time and the distractible nature of the students in the age group I was teaching."
Rice was assigned to teach an all-remote class of second graders at Glen Arden Elementary in nearby Buncombe County where the challenges as a teacher were unrelenting. Due to school system policies, each lesson for the students had to be condensed from one hour to less than 15 minutes and then conducted on a zoom call. Rice and her colleagues taught a lesson for phonics, literacy and math each day which was followed by a period of time where the students were expected to complete an assignment in a learning management system. However due to the remote learning disconnect, the students often did not complete the assignments and were at times unreachable.
Moreover, distractions often became the norm on the zoom calls that Rice would conduct. Students would inevitably lose focus, ask off-the-wall questions, and at times even take their devices on tours of their homes. Inconsistent student attendance, and even absenteeism, proved to be an ongoing struggle throughout the term.
However, Rice was determined to make the most of the opportunity and best serve the second-grade students. She began a daily read-aloud program called "Rockin' Read Aloud with Ms. Rice" that proved to be a therapeutic outlet for the students. Rice also was able to share some special moments with her students ranging from a lost tooth to bonding over family connections at Brevard College.
Rice's education at Brevard College helped prepare her for this unique student teaching experience.
"Despite such uncertain times, I felt completely prepared for my position as a student teacher," said Rice. "Brevard College prepared me with the foundations of teaching that were not lost even in a virtual setting. The concept of Project Based Learning worked seamlessly and was very much appreciated by my students. I was also able to contribute during team meetings on how to incorporate experiential learning in the classroom."
"The education department at BC fostered my love for learning and helped be very flexible and open to new ways of teaching," continued Rice. "I was taught how to respectfully stand up and advocate for the right thing. Most importantly, Brevard College taught me what it means to be a real teacher which involves a lot of heart and a lot of soul."