Archived Rumble
Expert Tips From One Career Woman To Another
Wednesday, January 27, 2021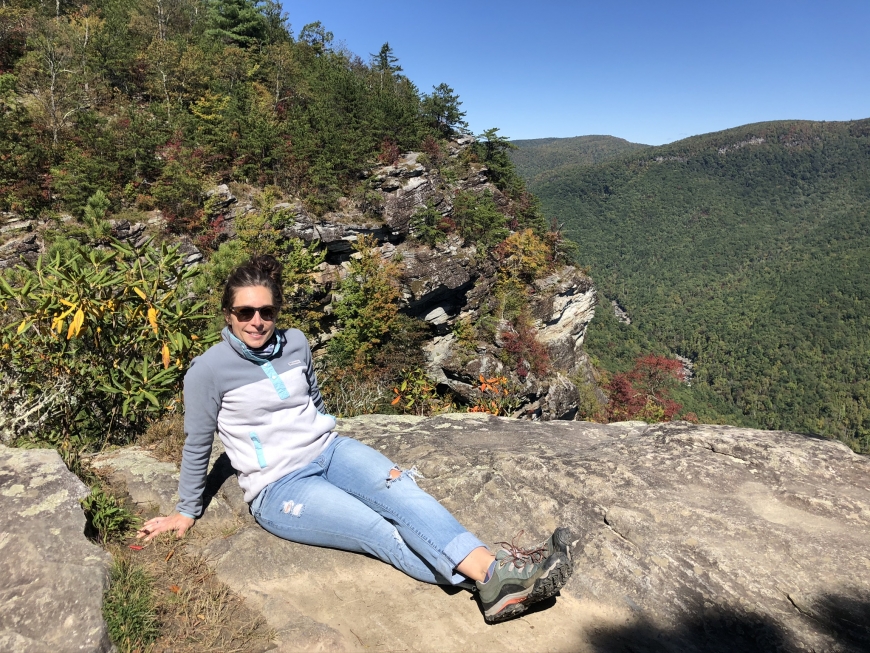 Katy Gould
Katy Gould is the director of the Small Business Center at Haywood Community College. She enjoys working with small business owners throughout the life of their business. Katy is also a busy wife, mom, adventurer and community citizen. Whether you're embarking on a new professional journey or pushing up against career fatigue, take a look as Katy offers excellent advice that's relevant to any industry.
Rumble: When it comes to interviewing for a new job, what are your top tips?
Katy: A business or organization looking to start the hiring process has defined the role they are looking to fill through the job description posted. The description outlines the roles and responsibilities of the position; and the skills, certifications, and experience they are looking for in a candidate. This is a great place to start.
Clearly, the posting spoke to you, and more than likely you have the qualifications required for the position. Now, begin to look at the hiring process through the eyes of the company. I like to approach it from a problem-solution fit mindset. In other words, I begin to look for the value drivers behind the expressed need and see how my personal skillset and/or experience aligns as a solution or fit to address this need for the business or organization.
Lastly, do a little R&P — Research and Prep. Take the time to really get to know the company for which you have applied for a position. Look into the mission, vision, and values of the organization. Review the company website and search for articles written about them and/or the owner or director.
I find that a greater understanding of the organization will not only assist in preparing you to answer interview questions but will assist you in getting to know the company culture, to make sure that it is a good fit for you. This is also a great opportunity to write down a few questions that you may wish to ask the interviewer about the position and/or the company.
Now, prep. Write potential interview questions, sketch your answers and practice answering them. Ask a friend or mentor to interview you via Zoom and provide feedback.
Rumble: If someone is hoping to start their own business, what is the first step?
Katy: Check yourself, revisit your passion and your why! It may seem counterintuitive to look inward before looking to the market; however, you are the business owner. You are the heart, soul, and face of the business! If the business isn't something that you are passionate about or doesn't align with your personal why, it will become increasingly difficult to log the time and energy needed to successfully launch.
If you are ready to press go, Get Connected! North Carolina is home to one of the most extensive small business development networks in the nation. From the NC Small Business Center Network, home to the HCC SBC, to the Small Business Technology Development Center and the Western Women's Business Center, there are a multitude of organizations ready to assist you in navigating your small business journey. It doesn't matter where you start. What is important is that you get in the pipeline, ask for help, and are ready to start planning!
Rumble: If a person is feeling defeated or unmotivated, what are a few suggestions to re-energize?
Katy: Personally, I get outside! The outdoors are a reset button for me and have been especially impactful during the pandemic. We live in an area blessed with breathtaking mountainscapes and abundant natural resources, waiting to be explored! I am a big advocate that small business owners, creative entrepreneurs, and idea thinkers should take time to press reset and refuel. It's tough to focus on the task at hand if you are depleted. Taking a moment to fill your personal cup will allow you to pour your skillset, knowledge, and love for your small business into the cups of others.
Secondly, make a list. I know… hear me out on this one. While reading a book by a well-known author, making a Joy list was recommended. Think of it as a list of the things that bring a smile to your face, set your soul on fire, and truly bring you Joy. The author then recommended that you select a joy item from your list to accomplish each day.
I know, internally you began to roll your eyes when said the word list, but the joy list is something more. It sounds so simple, but honestly making my list of Joy was the warm and fuzzy inner motivation that I needed. The list took time, I really had to think about what truly brought me joy, and it gave me a moment to reflect. For example, for me, the simple warmth of the sun as it begins to set over the mountains is a moment of joy. The best part is that it is a tangible moment that I can easily accomplish, if I just slow down, take a moment for myself, and stand in awe of God's work.
Rumble: Due to the pandemic, folks have made the shift to working from home. What are your productivity tips for people still working from home?
Katy: For those who are able to work from home, it is an amazing opportunity. It does however come with challenges. At one point during my virtual work experience, I wondered how I would attend a meeting, run a webinar, and make endless snacks for my virtual student…while walking the dog. I was partially joking about the last part. But you know what, even though we were pulled in a million directions, we found a rhythm and we made it through!
For those of us still working virtually, productivity from the home office (also known as the dining room table in some households) may look a bit different than it did in the traditional office setting. First, the home place can be distracting if we aren't careful. Did I mention endless snacks already? In all seriousness, I find that focusing on core concepts that we would use in the traditional office setting can just as beneficial in the virtual work environment – Connect, Time, and Vision.
Connect — Make a point to connect with your team, even if it is virtually. It could be a leadership group, a project team from work, or an industry association. Connecting with your team will provide the opportunity to engage with those essential to your success. It will also help you feel more aligned with your work efforts and provide a platform for others to share in your success and provide ideas to help you be more creative.
Time — Build your action plan for the day, schedule the big rocks, and set a timer. If your day starts at 8 a.m. let's say you block 30 minutes to answer emails from the day before. Write it, schedule it, set a timer, and do just that. Yes, priority tasks will arise that will throw your schedule off, but I find focusing on a single task for a scheduled timeframe a great use of my time and extremely efficient to accomplish the tasks at hand. I also encourage you to schedule stretch breaks to get your body moving and give your mind a rest, and an end time so that you can set a boundary for when your workday ends and personal time begins.
Vision — Take time to dream! This is something that I lost sight of at the beginning of the pandemic. When I began to take time to dream again, I found myself more focused, engaged, and on a quest to meet my goals. Take a moment to set weekly, monthly, and quarterly success measures. Then step back and build the objectives and action items to support your goals. I find that the road to successfully meeting your goals becomes more clear and feels achievable if you create the map to help you get from start to finish.
Katy can be reached via email at This email address is being protected from spambots. You need JavaScript enabled to view it..