Archived Rumble
The Table: Food For Concentration And Productivity
Wednesday, January 27, 2021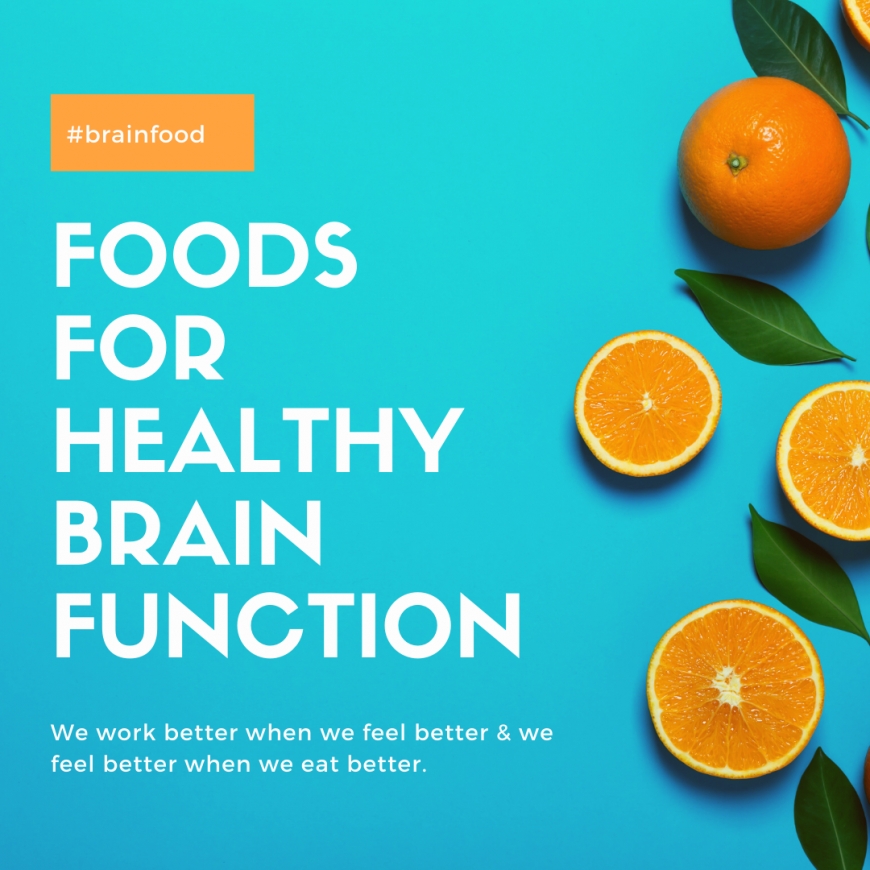 Concentration and productivity have always been important for work and creativity. But now more than ever, with people working from home, (aka in the same environment as family, roommates, babies, toddlers, children, pets, your refrigerator, etc.) concentrating on work and being productive can seem like a far fetched goal.
There is an entire internet genre now dedicated to being productive while working from home, but here we will focus on food. The food we eat is an easy way to make significant changes/improvements to our lifestyle. We eat food at least three times per day. That means three times per day, or more, we can make conscious decisions to improve our health, giving our body the nutrients it needs.
Some of those nutrients are vital for brain function — concentration, alertness, memory, energy, mood. We've compiled a few of those nutrients below, along with the foods that contain high levels of them. So while you're working from home, trying hard to concentrate and be productive, help yourself out by eating foods to keep your brain healthy.
Omega 3 fatty acids
Omega 3s are one of the most talked about nutrients in regard to brain function. Two of these fatty acids, DHA and EPA are what make Omega 3s so important for brain function. They help to build cell membranes, and have anti-inflammatory and antioxidant functions in the body.
We commonly hear that omega 3s can be found in fatty fish like Salmon.
Here are some other foods that contain Omega 3 fatty acids: Chia seeds, hemp seeds, Brazil nuts, walnuts, flaxseeds, algae oil, hemp oil, flaxseed meal, pumpkin seeds, edamame beans and sesame seeds.
Fish oil pills are a common supplement for people wanting to make sure they get plenty of Omega 3s, another good source is algae oil. Not only is algae oil vegan, but algae is the source from which fish get their omega 3s, so you are essentially going straight to the source, cutting out the middleman (or middle fish in this case).
Antioxidants
Antioxidants play an instrumental role in protecting the enzymes, fats and vitamins in the body, all substances that help prevent certain types of cell damage.
The buzz is real, dark chocolate contains antioxidants (70 percent cacao or more). Regardless of the antioxidants though, we highly recommend it for your overall mood, another vital part of your health. Good mood = more productive. It's a win-win.
Some other foods high in antioxidants? Blueberries, broccoli, walnuts, spinach, sweet and purple potatoes, green tea, strawberries, beans and coffee (yes, coffee!).
Iron
Iron is central to the transport of oxygen around the body in the blood and muscle tissue. Iron consumption is usually associated with energy levels and as it turns out, energy levels are incredibly important for brain function and mood stability.
Legumes, oats, pumpkin seeds, and dark leafy greens like broccoli, kale and spinach are great sources of iron. Vitamin C is a good way to help your body increase iron absorption, so consider pairing vitamin C rich foods (lemon, bell pepper, oranges) with your iron rich foods.
Magnesium
Magnesium plays an important role in relaying signals between your brain and body. It acts as the gatekeeper for the N-methyl-D-aspartate (NMDA) receptors, which are found on your nerve cells and aid brain development, memory and learning.
Some foods rich in magnesium? Avocados, bananas, nuts, seeds, legumes, leafy greens, tofu, whole grains.
Like we said before, mood is a vital part of our ability to concentrate and be productive. So while eating healthy is a good way to feed your brain what it needs and make your body feel good, treat yourself to the foods you love when you need it. It's all a balance.