Archived Rumble
Rumble Readers Respond
Wednesday, January 27, 2021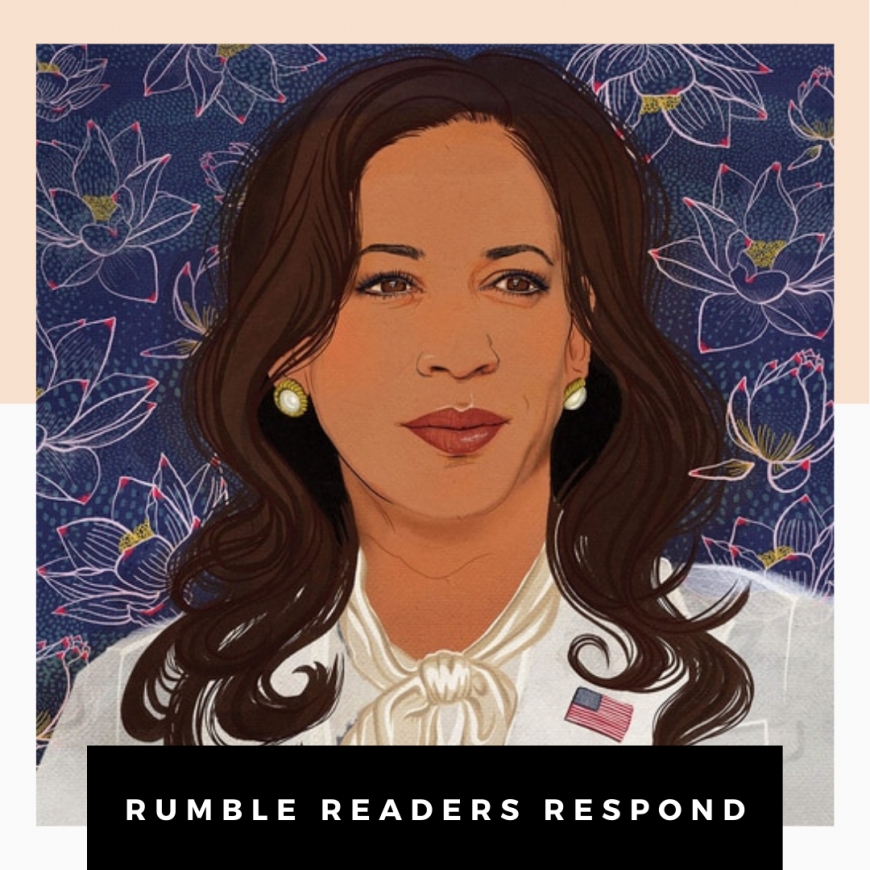 I've watched my mom step into her power as a woman in just the last few years. This power has always been there, but why now? Because it is happening all around us. When women empower and inspire other women, and when we are given the space to do so, we are unstoppable. Having Kamala Harris sworn in as the first Black, Asian American, female vice president is a testament to the years and years of work that women have done to create that space. We did not need a validation of this power, but a recognition of what we knew women were capable of all along. It means my daughters will not for a second think that any goal or dream is out of reach. It means women in power might not have to say "I'm speaking" as they are talked over by a man. It does NOT mean that racist and sexist microaggressions will end tomorrow, but I think it does mean we will start finding the words and confidence to call them out. It means stepping into our power as women and supporting the women around us to do the same will no longer be an act of radical feminism, but what is expected of young girls. So, what does it mean to have Kamala Harris hold the highest position a woman has ever held in America? It means everything.
- Liz Mace
I found myself glued to the inauguration from the early morning. As Ms. Harris was descending the steps toward the inauguration platform with Mr. Imhoff at her side there was a point when I saw one of the service members slowly and deliberately raise his right hand in a salute. Seems like a typical gesture in a time with all the pomp and circumstance going on. It took a few ticks of the clock before it hit me… that service member was saluting HER, not him! At that moment of realization I simply could not hold back the flood of tears and it felt amazing to let them go. Finally!
- Paula Russell
I knew I would be excited and proud and everything in between, but I didn't expect to get so emotional watching Kamala Harris be sworn in as the first Black, Asian American, female Vice President. We could certainly see this as the culmination of all that women have fought for over hundreds of years but I really think it is just the beginning. My weekly planner has a quote every week, sometimes silly, sometimes inspirational, but the quote last week was, "There is a woman at the beginning of all great things" (Alphonse de Lamartine). They couldn't have possibly known when the planner was printed what would happen on January 20, 2021 but it just felt like it was meant to be. I look to countries where women hold top positions of power and decisions are simply made differently. I am thrilled to see what having a woman in the room where decisions are made will do for the United States. We have a long way to go and our problems are not going anywhere but knowing Kamala Harris is my Vice President makes me stand a little taller and breathe a little easier.
- Megan McLeod
Seeing Kamala Harris being sworn in as Vice President of the United States felt like I could finally exhale. It was a recognition of what so many women know to be true — that women belong in all places where important decisions are being made and that we not only belong, but we're truly needed right now. Our unique perspectives and our experiences as women have led us to this moment — a moment when our unique leadership style of "strong back, soft front" is what this country is in desperate need of if we ever want the word unity to mean anything. I look forward to more women's voices being heard, especially more women of color.
- Jessi Stone
One of my favorite political graphics is the one where there are rows upon row of little white male heads and at the very end there is one dark head with long hair. That one image is very telling. It seems bizarre that in all these centuries and decades we've never had a female in the Oval Office. To watch Kamala Harris get inaugurated was invigorating. Women are not only brilliant, but we are excellent problem solvers and multitaskers. We're also skilled at communicating, developing relationships and collaborating with a team. So, when I watched Madam Vice President place her hand upon the Bible, I thought to myself, "It's about dang time." I am so proud of her and excited for the hope and determination she has inspired in all women.
- Susanna Shetley