Archived Rumble
Beet Gnocchi
Wednesday, February 17, 2021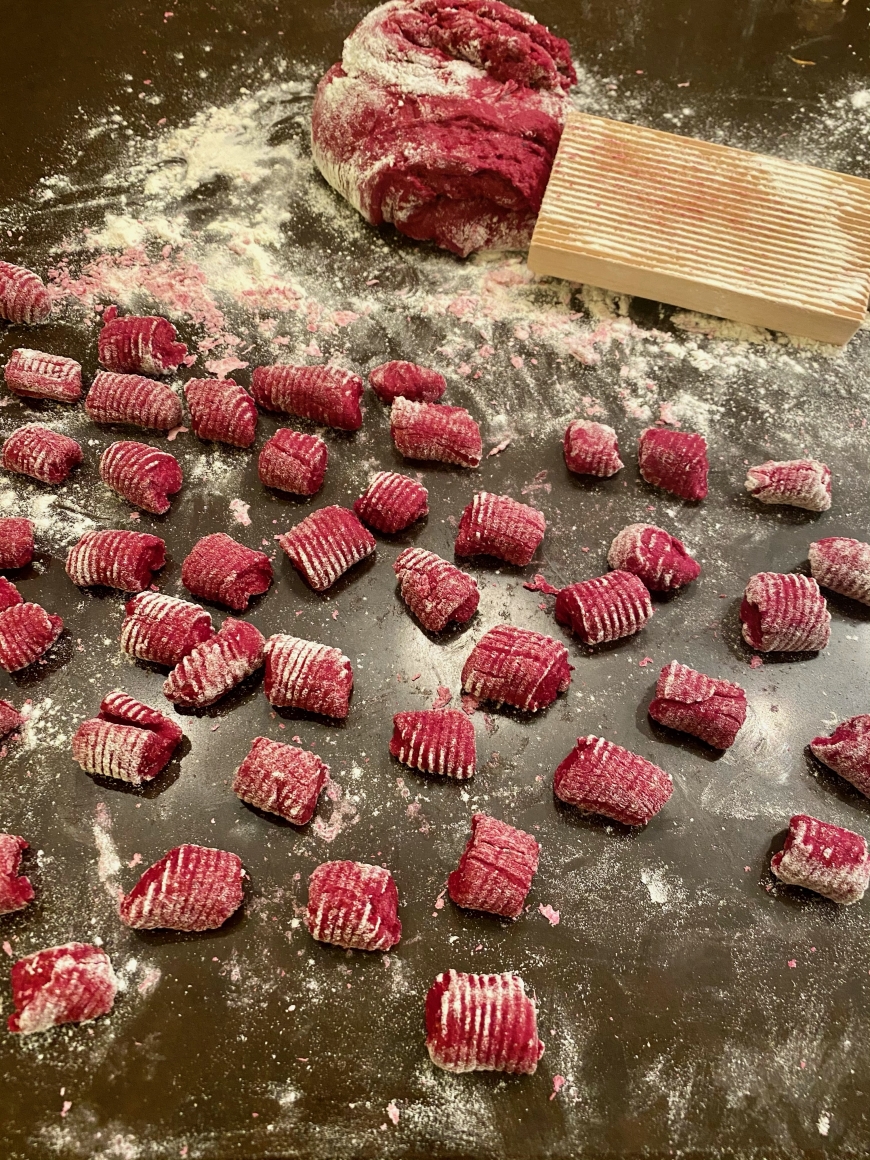 "Giovedì gnocchi, Venerdì pesce, Sabato trippa"
Gnocchi are like the frozen pizza of homemade pasta. They are hard to mess up, hearty, comforting, and come together quickly.
I'm sure any professional cook or Italian food connoisseur would balk at that statement. But for those of us who are happy and willing to admit to our amateur nature in the kitchen, gnocchi is the perfect creative endeavor to come back to again and again. Listen to old opera and drink a glass of wine while you make them to bring out your inner Italian grandmother.
There is a special relationship between Thursdays and gnocchi. An old saying goes "Giovedì gnocchi, Venerdì pesce, Sabato trippa" that is "Thursday gnocchi, Friday fish and Saturday tripe."
The saying has its origins in Catholic culture, pervasive in Italian history. Friday was seen as a fasting day with just a fish based dinner or a full Friday fast, so the day before people needed to make a hearty meal by eating a heavy dish such as gnocchi.
The basic building blocks of gnocchi are potatoes and flour. From there, it can get as wild as you like. Some choose to add an egg for better binding, some add parmesan cheese to the mixture. I've seen spinach gnocchi, pumpkin gnocchi and the ever famous ricotta gnocchi. I like to substitute sweet potatoes and other root vegetables for some of the potatoes.
Gnocchi are essentially little dumplings, and in that sense have been around forever. But potatoes are not native to Europe and were not observed by Europeans until Francisco Pizarro explored the high Andes in 1532. The first recorded potato crops imported to Europe came from the Canary Islands in the 1560s and 1570s. So even if the Italians were quick to adopt this new ingredient into their culinary world, it is reasonable to believe that potato gnocchi did not exist until the turn of the 17th century.
This is commonplace in most traditional cuisine we know today. Italy didn't have tomatoes before Europeans explored the Americas. Yet pizza with tomato sauce, spaghetti bolognese and potato gnocchi are some of the most popular Italian foods we know. Gnocchi are a product of travel and exploration and have survived the trials of time to remain a beloved dish today.
The word gnocchi is thought to have derived from either the word nocchio, which describes knots in wood, or nocca meaning knuckle, both of which can be understood to resemble the small dumplings. The word is known to have existed before the introduction of potatoes to the dish.
Gnocchi are delicious to eat on their own, with just a sauce to accompany them. They are also an easy addition to soups, stews, stir frys, warm salads or any dish in need of a side. Enjoy these purple, beet gnocchi.
Gnocchi:
½ lbs. each potato and beets. Both skinned and roasted until very soft with olive oil, salt, rosemary and sage
½ cup flour, plus more as needed for consistency
1 tbsp olive oil
1 tsp salt
1 tsp rosemary
1 tsp sage
Directions:
Roast potatoes and beets until very soft.

Either mash potatoes and beets, or blend them in food processor until smooth

Mix salt, rosemary, sage and olive oil into potato mixture

Slowly mix in flour until a soft dough forms. (a good test to know if you have mixed in enough flour, is to pinch off a piece of the dough, drop it into the boiling water, and see if it eventually floats to the surface. Gnocchi will float, after about 3-4 minutes, when done)

Roll a piece of dough into a rope about ½ inch thick. Then slice the rope into ½ -1 inch pieces. (Optional: then roll the pieces down a fork or gnocchi board for little ridges in each gnocchi.)

Boil gnocchi in salted water for 3-4 minutes, or until floating.