Archived Rumble
Female Artists Getting Me Through Quarantine
Wednesday, March 03, 2021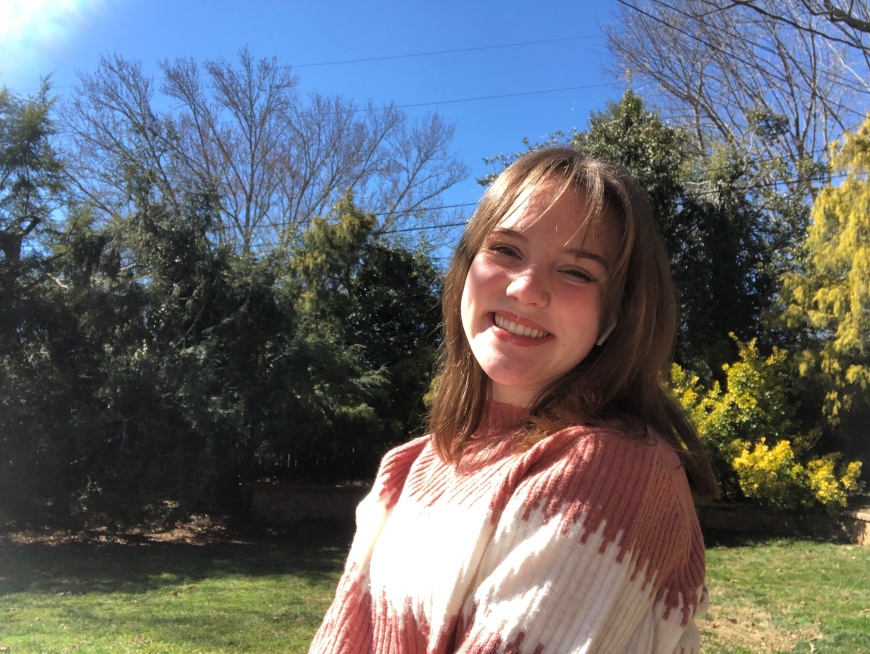 By Daley Hooten -
Quarantine has taken an emotional toll on all of us. Some more than others, but we have all been affected by it. I'm getting to a period where it feels like I'm living the same day over and over and over again. Get up, go to virtual school, eat, do homework, eat again, sleep, repeat. To be honest, I'm going a bit crazy.
One of the things that is keeping me from losing it is music (music AND the 0.0001% chance that I could maybe meet Chris Evans one day. Hey, a girl can dream.). Music has always been a big part of my life. My dad is a huge music nerd that is obsessed with 90s rock bands like REM and Pearl Jam, so I've been exposed to a wide variety of genres for a long time.
Today, my music taste is probably my favorite quality about myself. I love introducing bands to my friends, obsessing over songs with them, and talking about going to concerts when it's safe again. Some people have picked up quarantine hobbies like knitting or baking, mine is making Spotify playlists. One of the positives of quarantine is that I've been able to explore and discover new artists. The time that I would've spent rushing around to different places is now spent listening to music. Tunes are spinning in my room 24/7 whether it's lofi playing while I'm studying, indie rock for when I'm feeling blue, or folk for when I'm imagining road trips with my best friends. In honor of Women's History Month, I'd thought I'd share my favorite female artists and why they are helping me through these trying times.
Number one: the talented Lorde. Where do I begin with this lyrical genius? I guess I should start at the beginning. Lorde released her first album in 2013 and her song "Royals" was quick to jump on Billboard's top hits. I remember hearing Royals on the radio on the way to soccer practice and at our elementary school dance. It was very hip with the kids at the time. We'd be singing lyrics like, "Gold teeth, grey goose, trippin' in the bathroom, blood stains, ball gowns, trashin' the hotel room, we don't care, we're driving Cadillacs in our dreams," but not really understanding what any of it meant.
In 2020, Lorde's song "Ribs" was trending on Tik Tok as the "ending of a coming of age movie" or the "driving at 2 a.m. not thinking about the future" song. I started listening to more of her music and I have never been the same. After really listening to her lyrics, I now understand the meaning of all of her songs and it's just mind-blowing. I feel like words wouldn't do justice for the way I feel about Lorde's music. It is so relatable, nostalgic, emotional, and beautiful. My favorite album, "Pure Heroine," (the title doesn't mean what you think it means)embodies teenage mistakes, emotions, and angst. My dearest friend that I've grown closer to during the pandemic and I have officially decided that when it's safe again, we are going to drive down a highway, lean out the window, and just jam out to Lorde. Her music makes me realize it's OK to be upset and worried about the future, but also makes me feel ready to take on the world.
Recommended song: "400 Lux"
Moving away from teen angst, next is Taylor Swift. I think one of the reasons I've been listening to Taylor a lot more recently is because she reminds me of a better time. I associate her older music with my elementary school years. Back when I'd listen to her to impress my cool older neighbor that adored her. Songs like "You Belong With Me" and "22" were definitely on my "Daley's 8th Birthday's Mix." I know Taylor gets a lot of hate, but honestly, I don't think she deserves it. Why is she criticized more harshly for writing breakup songs than singers like Bruno Mars and Justin Timberlake? I'm getting not-so-subtle sexism vibes.
I recently watched her documentary called "Miss Americana," and Taylor talks about how female singers have a small window where they can thrive in the music industry. She says that by the time most female entertainers turn 35 they "are discarded in an elephant graveyard." She then goes into talking about how female artists have to constantly reinvent themselves to be new and shiny for their audience, so they don't become boring old news. Taylor is a big icon in the music industry. When you learn more about the constant sexism and misogyny she's had to overcome, it makes listening to her music even more powerful. So I'm going to listen to a classic Taylor breakup song and not care about what you think because — just like Taylor — I am a strong woman.
Recommended song: "The 1"
I suppose I shouldn't save the saddest for last, so I'll get it over now. If any of you want music to curl up in a ball and just ugly cry to, then Phoebe Bridgers is your girl. I have discovered her more recently after watching her amazing performance on SNL and haven't been able to stop listening to her since. Her songs are gut-wrenchingly sad, and I would understand why some wouldn't want to spend hours listening to pure depression, but sometimes that's just kind of what you need. I've been super-stressed lately about everything, and that stress sometimes causes me to overthink too much at night, leading to guilt over stupid things in the past, and alas it's 2 a.m. and I'm crying like a baby. Listening to Phoebe during these times is comforting in a way. It's valuable to be able to acknowledge "Hey I'm sad, and it's OK. I'm going to listen to some sad music, cry a bit more, and then let it go."
Another reason why I love her music so much is because it's filled with so many unique sounds. It feels like a mixture of folk, indie and lofi. She uses a wide range of instruments, mixing them together to create songs that are so amazingly different. The two songs I recommend are songs I've been listening to a little too much lately.
Recommended songs: "Kyoto" and "Garden Song"
Completely switching gears from sadness, next we have Lizzo. Lizzo is not only an amazing artist but a great role model for girls everywhere. The message of her album, "Cuz I Love You," is all about embracing yourself and learning about self-love. Lizzo's powerful soulful voice could wake me up from a coma, and let's not forget that she is an absolute pro at the flute as well. She is a goddess on and off stage.
On her social media apps, she promotes healthy lifestyles like veganism and never stops spreading body positivity. I like to listen to Lizzo when I work out because her music is one of the few things that motivates me to go on a run. It's so embarrassing to be with my mom when a Lizzo song comes on because she can't help herself, and she definitely can't dance. By sharing her vegan recipes online, Lizzo has sparked her fans to think about the environmental impact of meat products and other foods we eat. If you're ever in need of a confidence boost, Lizzo is there for you.
Recommended songs: "Like a Girl" and "Truth Hurts"
Finally, to finish with a bang, I present to you, Lady Gaga. Gaga is the pop artist of the 2010s. Her albums are filled with a robotic, disco-pop sound that is very different than most pop singers these days. She is never half-hearted. She goes all the way with her lyrics, performances, music videos, clothing and politics.
On January 20th, Lady Gaga performed the "Star Spangled Banner'' at the inauguration of President Biden. Her outfit was immediately talked about on social media. Lots of people compared her to Effie Trinket from "The Hunger Games." Her outfit, as is common for Gaga, embodied who she is — a woman who isn't afraid to be herself. Not only has she endorsed Biden's campaign, but she is also working with him to set up trauma centers for sexual assault victims.
Gaga has, for a long time, been an advocate for gay rights. Her song "Born This Way" is all about being proud of who you are and was hailed by Elton John as the "new gay anthem" when it first came out. Lady Gaga has also denounced racism and white supremacy. I love how outspoken Gaga is on politics. We definitely share some of the same opinions, and as a young person, it is reassuring to have a woman in her position using her platform to speak up for the LGBTQ+ community.
Recommended songs: "Poker Face" and "Just Dance"
It has been a long year. Not being able to see family and friends, social distancing, not being able to go to school, and having to worry about catching a deadly virus have definitely diminished my spirit. The reason I have not gone insane is because of these amazing ladies. Each of them has taught me a different lesson and has made me feel different emotions. But the one thing they have in common is that they keep me grounded and hopeful for a brighter future where we can all see each other again.
Daley Hooten is a high school student in Asheville, North Carolina. Click here to find the playlist of female artists getting her through quarantine on Spotify or Apple Music.