Archived Rumble
My Shero - Radical and Revolutionary Bernadette Devlin
Wednesday, March 10, 2021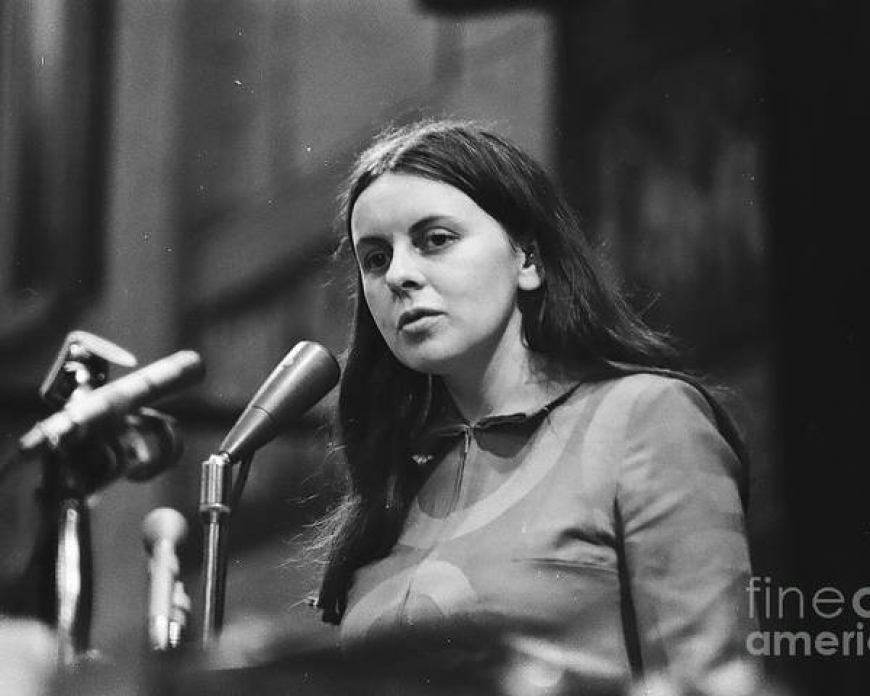 Anyone that knows me well knows I have a weird obsession about all things Irish. Like many others with Scot-Irish heritage in this region, I've always felt a pull to the celtic traditions, music and history.
So while many others use St. Patrick's Day as an excuse to drink beer and wear green, I tend to use it as an excuse to share my love for Ireland and its people. One of my favorite Irish lasses is Bernadette Devlin, a badass Irish, feminist, civil rights activist. She has been my shero since I first learned about her on a study abroad trip to Northern Ireland in 2008. The trip was part of a sociology class on race, religion and politics — and believe me there is plenty of that to discuss in Ireland, a country torn in two by religious/political turmoil that dates back hundreds of years.
These times of political and social unrest are referred to there as "The Troubles." Leave it up to the Irish to give such a gentle name to such a bloody, brutal and shameful time in the nation's history, But I digress.
During our studies in Ireland, one of our lecturers at Queen's University in Belfast, told us the story of one of their alumna — Bernadette Devlin — and I have been fascinated with her ever since.
Born into a large Catholic family in 1947, Devlin and her 5 siblings were raised by a single mother after her father passed away when she was young. Her mother died when Devlin was 19, leaving her to help care for her younger siblings. Her experience growing up in poverty would guide her ideals as she got older and her Catholic school education would instill in her Republican convictions. (Republican doesn't have the same meaning in Ireland as it does here. In Ireland, Republicans are the more liberal party and are typically Catholic).
Once at university in Belfast, Devlin saw the reality of how divided northern ireland had become with protestant and catholic communities separated by a 12-foot "peace wall" to prevent rioting and bombing. She saw the ghettos people were living in and the oppression of poor Catholic families under Britain's rule of Northern Ireland. She longed to see the South and North of Ireland once again united and sovereign and for peace among the people.
She helped establish the student-led civil rights organisation, People's Democracy, and became a popular public speaker at events and marches. At a general election in 1969, Devlin was one of the People's Democracy candidates for Parliament, and to everyone's surprise, she won the seat! She was only 22 years old, making her the youngest MP in Parliament. She served until 1974 and all the while continued to be Parliament's worst critic.
During her term as MP, she took part in The Battle of the Bogside — commonly known as 'Bloody Sunday." The riot took place in Derry when a protestant parade strolled through the Catholic community of Bogside. Rioting between police and Bogside residents continued for three days. Devlin and others set up a huge barricade so the police were unable to enter the area. The British Army had to be deployed to restore order. It was one of the first major confrontations in the conflict known as the Troubles.
Devlin was charged with inciting a riot and served a short prison sentence. When released in early 1970, Devlin did a tour in the U.S. that was met with a lot of media attention since the U.S. had been closely following The Troubles in the press.
The New York Times reported March 3, 1970, that Devlin had been awarded a golden key to the city by the mayor of New York. And you know what she did with that kind gesture? She handed it over to the Black Panther Party "as a gesture of solidarity with the black liberation and revolutionary socialist movements in America."
Wow, can you even imagine the guts this woman had? In 1970, in a foreign country? This young woman didn't care about social norms and she didn't bat an eye when it came to exposing corruption, greed and hypocrisy. I bet that was her last invite to America!
Years later in 1981, she and her husband survived an attempted assasination by the Ulster Freedom Fighters. She was shot 14 times in her home while her three children stood nearby. Even then she continued to fight for those without a voice. Since 1997, Devlin has been active in the South Tyrone Empowerment Programme (STEP) — a community-based organisation that she founded which supports the rights of migrant workers.
Now at 74, she's not such the public figure she once was and she seems to be OK with that.
"I look back on myself then and I am astounded I survived. I took risks and made decisions no one else would," she told The Irish Times in 2016.
But then again, she's not ruling anything out:
"I think there may be one last adventure left in me. Part of me would like to take to the streets again. There is a need, I think, especially in the North, for organising and agitating again in a very overt way. A lot of that, I think, has been pacified by the peace."
With the rioting and marching happening in the U.S. in recent years, I think it's easy for many of us to see it as inexcusable behavior. To some extent, of course I agree — it's not always justified, but I can also understand how desperate people can become when they have no power, no voice, and they're fed up.
Sometimes bucking the system is exactly what needs to be done to shine a light on inequality and oppression — and that's why Devlin is my shero. She never shied away from her beliefs, she put her own life on the line to stand up for her people and she brought about change during a time when very few women had any power or influence. Agree with her tactics or not, I admire her tenacity and spirit.
If you'd like to read more about her story, I highly recommend her autobiography, "The Price of My Soul."
Leave a comment
1

comment
She is mine too- glad she is still alive, and still a badass!

Tuesday, 12/07/2021