Archived Rumble
What's New At Haywood Farmers Market?
Wednesday, March 17, 2021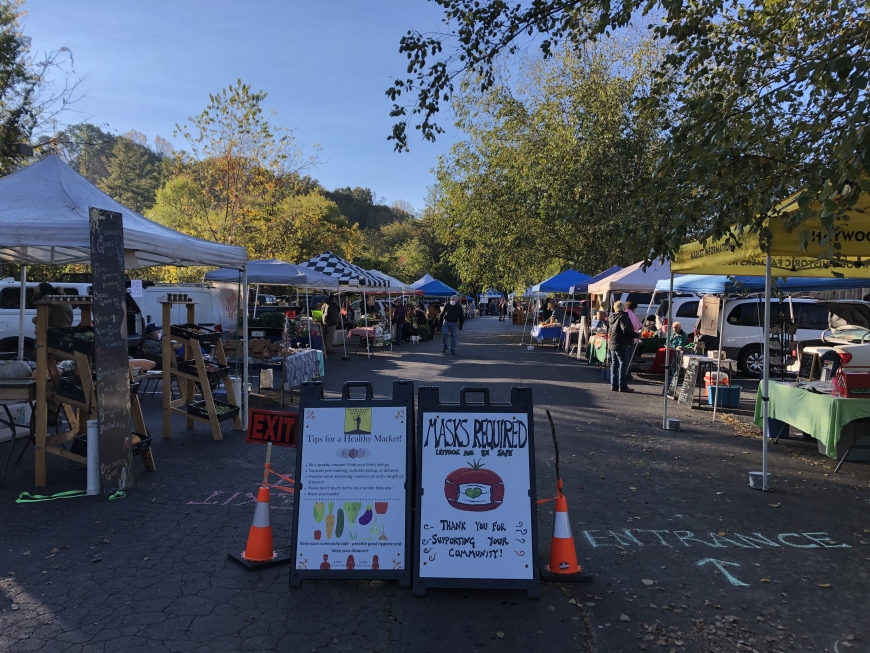 Rumble sat down with Lauren Wood of the Historic Haywood Farmers Market to hear all about their 2021 season. There are exciting things happening! What better way to spend a Saturday morning than strolling through a farmers market, coffee in hand, live music playing and supporting local growers?
Rumble: When will the Haywood Farmers Market open for 2021?
Lauren: Opening day is soon - Saturday, April 3! For the 2021 season we'll be open on Saturdays 9 a.m. to noon, rain or shine, through Dec. 18.

Rumble: How will it look different this year from years past?

Lauren: We're excited to be open for 38 weeks this year - more than ever before - to give our community more access to local foods and products. The last four markets of the year will be holiday markets, like in 2020, rather than just one. For now, 2021 will look like 2020 with health and safety precautions like masks, physical distancing of vendors, hand sanitizer and capacity restrictions on crowded days. We have a great mix of familiar faces and a few new vendors. We are in the same location in the parking lot of the HART Theater/Shelton House in Waynesville.

Rumble: What products will be available?
Lauren: We're proud of the variety of locally grown and made foods available at our market: fresh produce and herbs, meat, fish, eggs, cheese, honey, baked goods, pickled/fermented products, infused oils, coffee, vegan/gluten-free products, and more. We also feature quality heritage crafts such as woodworks, fiber/textile arts, leather, stained glass, candles, body care products, beautiful plants and cut flowers. Also, during the first few weeks of the season we'll have a lot of great plant starts for home gardens.

Rumble: Will there be other events/activities?
Lauren: We'll have live music every week and yoga classes when temperatures are nice. Our community table is open to nonprofits or community groups on a rotating basis - please contact us to request a table, see if we have a music spot available, or propose another idea for a fun, safe, outdoor activity! The return of kids' crafts and other activities depends on the COVID-19 situation, but we have several fun ideas up our sleeve. Visit our website to subscribe to our newsletter or follow us on Instagram or Facebook to stay updated on special events.

Rumble: What would you say to encourage people to visit the farmers market?
Lauren: There are so many important reasons to support local farmers and businesses. Foods are nutritious and flavorful because they were picked the day before and traveled just a few miles to market. Products are safe and certified and you get to meet and learn from your growers and makers. Your money goes directly back into your community. You help your neighbor and stimulate and support our local economy. Shopping from farmers directly helps them continue farming, supporting food security and protecting our land.
Aside from all those serious reasons, visiting the market is a fun way to spend a Saturday morning: strolling in the fresh air, enjoying coffee and a baked treat, humming along to live music, shopping and seeing friends and neighbors. After this tough year and winter, I think we need all the community connections we can get!

Rumble: Is there anything else you would like to add?
Lauren: We are grateful to be able to support food security, a serious local concern that has been exacerbated by COVID-19. We partner with Haywood Gleaners to take leftover produce from market to deliver to locals in need. We also accept SNAP/EBT (formerly known as food stamps) and offer Double Up Food Bucks. This awesome program allows SNAP/EBT recipients to double their money and get free tokens to purchase food at the farmers market. Come to the yellow market tent to take part.
Hope to see you all on April 3rd!
To stay abreast of Haywood Farmers Market information and updates, visit their website or follow them on Facebook and Instagram.
Click here for a full list of farmers markets in the area.