Archived Rumble
Love Yourself The Way You Love Your Pet
Wednesday, April 07, 2021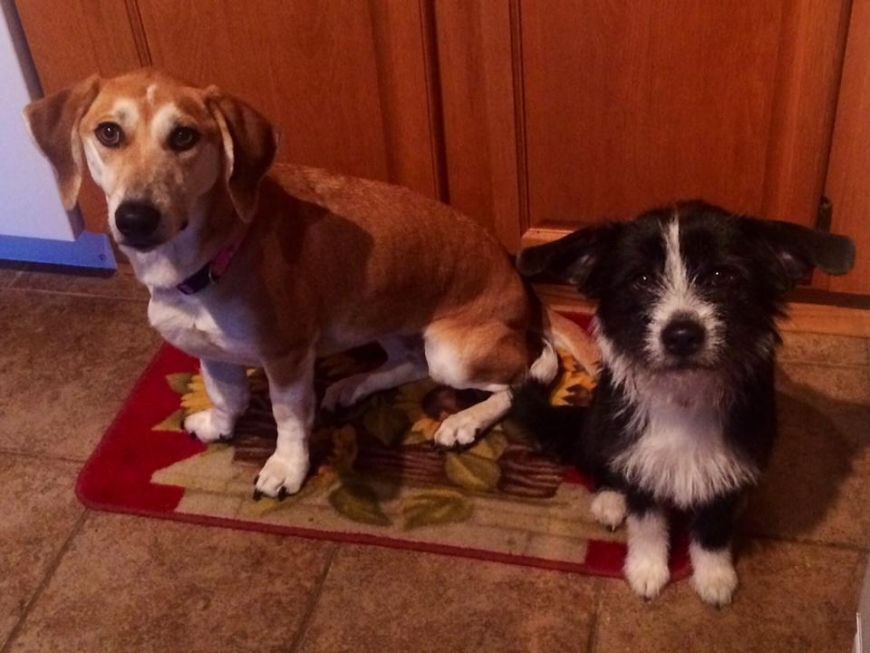 Ginger and Atticus
April 11 is National Pet Day, and I will take any opportunity to share my adorable dogs with the world.
I never imagined two little mutts could bring so much joy into my life. Even through all the puppy training, destruction, barking, shedding, walking, veterinarian bills and the constant dread that someday I will lose them, they have taught me so much about life and love.
Just as with any long-lasting relationship, I think it's easier for us to give unconditional love to our pets because we know their time on this earth is short, so we make it our goal to fill their fleeting lives with love, joy and adventure. Matt and I don't have kids, so our pups are the closest thing we have to little ones to care for, and trust me, they keep us on our toes!
We adopted Ginger from a Georgia shelter in 2009. I had imagined I'd bring home a little fluffy lap dog, but Ginger definitely ended up choosing me instead. She was different, I could feel it. She had a long nose, long body, short little legs with big front paws that both turned outward like a duck.
Her fur was reddish orange fur and she had red freckles on her white feet. She had long ears and the sweetest big brown doe eyes — we guessed she had to be part basset hound and part dachshund and who knows what else. The barking at the shelter was excruciating, but there was this little hound looking up at me not making a sound, just begging me to get her out of there.
My dad's exact words when seeing her were, "Leave it up to you to bring home the ugliest dog."
He now regrets those words because he and Ginger are best of buds. She loved her grandpa! LOL.
Immediately I knew how smart she was — potty training was easy, she liked sleeping in her crate at night and she learned tricks and commands pretty quickly. But she was equally as stubborn. She was an escape artist and had me chasing after her for years, she would steal the thawing meat from the kitchen counter, and to this day, she howls like a wolf at the moon when I try to sing inside the house.
At 12 years old now, she's a grumpy old bitch who enjoys sleeping in her own bed — also known as the extra bedroom — and taking long walks — but she's quick to come to a deadstop when she's done and wants to go home. She is scared of storms, fireworks, baths and the vet's office. I literally have to sedate her before taking her in for a nail trimming, let alone blood work or vaccines.
She has taught me unconditional love, patience and acceptance. I'll never know what happened to this anxious little mutt before she came home with me, but I have loved her through it (when she lets me) and I give her space when she wants it. I let her be herself and I let her crawl up into bed with me when she's scared. That's love.
Now Atticus, my little boy who is now 8 years old, is a 25-pound scruffy mess and complete foil of Ginger. At 9 weeks old, he was barely a handful when we brought him home to Waynesville. Matt was uncertain about bringing home another dog, but it didn't take long for him to steal our hearts. He was solid black with white accents on his chest, paws and face.
Now he's wire-haired and more gray than he is black, but he still acts like a pup. Full of energy, loves to harass Ginger into playing with him, loves to nap anywhere and anytime and loves to be cuddled. He's always happy. The veterinarians love him because he's so easy. He doesn't flinch at the storms or the fireworks and he sleeps between me and Matt — under the covers — every night.
They are a source of constant entertainment as they wrestle around together and chase each other around the house. And even though it took a while for Ginger to warm up to having little Atticus around, the two are now inseparable. I can't take one out of the house without the other screaming bloody murder, and when they cuddle up together on the couch, my heart just melts.
Atticus understands that Ginger is the boss of the house, and in return Ginger let's him nap on her bed sometimes, though he is never allowed inside her crate. And given that they were both born sometime in May from what we can figure, they both celebrate their birthdays on May 1 with a big doggie biscuit from Smoky Mountain Dog Bakery and a little pint of doggie ice cream.
It feels good to spoil them with treats, long walks and trips to the greenway and dog park — their favorite! They deserve to be spoiled because I don't know what I'd do without them.
I think by loving our dogs so fully and unconditionally, we make our own lives better, and perhaps even have the realization that our time on this earth is also short. How beautiful it would be if we worked to bring the same love, joy and adventure into our own lives as we do our pets.