Archived Rumble
Sponsored: Propel Your Small Business Forward with Social Media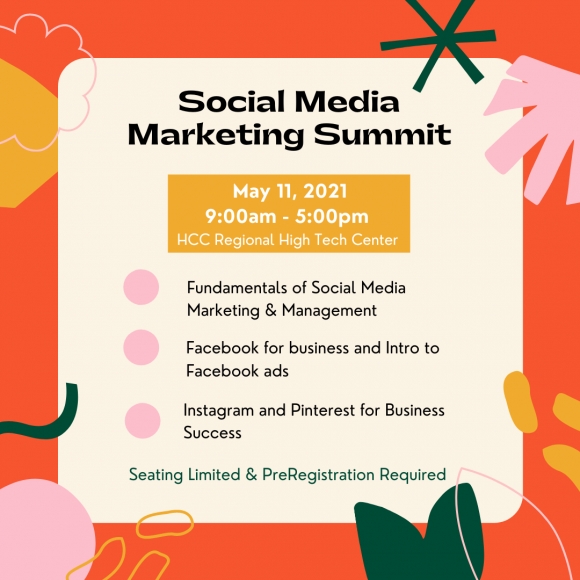 Haywood Community College's Small Business Center is offering a social media summit on Tues., May 11.

"An online presence has become a consumer expectation, and social media plays a strong role in the development of any digital marketing strategy," says Katy Gould, director of the Small Business Center. "According to Hootsuite, as of October 2020 over 4 billion people use social media monthly, further emphasizing the digital landscape as an opportunity for small businesses to not only survive, but thrive."
The summit is broken down into three sessions. Attendees can attend one or all of the sessions, depending on their educational needs. Below you'll find specific information regarding each session.
9 a.m. to 11:30 a.m. - Social Media Marketing Summit: Fundamentals of Social Media Marketing & Management
Social Media is important for the long-term success of most businesses. It is critical to enhance your brand, generate leads, assist customer retention and maintain excellent customer service.
During this workshop attendees will learn:

How to choose the correct channels for your business and optimize their use

Create and share content of value

Targeting content to specific buyers

How to be interruption that is welcomed

Setting up a social media calendar to manage your posting

Free and low-cost tools to help you manage and schedule social media

12:30 p.m. to 2:30 p.m. - Facebook for business and Intro to Facebook ads: Social Media Marketing Summit
Are you interested in learning how to use Facebook for your small business but having a hard time understanding how to make real money with it? Are you concerned about adding one more thing to your to-do list? Many businesses use Facebook, but most don't know how to do it strategically and efficiently.
During this workshop attendees will learn:
How to use Facebook to generate repeat business and increase marketing ROI

How to build a Facebook page that makes you stand out from your competition

How to read and interpret Facebook page performance statistics

How to get started with Facebook ads and boosting posts

How to create low-cost ad tests and analyze Facebook insights
3 p.m. to 5 p.m. - Social Media Marketing Summit: Instagram and Pinterest for Business Success
Instagram and Pinterest are the go-to platforms to maximize the exposure of your product or service. During this workshop attendees will learn the differencies and similarities of both platforms, as well as how to effectively integrate of both platforms into your marketing mix. Attendees will leave with a understanding of which is the right one to use and in what combination is key to maximizing your profitability.
Martin Brossman will be the speaker for each seminar. Gould says, "Martin Brossman brings relevant up-to-date small business focused content to each session. We look forward to hosting him on campus for the May Social Media Summit."
The event is free and seating is limited so you must register ahead of time. Click HERE to register and learn more.
Location:
Regional High Technology Center, Auditorium
3000 Bldg, Room 3022
112 Industrial Park, Waynesville, NC 28786
Contact:
Phone: (828) 627-4512
Email: This email address is being protected from spambots. You need JavaScript enabled to view it.