Archived Rumble
Ideas For Celebrating Mother's Day in WNC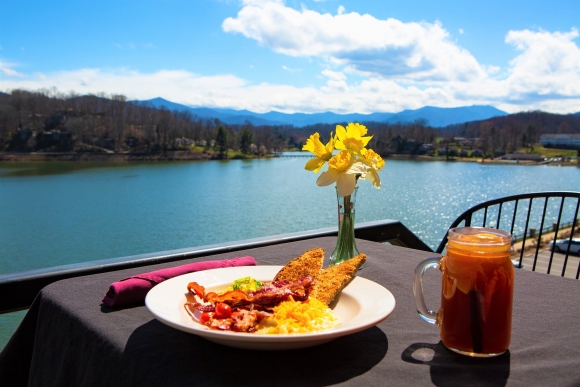 Celebrate Mother's Day with brunch at the Lakeside Bistro at Lake Junaluska.
There are so many ways to celebrate Mother's Day in Western North Carolina, whether you take her out for a meal, sign her up for a spa day or take her out on a date! Here are just a few highlighted special events going on across the region to make the day extra special.
Take mom for a meal
Fontana Village & Resort — Bryson City
Noon to 7 p.m. — Enjoy a prime rib dinner with mom for $28.95 per person. Make a reservation at 828.498.2115.
Laurel Ridge Country Club — Waynesville
Laurel Ridge will hold a Mother's Day brunch buffet from 11 a.m. to 3 p.m. Sunday, May 9. The cost is $35 per person ($9 for kids 7-12 and 6 and under eat for free). Call 828.452.0545 to RSVP.
Creekside Oyster House and Grill — Sylva
Mother's Day Brunch will be served from 10 a.m. to 3 p.m. Saturday, May 8.
Lake Junaluska — Waynesville
The Lakeside Bistro at Lake Junaluska will have a Mother's Day Buffet May 9. Ham and prime rib carving stations, Belgian waffles, an egg station and more. For reservations, call 828.454.6662 or visit www.lakejunaluska.com/bistro.
Pamper your mom
Maggie Valley Wellness Center — Maggie Valley
Foot soak, express facial and 60-minute massage for $205. Call 828.944.0288 for appointment or visit maggievalleywellness.com for more information.
Mother's Day Yoga at Sunrise — Chimney Rock State Park
6:15 - 7:15 a.m. Sunday, May 9. Elevate your mind and body during this early morning yoga session with Namaste in Nature. The picturesque backdrop of a sunrise from the Chimney makes for an ideal setting while connecting your spirit with nature. Lightweight yoga mats will be provided by your certified yoga teacher. This class is open to all levels of expertise. Cost: Includes Park admission: $35 Adult, $25 Adult Annual Passholder. Advance registration required at www.chimneyrockpark.com.
Philosophy of Yoga retreat — Waynesville
Leigh-Ann Renz is offering a special retreat-style workshop at Waynesville Yoga over Mother's Day weekend. It's a deep dive into the yamas & niyamas (the philosophy of Yoga), with tea and yummy snacks woven in to help celebrate the medicine of all women, mothers, and daughters.
Register at waynesvilleyogacenter.com or email This email address is being protected from spambots. You need JavaScript enabled to view it..
Take yo mama out
Haywood County Arts Council (Waynesville) will host a Mother's Day concert with members of the Tuscola High School band from 1 to 2 p.m. Sunday, May 8, in the Gallery & Gifts showroom. Free and open to the public. www.haywoodarts.org.
Uncorked — Bryson City
Th Great Smoky Mountains Railroad will host a wine-tasting train ride this weekend. Passengers will enjoy a full service All-Adult First Class ride in our First Class cars with a private attendant and plush, well-appointed dining seating. Passengers on this specialty car will enjoy an exclusive sampling of cheeses and a surf and turf meal prepared fresh. All passengers will receive a GSMR souvenir stemless wine glass, four samples of selected wine, and a dessert that's perfect for the season. www.gsmr.com/events/uncorked
Mother's Day Flowers, Plants and Artisan Market — Black Mountain
Celebrate the mothers in your life by gathering at Bloom WNC's flower farm to buy fresh flowers, plants, and choose other handicrafts from some very talented local artists. Visit noon-5 p.m. Saturday, May 8 or 10 a.m. to 5 p.m. Sunday, May 9. A guided tour of the flower farm is provided on Sunday at 1 p.m.
Grey Eagle Patio Show — Asheville
Roots and Dore, an American blues, soul and roots duo from the music-rich mountains of Asheville, will play a patio show at 6 p.m. Sunday, May 9, at The Grey Eagle. Purchase tickets online at www.thegreyeagle.com/calendar.
Biltmore in Bloom — Asheville
If your mother loves spring flowers, there's no better time to take her to Biltmore Estates to see the gardens with 110,000 flowers in bloom. Purchase tickets at www.biltmore.com.
Pop Up Mini Fair — Folk Art Center
Shop for a variety of fine craft from members of the Southern Highland Craft Guild from 10 a.m. to 4 p.m. Saturday, May 8, during this event at the Folk Art Center on the Blue Ridge Parkway. Types of craft available will include bladesmithing, glassblowing, wheel-thrown and hand-built ceramics, woodturning, metalsmithing, leatherwork, and furniture making. You'll see beautiful craftwork in a fun, casual setting.
Gathering at The Rickman Store — Macon County
The arrival of spring marks a new season of weekly festive gatherings at the Rickman Store in Macon County. Mainspring Conservation Trust and the Friends of the Rickman Store (FORS) invite the community and visitors to the region to visit this historic building every Saturday from 10 a.m. to 4 p.m. starting May 8.
As part of the Blue Ridge Music Trails, the Rickman Store will continue welcoming musicians for its weekly afternoon jams. Masks are required indoors but the option of playing outdoors on the porch is available.
The Rickman Store is located seven miles north of Franklin by N.C. 28, in the heart of the Cowee-West Mill Historic District, next to the Old Cowee School on 259 Cowee Creek Road.
For more information, call 828.369.5595 or visit Friends of the Rickman Store on Facebook.