Archived Rumble
How to make meditation work for you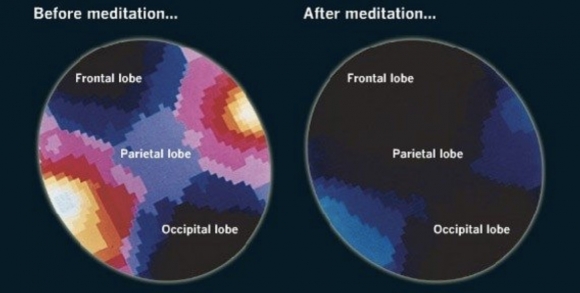 Meditation looks different for everyone and that's OK. There's no right way or wrong way to meditate — if you do it regularly, you're probably doing it right.
People often say, "I can't shut off my brain long enough to meditate." Well yeah, if we were all able to shut off our brains on command, we wouldn't need to meditate. Meditation is all about the practice of bringing attention to our breath and noticing when the mind wanders away from the breath. When your mind starts going to other thoughts, simply notice it, accept it and bring your awareness back to the breath — this is how you work to anchor yourself in the present moment when your mind wants to focus on the past or the future.
Be patient with yourself, keep practicing and know that over time it is making a difference in your life even if you don't see immediate results. The Rumble team wanted to share its meditation practices with you in hopes you'll develop your own practice that works for you!
Susanna Shetley
A short meditation has been part of my morning routine for a long time, but recently I started meditating for longer periods. During short-session mediations, I rub a mixture of lavender and peppermint essential oils between my hands and inhale deeply before closing my eyes, and then I set a timer and focus on my breath for five minutes, allowing my thoughts to weave in and out. While practicing brief meditations, I became curious about longer sessions. I began using an app called Headspace, which guides me through longer meditations. There are numerous apps out there, and I encourage you to use some form of guided meditation if you're new to the practice. Eventually, the goal is to mediate on my own.
You may wonder why meditation works and how it became a global ritual that stands the test of time. In the simplest of words, mediation works by slowing incoming thoughts to a trickle. It affects the most evolved parts of the human brain such as the frontal lobe, parietal lobe, thalamus and reticular formation by slowing beta waves and calming racing, overwhelming thoughts and stimuli.
Stress, anxiety and depression have always been part of the human experience. Mediation eases these negative emotions. It also relieves pain, improves attention, decreases blood pressure and improves sleep. Below are the two main types of mediation.
Focused-attention meditation. This style focuses the attention on a single object, thought, sound or visualization. It emphasizes clearing your mind of distractions. Meditation may focus on breathing, a mantra or a calming sound.
Open-monitoring meditation. This style encourages broad awareness of all aspects of your environment, train of thought and sense of self. It may include becoming aware of suppressed thoughts, feelings or impulses.
I've realized that quick fixes for anxiety and melancholy, such as a glass of wine or afternoon cup of coffee are not long-term solutions. As I dig deeper into the world of mediation, I become more intrigued with this ancient practice and excited to make it a part of my daily existence.
Jessi Stone
Like Susanna, I began meditating by using guided meditation apps like Calm or meditation podcasts like Mindful in Minutes with Kelly Smith or Meditation Minis with Chel Hamilton. You may also enjoy Meditative Story where different people — often famous actors, musicians and writers read stories with meditative music in the background. It's especially relaxing before bedtime.
I still turn to one of these guided practices if there is something in particular I'm stuck on and can't move through on my own — maybe a difficult emotion or a painful thought that keeps replaying in my head.
As for my daily practice, meditating is one of the first things I do in the morning to set the tone for the day. I light my oil diffuser with a tea light candle and whatever essential oil I want to burn. I start with a few deep breaths in through the nose and out through the mouth. I work to relax my shoulders and any other tension in my body with each exhale. I check in with myself — how does my body feel? How did I sleep last night?
I ground myself by checking in with my senses — What do I hear around me? What do I smell? What do I feel? This keeps me in the present moment and helps me release any anxiety that could be building up as I start my day. If it's going to be a tough day, I may visualize myself moving through my day with ease or I may need to repeat some affirmations to myself to calm my mind — all while focusing on my breath.
Lastly, I pray for those I love and I express gratitude for everything good in my life. This 10-minute morning practice has made all the difference in my life and I hope it can help you!
Hannah McLeod
Guiding people through meditation was something that used to terrify me. I used to think that if I couldn't make my brain go blank, how the hell was supposed to help other people get there? Because I had never attempted meditation, I went into Yoga Teacher Training dreading the days we would learn about it.
Oh, how much I had to learn.
Meditation is a vast and dynamic tool. But the hardest part is starting.
When one of my teacher's was explaining meditation, he said something along these lines, "before people meditate, they always say they don't have enough time for meditation. After people start, they say they don't have enough time NOT to meditate."
I find meditation to be about sitting with yourself. The real self. We learn in Yoga that we are not our thoughts; we are not our actions; we are not even our body. Those things matter tremendously, but they are not truly us. I always tried to understand this, but I never really did until I began meditating.
I remember the first time I realized I was deep in meditation. Deeper than I had ever previously understood existed. I was leading a guided meditation for guests at the surf camp I worked at in Costa Rica. I had chosen the image of a still lake, full the brim of calm, black water on a moonlit night to guide our minds toward release through breath connection. At some point, I fell in.
I remember the realization (which ironically pulled me swiftly back to conscious reality) that I was completely disengaged from my body. The moment I realized there was breath, black, and nothing else. In that instant, begore the realization shifted the state of being, I remember thinking that I didn't know where my arms were in space, that I didn't know if I could move them on command, I didn't even know if I was sitting down. It is a difficult feeling to describe, other than total disengagement from the physical body. And for that split second, I think I found the place that underlies everything else about me – thoughts, feelings, emotions, physicality.
Time moves differently during meditation. It can drag reluctantly or race by before we even have the chance to relax into our breath. Because the nature of time during meditation is so fickle, that instance in time in Costa Rica, likely not more than a millisecond, has made more of an impression on me, is more memorable, than entire days and weeks of my life.
It was intimidating to lead people through meditation. Even after I learned the simplicity of it, the unique nature it takes for each individual person. But that intimidation melted away the first time I saw a guest stay where they were, remain seated with themselves after the guided meditation had ended. It melted away the day I opened my eyes to find a woman smiling, eyes closed, tears streaming down her cheeks. It melted away when guests asked for meditation time.
It has been a long time since I have meditated. Something about the easy temperature and consistently erratic sounds of the jungle made it easier. But the value it holds has not waned from my memory. It can be intimidating to start anything – especially something where you must sit still and be quiet and pay attention to yourself. That is the value and the difficulty in meditation. Sitting with ourselves. Listening, breathing, understanding, forgiving.
The benefits of sitting with yourself though, cannot be understated. Like Susanna said, there is a reason this has been practiced for thousands of years. I hope I can use the tools my colleagues listed above to get back to sitting with myself, back to meditating.
Leave a comment
1

comment
So after a little bit of research I found this course of manifestation techniques, I honestly never thought that would actually work, I'm shocked. One of the lesson that I learned is that if you help someone to manifest, the accelerate your manifestation! So here is for you my friends, I wish a blessing day.
Be carful of what you're manifesting it's super strong! https://bit.ly/2S8AmxD

Wednesday, 05/19/2021