Archived Rumble
Harriet Tubman Statue Coming To Sylva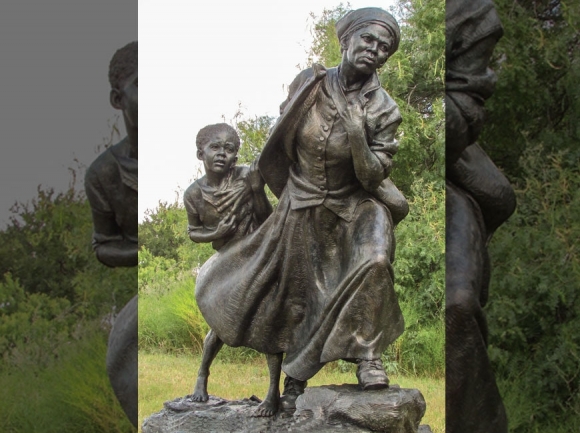 The "Harriet Tubman — Journey to Freedom" sculpture will be on public display in Sylva, North Carolina from Sept. 20 to mid-December 2021.
Jackson County is proud to host this powerful work of art on its tour throughout the United States. Academy and Emmy award winning sculptor and Cashiers, NC resident Wesley Wofford is the dynamic artist behind this inspiring work of art. The 9-foot, 2,400 lb. bronze monument will have a dedication ceremony from 2 to 4 p.m. Sunday, Sept. 26, in Bridge Park, 76 Railroad Avenue, Sylva.

The monument of Harriet Tubman on her road to freedom represents a woman of strength, faith, and confidence. By using the network of the Underground Railroad, she led approximately 70 enslaved men, women, and children in 13 trips to their freedom. The sculpture depicts Tubman leading a terrified, enslaved girl, broken shackles at their feet.
"I wanted the child behind Harriet, and Harriet to be very protective of her, shielding her from what was coming but also guiding her," said Wofford. "Harriet personifies a role model and hero, and we are proud to commemorate the resilience and contributions of strong women throughout history."
The statue was originally created for a private commission, but he decided to share his copy of this piece with the public because of the overwhelming response to the sculpture on social media.

"With North Carolina being home to more than 20 Freedom Road sites, we, along with our community partners, felt having such an inspiring representation of the remarkable story of Harriet Tubman here in Sylva would be an incredible opportunity to facilitate cultural understanding, create space for dialogue, and share traditions that represent a diverse community. We are excited to share this emotional sculpture with our friends in Jackson County and beyond.," said Dr. Dana Murray Patterson, President, Jackson County Branch #54AB (NC) , NC NAACP Branch.
For more information, contact Jackson County Branch #54AB (NC) NAACP: This email address is being protected from spambots. You need JavaScript enabled to view it. or call 828.331.1803.