Archived Rumble
Experiencing Van Gogh in Atlanta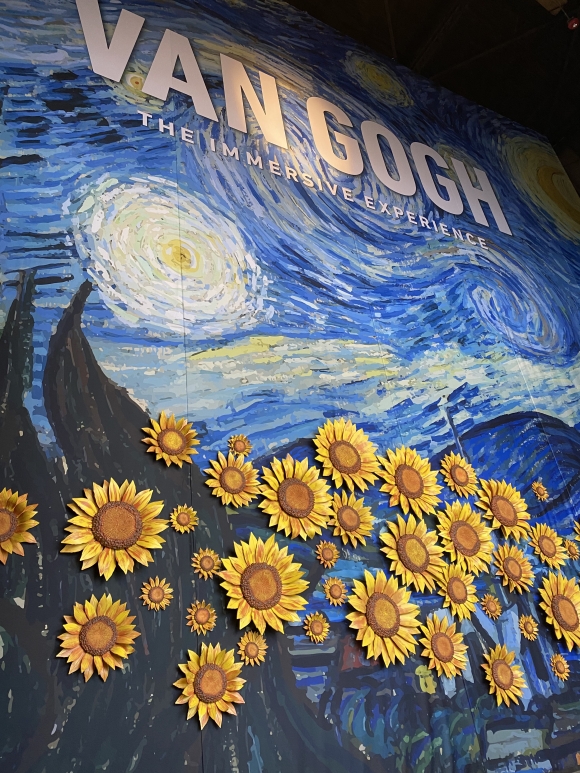 By Hylah Birenbaum
This August I will be celebrating my 50th birthday, so I decided that this year I am dedicating it to me with some self-care and self-love.
As a single mom of two boys (16 and 11) normally vacation would be kid friendly, but back in February when a friend shared that the Van Gogh Immersion Experience was coming to Atlanta, I said that's what I want to do, by myself. This year especially with COVID-19, remote school and craziness, I knew I needed a getaway come summer time.
First I had to enter my email address and then the exhibit would notify me about tickets. At the beginning, it was by lottery, so my date was at noon, Monday, May 31. I decided to make a getaway out of it. Stay in a hotel room, away from kids, computer and cooking for one night.
As Editor in Chief for Smoky Mountain Living magazine, my job is marketing, advertising and overseeing the operations of the magazine. I still make sales calls and my territory includes the North Georgia mountains. Knowing I was headed to Atlanta, I wanted to take the scenic way and meander through the rolling hills and back roads of North Georgia. Driving has always been a relaxing and wonderful journey of mine. I love getting off an exit to see a downtown or an historic attraction. I remember when I was little my family would leave at 3 or 4 a.m. to get to my grandparents' house. Sometimes I would wake up when it was dark and talk to my dad who was driving. Loved the feeling of the roads in those early mornings. That feeling has never really left me.
Sunday I head out on those back roads, stopping to take some videos and enjoy the scene. When Monday arrives I need to drive to East Atlanta. The exhibit is at the Pratt-Pullman Yard, which is in the Kirkwood neighborhood of Atlanta. Brief history — the Pratt Engineering Company in 1901 used the 27-acre facility as a sugar and fertilizer processing plant. Then in 1926 the Pullman Company purchased the property to repair their railroad sleeper cars. (The yard has also been in several movies including the Hunger Games).
Didn't quite know the lay of the land, but after entering this massive warehouse and seeing a wall of sunflowers, I knew I was in the right place. The first room has Gilcee' prints of different series that Van Gogh painted. Seven different sunflower paintings showing how frustrated he got painting the same scene different ways. Plus, the influence that Japanese printmaking had on his painting. In addition, some of his popular works — Irises, Starry Night, Wheatfield with Crows were also displayed. Finally, there were explanations on his history, his relationship with his brother, his tumultuous friendship with fellow painter Gauguin and finally his demise and suicide.
The next room I am fully immersed by light and sound. This 20,000 square foot room has floor to ceiling video, projecting Van Gogh's earliest works mixed with more popular pieces. Sitting down against the wall and watching the video flow in front was beautiful and moving. Seeing virtual rain come down from the ceiling with "water droplets" on the floor made it a total immersed experience. The projections were very well done and showcased Van Gogh's early sketches to his Japanese influence to the paintings that are familiar. There were benches to sit on, carpets to lay on and futons to lean against. Not a bad seat in that room.
The last room had a virtual reality experience which I did not do, and Van Gogh coloring pages for everyone to make their own art. Finally, you can't have an art exhibit without a gift shop. They had posters, coffee mugs, mouse pads and T-shirts for sale. I did buy a coffee mug to add to my collection.
Overall it was a wonderful getaway, not just being immersed in a beautiful display of art but taking time to take care of me, self-love, and self-care.
For more information about the Van Gogh: The Immersive Experience, click here.
Immersive Van Gogh opens in Charlotte June 17. Click here for more information.
Leave a comment
1

comment
Amazing. I can't wait to go in Charlotte.

Thursday, 06/03/2021