Archived Rumble
Staycation Ideas For The Summer Season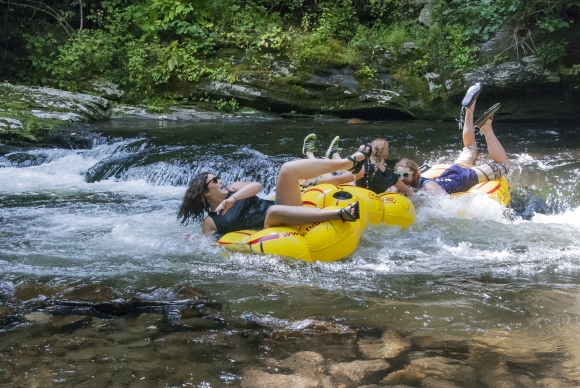 Tubing in Deep Creek
Swain County TDA
While everyone with families takes advantage of the summer months off from school by getting out of town for a while, I prefer to spend the summer months right here in Western North Carolina.
There are plenty of reasons to stay around here — the weather is cooler here than most other places so that's a plus, but also there are so many fun things to experience in the region during the summer months.
I've lived in Waynesville for more than 8 years now and I'm still finding new and exciting adventures in my own backyard. Here are a few of my favorite staycation ideas.
Day on the Parkway
We are so fortunate to have the Blue Ridge Parkway in our backyards, and as much as I explore the miles between Waynesville and Asheville, the beautiful never ceases to amaze me.
1. Start your day with an early morning breakfast at Pop's Diner in Maggie Valley (if you're getting on the parkway from Soco Road) or at Beach Mountain Diner in Hazelwood (if you're getting on the parkway on the Balsam side).
2. Meander up BRP toward Asheville just as the clouds are beginning to lift and the fog begins to burn off the mountain peaks. Stop at the many overlooks for pictures. Take your time and enjoy it.
3. Find a hike that suits your skill level. The parkway has something for everyone whether you're looking for a quick summit hike, a beautiful waterfall or a long stretch of diverse landscapes. If you want a short hike with a big pay off, Devil's Courthouse is 0.9 miles round trip with amazing views at the top. It's short but steep so take your time if you're a beginner. If you have a little more time to explore, I recommend roaming around Black Balsam or Sam's Knob area. You can do 3-6 miles on the trail systems that intersect and take in some amazing views from the top. This area is also a great place to set up a tent for the night if you want to camp. Black Balsam would be the perfect place to watch the sun go down and do some stargazing. If you're looking for a waterfall to cool off in, Skinny Dip Falls is a 1 mile out and back hike that offers an incredible waterhole. Graveyard Fields also has several waterfalls to explore. Pack a picnic lunch, find a peaceful stop and enjoy the scenery wherever you find yourself. Personally, I enjoy the Cowee Mountain Overlook, which has a pull off where you can park.
4. When you're worn out from the day's activities, keep driving on the parkway until you get to Pisgah Inn (where you have booked a room for the night and have a reservation for dinner. The Pisgah Inn doesn't disappoint. It's where I spent my birthday staycation last year. Take a shower, put on your dinner clothes and open a bottle of wine or enjoy your favorite beer on your personal back porch. Then make your way to the dining room for an amazing meal. You really can't go wrong with anything on the menu, but I enjoyed the fried green tomatoes and the grilled salmon with veggies. When dinner is done, take your nightcap out back, relax in one of the adirondack chairs and watch the sunset over the mountains.
Haywood to Hot Springs
A few years ago on my birthday, Matt and I planned an amazing day! I wanted to finally experience The Swag picnics, but they only do it on Wednesdays so we took off work for my birthday so we could do it.
1. Drive up to The Swag at lunch time and walk up to the knob above the inn where they have tables and chairs set up along the ridge line and a full spread of food for their guests to enjoy. It's called a "picnic" but there is everything from salads, burgers, barbecued chicken and grilled fish and desserts to choose from. Even in late August, the breeze was so nice up there and the umbrella kept me in the shade while I enjoyed the delicious food and breathtaking views. If you don't plan to stay the night at The Swag, just be sure to call ahead and make a reservation for the picnic because it does fill up fast. When we went it was $50 a person but the experience and food was well worth it.
2. After lunch settles and you've walked it off by exploring the beautiful property, head back down the mountain and toward Hot Springs. We like to take the longer, slower way up through Fines Creek. Turn up the tunes and enjoy the scenery.
3. If you're looking for a way to burn off all those calories you just ate, I recommend hiking the Lovers Leap Loop Trail near Hot Springs. It's only 1.8 miles and 472 feet elevation gain so it's not too strenuous or long but it has great views!
4. After your hike, or even if you skipped the hike, stop at Spring Creek Tavern along the water and enjoy a refreshing beverage. Walk around and enjoy the quaintness of the little downtown area.
5. Head to Hot Springs Resort and Spa right on the French Broad River. If you've booked a room for the great, get settled in for the evening, but even if you haven't booked a room, you can still enjoy a soak in one of the mineral spas. Yes, we also did this in August, but the private mineral tub right on the water was still relaxing and not too hot to enjoy in the summer heat. Rates by the hour are reasonable so book ahead!
Bryson City Bound
Bryson City has so much going for it, you could easily spend days in the area exploring the Great Smoky Mountains National Park, Nantahala, and the bustling downtown.
1. You can make a whole day of hanging out at Deep Creek, but you better get there early and bring your bathing suit. I recommended going early and finding a nice picnic table area to claim for the day. On your way in, stop and rent your inner tubes for the day. Once you've claimed your spot, take a short hike up the Deep Creek Trail to see several waterfalls and take your tubes with you. Once you reach the highest put-in, hopefully you'll be hot enough that the cold water will feel good when you get in and get ready for the ride of your life. I call this adventure tubing — it's not a slow, bring-your-beer-cooler kind of tubing. It's more like a rollercoaster all the way down with plenty of rapids, but it's a blast for adults and kids. By the time you get back to your picnic spot, you'll be ready to grill some burgers and relax for a bit while you dry off. I like sitting in my tube by the water watching all the other people come down the creek after their adventure. When you're ready, grab your tube and do it all over again.
2. If you've never done it before, you've got to take a ride on the Great Smoky Mountains Railroad. One excursion will take you through the Nantahala Gorge and the other will take you along the Tuckasegee River. In the summer, GSMR offers a number of special excursions, including a wine-tasting or a BBQ dinner ride. Book ahead because the train fills up in the summer.
3. On your way out of town, be sure to stop by Darnell Farms for some fresh produce to take home with you to cook a big southern meal. If it's a weekend, you might luck out and hear some live bluegrass music or the kids could get a tractor ride around the farm that sits right along the river. The farm also has a food truck on site that uses fresh produce on the menu. There's nothing better in the summer than one of their dream whip treats - try the peach or strawberry!
4. If you're staying the night, there are so many great lodging options right downtown. There are also great cabin rentals, camping or my favorite — glamping. Check out some of the companies that offer overnight stays in yurts.