Archived Rumble
Welding student named Sylva Rotary Student of the Month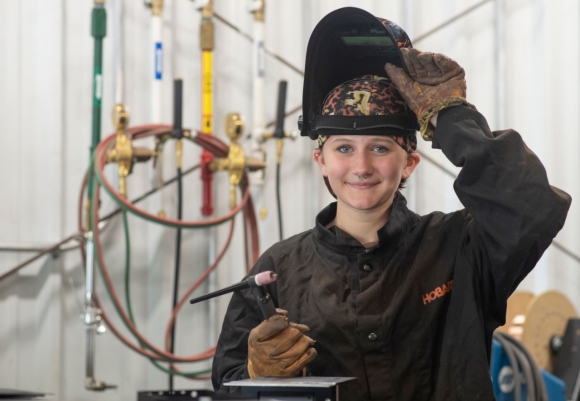 The Rotary Club of Sylva chooses a student of the month for good grades and exemplary study skills.
In April, the group chose dually enrolled student Mary Bailey. After attending her classes at Jackson Community School, she commuted to SCC to attend the College and Career Promise welding course this spring.
She was the only female in a class with 18 male students.
"The first day I was there, everyone tried to do everything for me," said Bailey. "But now they give me space. This is a place I can study and achieve my goals."
Despite the hardships, Bailey persevered and maintained high grades while also taking college courses.
Bailey was chosen for her outstanding grades, determination, and work ethic in a field that women are not typically seen pursuing.
"Mary has outstanding character, diligence, motivation, and a true zest for life" said Sylva Rotary Club's Youth Services Chair Ron Rhodes.
After graduating from Jackson Community School this month, Bailey will participate in a job shadowing experience with her instructor and then pursue a welding degree at SCC.
"Mary is an exemplary student and we are honored to have her at our school," said Jackson Community School's Graduation Specialist Carolina Williamson.
The Rotary Club is an international service club that assists anyone in need with a variety of servies. More info at www.rotary.org.
About Southwestern Community College
For more than 50 years, Southwestern Community College has served Jackson, Macon, Swain Counties, and the Qualla Boundary by offering a wide range of educational options for residents in all stages of life. SCC has been ranked No. 1 by Bestcolleges.com in its listing of "The Best Community Colleges & Trade Schools of 2020," marking the fourth time in the past 15 years Southwestern has ranked among the nation's Top 10 community colleges. SCC provides a supportive learning environment and more than 40 degree programs in Health Sciences, Arts and Sciences/College Transfer and Career Technologies. SCC also offers a variety of community resources, including the Small Business Center, Workforce Continuing Education and Career Services.