Archived Rumble
17 Summer Date Ideas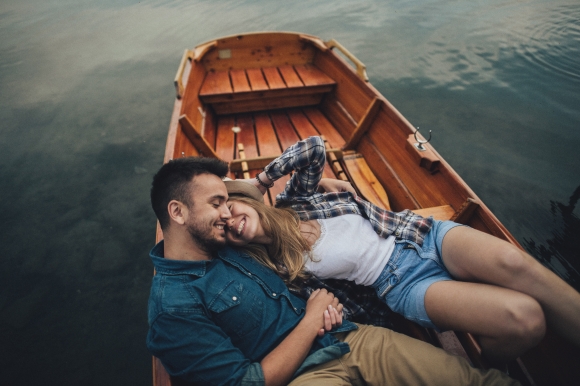 Everything about summer is romantic. What doesn't speak love when you combine sunshine with fresh food, bare skin and more daylight hours to frolic and adventure, not to mention those starry nights perfect for sky gazing and first kisses. Coming off the uncertainty of last year, this summer feels extra special. Below are 17 fun summer date ideas for you and your person.
Outdoor movies: Akin to the days of drive-in theatres, many locales are now offering outdoor movies. Whether it's a screen set up at a festival grounds or a sheet hung on a brick wall in an urban setting, you're bound to find an opportunity to snuggle up to your loved one and enjoy the cinema under the night sky.
Hiking: There's something about hiking that fosters deep conversation and there's something about deep conversation that brings two people closer together. You see where this is going. Get out in nature with your significant other and you're bound to feel more connected. Remember that a hike can be as simple as a walk in the woods.
Al fresco dining: Perhaps it was the pandemic or maybe the human spirit yearns for nature more than we realized, but al fresco dining has re-emerged as a popular concept. There's something festive and romantic about dining in the great outdoors. Whether you eat al fresco at a restaurant or supper club or you host your own backyard soiree, you'll feel a bit quixotic by dabbling in this centuries-old pastime.
Road tripping: There's nothing like hitting the open road with your lover, music blasting and windows rolled down. It's even better when you can set out with a loose agenda, which allows the universe to drop some serendipitous surprises in your lap. If you're young and in love, take this chance to take a road trip. Things get a bit trickier, and much more expensive, when you've got kids in tow.
Training together: For athletic pairs, this can be super fun. Perhaps you both sign up for a 5K or train for a triathlon together. Pushing, supporting and encouraging one another is not only a wonderful way to get in shape but it also allows two people to bond in a most unique way.
Sunrises and sunsets: This is a given. Sunrises and sunsets are beautiful anytime of year but they are especially enchanting during the summer months. Maybe the sun is excited in the morning and tired at night or maybe there's some complicated meteorological reason. Regardless, don't let summertime pass you by without catching a few sunrises and sunsets. With that kind of backdrop, the romance will happen on its own.
Baseball games: Summertime and baseball go hand in hand. Whether it's a minor league or the majors try and catch a baseball game sometime this summer. Grab a couple beers, eat a hot dog or nachos, crack some peanuts, and relax together while watching the players do what they do best.
Mini-golf: This is sport for all skill levels. Furthermore, mini-golf never fails to offer a few giggles and embarrassing moments. Maybe include an additional layer of fun by having the winner pick the location of the next date or that night's movie selection. That'll up the ante and competiveness for both parties.
Outdoor theatre: Many towns and cities offer an outdoor theatre option. Watching a play together under the stars while lounging on a blanket is the epitome of romance. Further, most outdoor theatre venues allow you to bring your own picnic and drinks. Moreover, you'll feel a bit more cultured after an evening with Shakespeare or some other classical playwright.
Early morning walks: Start each day by taking an early morning walk with your loved one. This works especially well if you make a commitment not to look at your phones before setting out on your path. Enjoy the quiet world together before the stimulation of modern society infiltrates your space. Be mindful of flowers, birds, sounds and other sensual pleasures as you saunter.
Coffee and tea on the porch: Summer romance doesn't have to be complicated. Simply enjoy coffee together each morning on the porch or meet for a mug of tea in the afternoon. This kind of "date" is especially important for parents who may have very limited time to be alone. You'll never regret making the effort to meet early each day for conversation and coffee.
Couples massage: This one may seem like a bit of a splurge and it probably is, considering it's a bit more costly than some of the other suggestions. Nonetheless, if you've never experienced a couples massage with your significant other, it's highly suggested. Massage on its own stimulates relaxation and mindfulness, and being with your mate during the process makes it even more revitalizing.
Cooking together: If you have a little extra time during the summer months, this would be a great time to take a cooking class. Learning something new as a couple can be very romantic. If you don't have time for a full-blown cooking class, use the summer months to try out some new recipes in your own kitchen. With so many vegetables in season, it's a perfect time to create a deliciously romantic meal.
Kayaking, tubing, and canoeing: The water in and of itself is romantic. Oceans, rivers and lakes offer their own unique medicine, so don't let summer pass you by without enjoying one, two or all three bodies of water. Try kayaking, canoeing or tubing on the water and if none of those float your boat (no pun intended), at least watch a sunrise over the lake or take a long walk on the beach.
Wine tasting: Wherever you live, there is bound to be a vineyard or winery near you. If you and your partner enjoy wine, you should learn about it together. Take a trip through a vineyard hand-in-hand then allow the professionals to teach you a thing or two about the wonder of winemaking and the distinct differences between types of grapes.
Perusing farmers markets: Farmers markets only exist during the summer months so don't miss out. With live music, taste tests, happy farmers, local produce and talented artisans, the atmosphere of a farmers market feels utopian. An additional layer of fun is to buy various ingredients at the market then make a meal together. There is something romantic creating a meal out of the fresh foods you've purchased.
Live music: Summertime brings numerous outdoor concerts and music festivals. If you and your love enjoy music, don't let summer disappear without enjoying a few shows. Not only will the concert itself be fun, but you can bond during the weeks leading up by listening to the band at home, in the car and while canoodling.
Grab your favorite human and create a romantic summertime bucket list. And don't forget to snap some photos. As it always does, summer will fly by so make some memories and enjoy it while you can!