Archived Rumble
Funding Cuts for Sexual Assault & Human Trafficking Counseling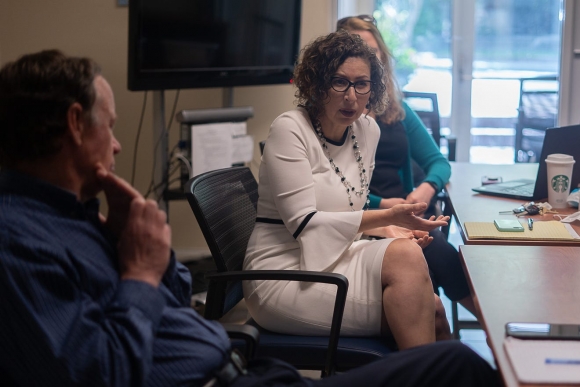 Our VOICE learned on June 16 that we would not be receiving $298,000 in continued grant funding from the North Carolina Governor's Crime Commission due to the alarming decrease in Victim of Crime Act (VOCA) dollars at the federal level. This funding supported vital ongoing, longtime services, one of which is free counseling for sexual assault and human trafficking survivors.
Pisgah Legal Services, Helpmate, and the Mediation Center's Family Visitation Program also learned that the North Carolina Governor's Crime Commission would not continue grant funding for several of their crucial services. These four organizations provide a continuum of complementary and non-duplicative services to victims. The grants, which come from the North Carolina Governor's Crime Commission's allocation of federal Victims of Crime Act (VOCA) and Violence Against Women Act (VAWA) funds, are scheduled to end on September 30, 2021.
We are working to find ways within our community to replace this funding and we hope you can help. Replacement funding is critically needed from local governments, possibly through the American Rescue Plan Act funds, individual donors, faith communities, as well as foundations making significant grants to ensure continued counseling for the survivors of sexual assault.
Our VOICE offers counseling services to residents of Buncombe County, ages 13 and up, regardless of gender identity, ethnicity, socio-economic status, religion, immigration status or sexual identity. We believe that anyone should be able to access counseling services. We believe that counseling can provide the support and access to personal resources vital for healing from an experience of sexual violence or human trafficking. These services are beneficial both during crisis periods and throughout the lifetime of the survivor. Counseling has the potential to improve the self-esteem, interpersonal relationships, and patterns of behavior for a survivor of sexual violence. Individuals who request counseling are offered up to sixteen individual 50-minute sessions.

The Impact: The loss of such a substantial amount, critical to the operation of Our VOICE represents a loss of funding for three full-time counseling positions as well as a 53% decrease in the organization's capacity to provide counseling services. As a result of the COVID-19 pandemic, sexual assault and human trafficking survivors experienced increased vulnerability to ongoing abuse, anxiety, isolation, and loss of autonomy. Some experienced new triggers, while other triggers which were previously manageable resurfaced. This is reflected in an increase in demand for Our VOICE services: The organization provided 56% more counseling services in 2021 compared with 2020 and has provided 970 counseling sessions so far in 2021. In the first quarter of the year alone, Our VOICE served 94 new counseling clients. In addition, the organization received 326% more human trafficking calls in the first half of 2021 compared with the first half of 2020. Our VOICE assisted these callers with counseling, advocacy, case management, transportation, emergency shelter, food, clothing, medical assistance, information, and referrals.
Our VOICE, Pisgah Legal Services, Helpmate, and The Mediation Center are determined to work in partnership with our community to mitigate the effect of these cuts and ensure that the most vulnerable do not continue to be disproportionally affected by the COVID-19 pandemic.
How the Four Organizations Work Together
Vanessa's story is a composite example of how a family might use the continuum services from all four agencies in their pursuit of safety and healing: Vanessa is a mom of two, Tony (1) and Eva (14). After divorcing Eva's father, Vanessa met Alan. In the beginning, Vanessa and Alan had some good times together, but it wasn't long before Alan slapped Vanessa. Later, when she was pregnant with his child, Alan beat her badly, kicking her in the stomach while accusing her of cheating. Vanessa was terrified for herself, for her daughter Eva, and for her unborn son, Tony. With encouragement from a friend, Vanessa reached out to Helpmate. A Helpmate advocate helped her create an escape plan, secure an emergency domestic violence protective order, join a support group, and get specialized services for her children. Throughout this several-month ordeal, Helpmate advocates safety planned with Vanessa as Alan continued to threaten and harass her.
During a Helpmate support group meeting, Vanessa confided that when she was the same age as Eva, her uncle had sexually abused her and that she'd recently started to suspect that Alan was abusing Eva. Helpmate connected both mother and daughter with Our VOICE and where they begin seeing a counselor with special training in sexual trauma. Vanessa worked through the shame and guilt she carried for herself and her daughter. Eva learned that the difficulties she was having at school might have been connected to the abuse. Both learned coping skills to start the healing process.
Knowing that Vanessa couldn't afford an attorney, the Helpmate advocate connected Vanessa with Pisgah Legal Services for free civil legal representation. An attorney with special training in representing domestic violence victims helped Vanessa obtain primary custody, file for child support, and regain possession of her home. At each court date, Helpmate provided accompaniment and childcare while Vanessa attended court.
During the custody proceedings, Pisgah Legal Services advocated for Alan's visits with Tony to be supervised at the Mediation Center's Family Visitation Program. Vanessa didn't have contact with Alan when using the program, and visits were monitored one-on-one in the program's secure facility. The professional supervisor's notes were used by the court as the custody matter was decided. Vanessa was relieved to be able to use the program because she knew that both she and Tony were safe.

How Can You Help?
Contact these elected state officials to encourage them to replace this important community funding: · Rep. Tim Moore, Speaker of the N.C. House, This email address is being protected from spambots. You need JavaScript enabled to view it. (919) 733-3451 · Sen. Phil Berger, President Pro Tempore of the N.C. Senate, This email address is being protected from spambots. You need JavaScript enabled to view it. (919) 733-5708
· Senior Chairs of the N.C. House Appropriations Committee: o Rep. Dean Arp, This email address is being protected from spambots. You need JavaScript enabled to view it. (704) 282-0418 o Rep. Donny Lambeth, This email address is being protected from spambots. You need JavaScript enabled to view it. (919) 733-5747 o Rep. Jason Saine, This email address is being protected from spambots. You need JavaScript enabled to view it. (919)733-5782
· Chairs of the N.C. Senate Appropriations Committee: o Sen. Kathy Harrington, This email address is being protected from spambots. You need JavaScript enabled to view it. (919) 733-5734 o Sen. Ralph Hise, This email address is being protected from spambots. You need JavaScript enabled to view it. (919) 733-3460 o Sen. Brent Jackson, This email address is being protected from spambots. You need JavaScript enabled to view it. (919) 733-5705
Our VOICE contact: Angelica Wind, Executive Director, This email address is being protected from spambots. You need JavaScript enabled to view it. (828) 252-0562 https://www.ourvoicenc.org/