Rumble
Tips for Staying Sane During Holiday Shopping Season
Wednesday, November 24, 2021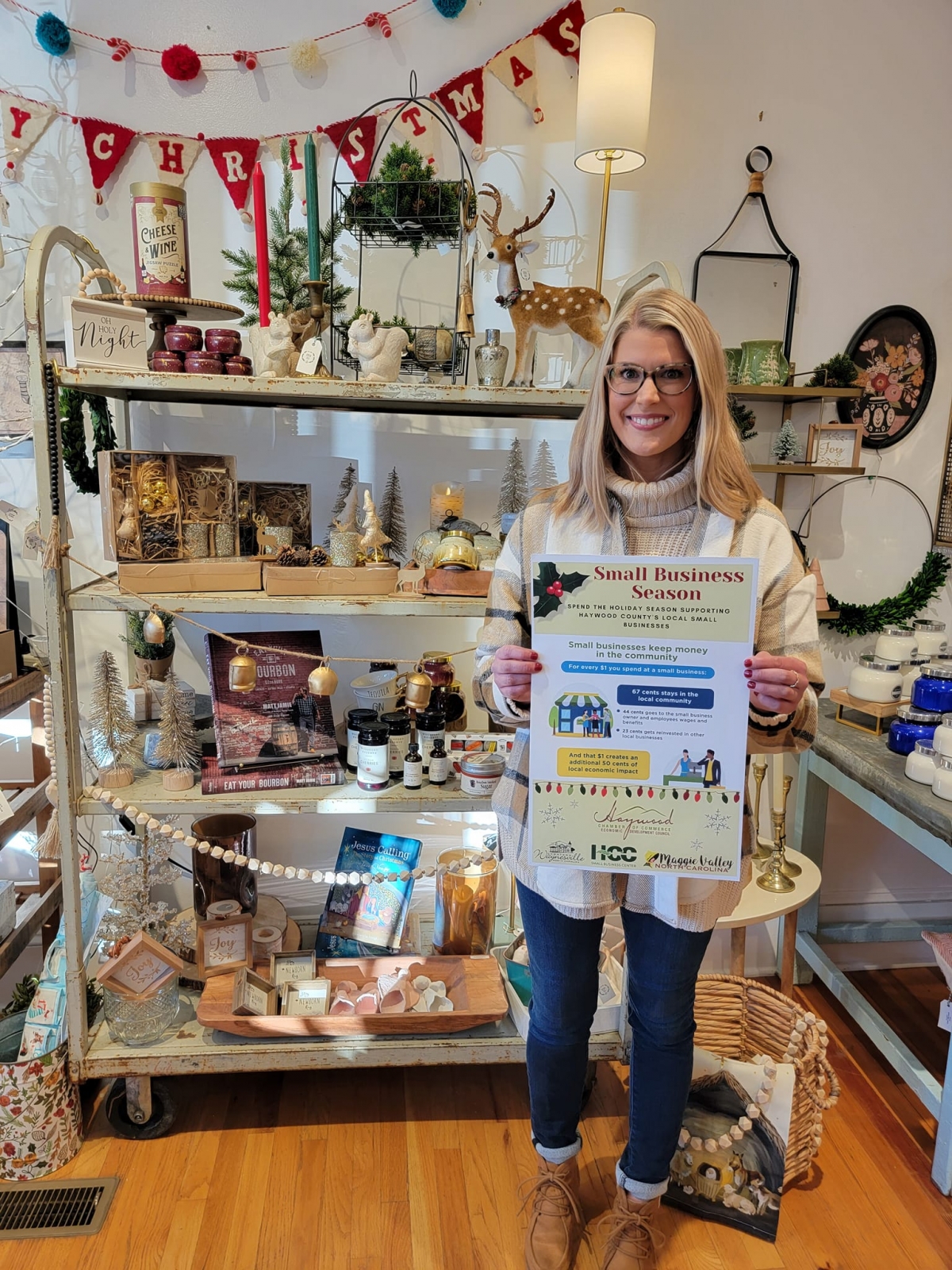 Local retailers are encouraging people to Shop Local this holiday season
Haywood Chamber of Commerce
Black Friday! Shop Local Saturday! (Sleep on Sunday) Cyber Monday! Giving Tuesday! Are we all ready for a full week of shopping, people? That's what our post-Thanksgiving week seems to be about as soon as we fill up on turkey and pie.
It can feel overwhelming if you go into the next week without a plan. You can end up buying things you really don't need, going way over budget or getting burned out. That's no way to start out the holiday season — no one wants to be a scrooge before we even get into December.
Here are some tips to keep you sane during the shopping rush.
Black Friday
I have mixed feelings about the Black Friday tradition. As a recovering retail worker, I tend to boycott big box Black Friday sales because the lines and crowds are rarely worth the discount. As the spouse of a recovering retail worker, I don't appreciate stores opening on Thanksgiving and making my family members work on a holiday.
You don't have to be the first in line — The one good thing about the COVID-19 pandemic is it changed the traditional Black Friday models and I don't think there's any going back now. Retailers like Walmart, Target, Best Buy, etc., had to rethink things last year during the height of the pandemic by spreading out the "Black Friday" deals throughout the season instead of compacting all the craziness into one or two days. Their sales numbers continued to increase, which means this trend will continue during the 2021 shopping season.

Mind your manners — What's worse than having to work on Thanksgiving and into Black Friday? Going to work and having to deal with rude customers. Please, if you venture out for deals this Friday, be courteous to all employees. You don't know what they've had to deal with this year. They are overworked, understaffed, and underpaid for the hard work they do. A smile, plenty of patience and a thank you will go so far.

Take advantage of curbside services — The pandemic has also forced retailers to up their game when it comes to providing curbside pick-up services and I think that will remain in place in the future because it's so convenient. Save yourself the stress of shopping by ordering items online and picking them up without having to set foot in the store.
Shop Local Saturday
I'm not a total Scrooge about holiday shopping. I do wholeheartedly support spending money with our mom and pop stores because it supports our local economy and local families. We're fortunate in Western North Carolina to have so many locally-owned boutiques, shops and crafters that shopping local is super easy.
I've heard from the chambers of commerce that there is a bigger push this year for "Shop Local Season" as opposed to Shop Local Saturday and I love that idea, especially this year when we know small businesses are dealing with a labor shortage and also supply change challenges. So spread out your local shopping over the next few weeks for a more laidback approach to holiday shopping. I suggest picking a downtown to walk through each weekend — Waynesville one week, downtown Sylva the next, and so on!

Make a list before you go — From personal experience, it can be easy to go overboard when shopping local because there are so many great items to choose from. I suggest making a list of everyone you need to buy for and a few suggested items for each of them. Local shops are great places to fill everyone's stocking.

Local baskets — One thing I've enjoyed is putting my own gift baskets together for people who aren't as fortunate to live in WNC. LOL. My family loves getting a basket full of local coffee, a growler from a local brewery, homemade treats, locally made soap, a piece of pottery, etc.
Cyber Monday
Cyber Monday is great. You can stay home in your PJs (the stretchy waisted ones so you can keep eating leftovers) and order all your gifts to be delivered to your house. You don't have to worry about crowds, rude people or germs. Here's some things to watch for though.
Do your research beforehand so you know the items you're planning to buy. I'd have it all sitting in my cart ready to go on Monday. This way you know how much you plan to spend and don't end up buying stuff you don't really need.

Amazon is great (and evil) but it is the quickest way to shop these days. Unfortunately the U.S. Postal Service is struggling and deliveries are taking much longer than usual so just be aware of shipping times when ordering gifts online if it's not through Amazon.

If you are shopping Amazon, it will make you feel a little better if you shop at smile.amazon.com. That way you can select a local nonprofit to support. Amazon will sit aside a percentage of each purchase to support the charity of your choice, but you must do it through smile.amazon.com. It may not seem like much, but all those small portions add up quarterly for nonprofits.
Giving Tuesday
This day is for sure my favorite, because it's true what they say, "It's better to give than receive." Giving Tuesday is a day when we give back to our communities and the organizations that support people all year long.
If you are so inclined, create a Facebook fundraiser for your favorite charity and challenge your friends to match whatever donation you plan to make to your favorite charity.

Stay as local as possible when donating. There are plenty of national nonprofits doing great work, but I encourage you to donate to a local organization because they are the ones who've been on the ground during this pandemic and helping people recover from the flood event we had in Haywood County. Knowing the major issues our communities are facing, I will shamelessly plug Haywood Habitat for Humanity, Helping Hands of Haywood, Mountain Projects and Haywood Pathways Center this holiday season.

My last shameless plug is to support Women of Waynesville because you can support this women's organization AND buy a gift for someone at the same time. Purchase a 2022 WOW naked calendar or planner and all proceeds go back into the community to support women and children in emergency situations. It's the gift that keeps on giving!
No matter how you shop this year, just remember the real gift is to be with your loved ones. Giving our love and our time are the most important gifts we can give in this one short and precious life we're given.