Rumble
Inspiration from NC State Legend Jimmy V
Wednesday, December 08, 2021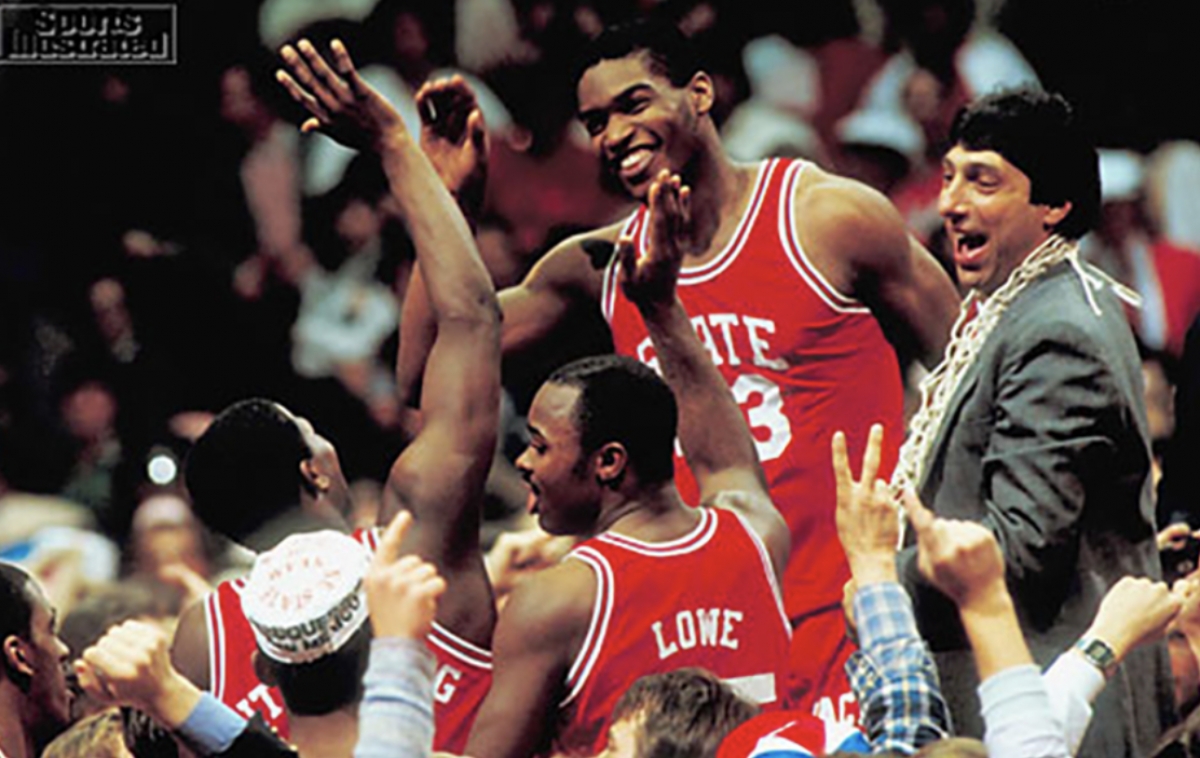 I'm an NC State alumni. When I was on campus in Raleigh, you couldn't go into any pizza joint, bar or retail store without seeing a picture or quote from the legendary Wolfpack Basketball coach Jimmy Valvano.
Recently, my boyfriend encouraged our kids and me to watch Coach Valvano's famous ESPY speech. Despite my being a student at NC State, I had somehow never watched this speech. We all sat, mesmerized, as Coach V inspired a crowd at Madison Square Garden on March 4, 1993. Nine months prior he had been diagnosed with metastatic adenocarcinoma, a type of glandular cancer that spreads to the bones.
As a former wolfpacker who lost my mom to cancer, I became emotional during the ESPY speech. I also gleaned some wisdom. Below are several quotes from the speech. Within each is an important life lesson we should all remember.
"To me, there are three things we all should do every day. We should do this every day of our lives. No. 1 is laugh. You should laugh every day. No. 2 is think. You should spend some time in thought. No. 3 is you should have your emotions moved to tears, could be happiness or joy. But think about it. If you laugh, you think and you cry, that's a full day. That's a heckuva day. You do that seven days a week, you're going to have something special."
"I urge all of you, all of you, to enjoy your life, the precious moments you have. To spend each day with some laughter and some thought. To get your emotions going. To be enthusiastic every day. And Ralph Waldo Emerson said, "Nothing great could be accomplished without enthusiasm," to keep your dreams alive in spite of problems, whatever you have. The ability to be able to work hard for your dreams to come true, to become a reality."
"Don't give up… don't ever give up."
"Cancer can take away all my physical abilities. It cannot touch my mind, it cannot touch my heart, and it cannot touch my soul. And those three things are going to carry on forever."
Sometimes it takes a cancer diagnosis or another traumatic event for us to fully see the beauty of our existence. When life feels overwhelming or bewildering, we should listen to the words of people like Coach Valvano. Love, laugh, cry and never ever give up.
The 15th Annual V Week for Cancer Research began on "Giving Tuesday," Nov. 30, and will continue through this Sunday, Dec. 12. Since the V Foundation's inception in 1993, ESPN has helped raise more than $142 million in the fight to end cancer. Direct donations can be made by clicking HERE.