Rumble
Harriet Tubman statue moves on
Wednesday, January 05, 2022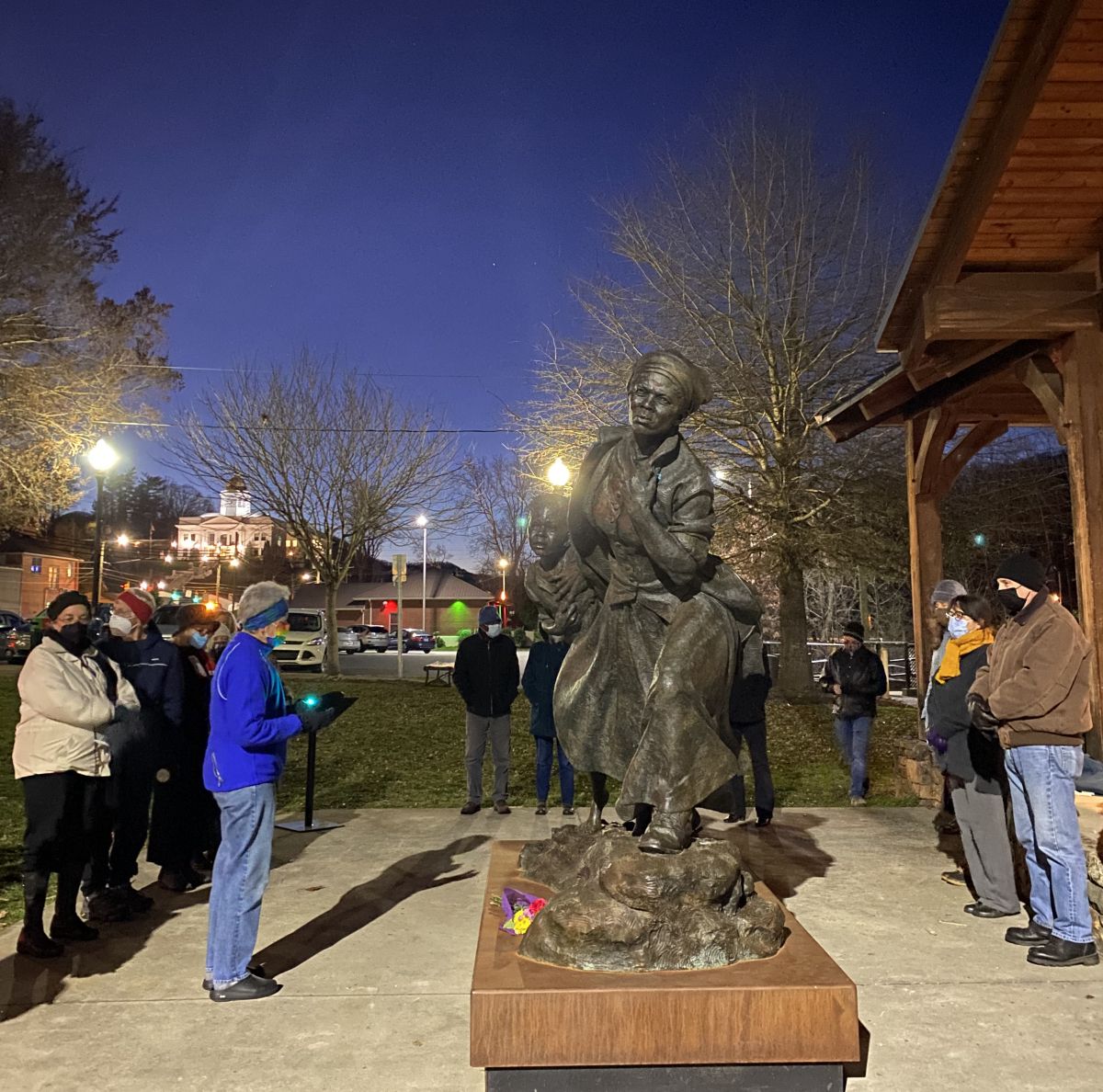 The statue of Harriet Tubman that has been standing at Bridge Park in downtown Sylva depicts a woman in motion. Tubman is actively pressing forward, leading a child behind her. She looks ahead, and slightly up, her face contorted in determination and concentration.
On Tuesday night, 40 people gathered in the park to bid farewell to the statue of Harriet Tubman, despite the biting cold. A frigid breeze repeatedly blew out the candles intended for the sunset candlelight ceremony. Instead, the small crowd stood in the shadow of a deepening dusk as the pale yellows and blues of an Appalachian sunset spread across the horizon.
"As night falls tonight, we bring light to dark as a way to pay tribute to journeys of freedom," said Marsha Lee Baker of the Jackson County NAACP. "To Harriet Tubman's many journeys from slavery to freedom. To those who traveled with her and those who led their own journeys from slavery. To those who are traveling even now from injustice to justice, from inequity to equity. As night falls tonight, we stand together for every human being, freedom and justice. Every life, now and forever."
The statue has been standing in Bridge Park since it arrived in Sylva on Sept. 19. Created by Emmy- and Academy Award-winning artist, Wesley Wofford, the bronze statue weighs in at 2,400 pounds and is making its rounds across the United States. Titled "Harriet Tubman: Journey to Freedom," the piece was originally commissioned for a private building in Dallas, Texas. However, after photos of the sculpture went viral, Wofford made a copy so that more people could see the artwork.
As members of the community gathered to bid farewell to the statue, moving on to Philadelphia, Pennsylvania, next, people spoke about what it meant to them to have this statue hosted in Sylva. They expressed these sentiments not only in words, but also in poetry and song. Jackson County Commissioner Gayle Woody led the crowd in singing "Amazing Grace."
"Every time I'm here and I'm close to this beautiful sculpture, my heart just gets really full," said Dr. Dana Patterson, Jackson County NAACP Branch President. "I know that a lot of people here did a lot of work to make that happen."
Patterson went on to recite presidential inauguration poet Amanda Gorman's new poem "New Day's Lyric," which ends on the uplifting note "we will forever overcome."
Another man told the crowd about growing up in Jackson County and attending its public schools when they were integrated.
"We got integrated in '64, and we were actually finally able to come together a little bit. But us white boys were never able to understand the difficulty that our friends had growing up," said the man.
He went on to describe a scene from his military service in Vietnam after one of many gruesome exchanges.
"The blood from the white guy was flowing, and the blood from the black guy was flowing and it was the same color. I realized at 19 years old, we all bleed the same color. We are the same," he said through a voice tight with tears. "I've tried hard to keep that thought in my mind, and in the efforts we put forth to make people understand that we are one people."
Members of the community and NAACP spoke too of the concerns they had with bringing a statue of Harriet Tubman to Sylva. They weren't sure how it would be received, whether it would be vandalized or damaged in some way. They budgeted for both surveillance and cleaning in order to be safe.
"People don't know how nervous we were to bring this here, but you know, my faith is renewed. So thank you," said Patterson.
One man spoke of everything he learned about Tubman after his interest was piqued when the statue arrived in town. Another woman told the crowd how thankful she was to have learned so much about other people's experiences over the last few years and to live in a community that invested in public art and fostered this learning.
As the crowd dispersed at the end of the hour it was with a sense of purpose rather than one of goodbye. There was much talk about how the journey to freedom represented in the statue helped remind people that the quest for equality and understanding is an ongoing journey. One that is never quite finished. One that the residents of Jackson County and members of its NAACP are continuing to walk after the statue has left Bridge Park.