Rumble
Women-owned Food Truck Event Coming to Cherokee
Wednesday, January 26, 2022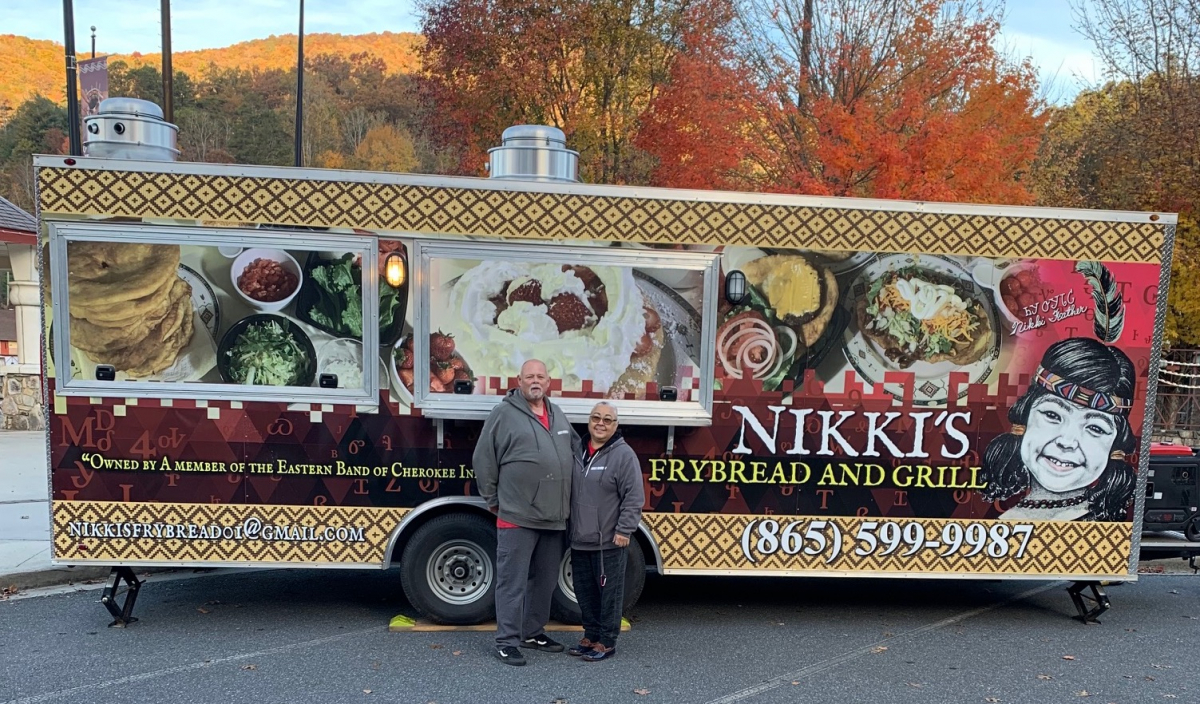 Come support some amazing local businesses cooking up incredible dishes from 11 a.m. to 7 p.m. Friday and Saturday, Feb. 4-5, during the Food Truck Rodeo at the Harrah's Cherokee Conference Center (123 Harrahs Service Drive, Cherokee) with indoor seating options as well as take away.
The two-day event will be serving sizzling southern favorites, fry-bread and traditional eats from three of the Qualla Boundary's finest food trucks. In recent years, there has been a growing interest nationwide in two ideas that go hand-in-hand: exploring Native foodways and supporting local food systems.
Here in southwestern North Carolina, we have a goldmine of Cherokee and Indigenous chefs who have continually kept their culinary traditions alive while integrating Mexican and southern cooking to create new traditions. For many Qualla Boundary chefs, "buying local" is just part of their way; skilled farmers and ranchers abound, providing local produce, meat and flour at fair prices that keep their dollars local.
Harrah's Cherokee Conference Center invited EmPOWERing Mountain Food Systems to help organize this event to welcome community members to the new Conference Center and support these local entrepreneurs. With traditional dishes and southern standards, there will be something for the whole family. Read on to learn about the amazing women and families behind the Food Truck Rodeo!
Sugar's Place- traditional southern cooking and locally sourced Indian dinners
Mother and daughter duo Sugar and Tasha Martinez may be new to the food truck scene, but Sugar has been working in restaurants all her life. Recently, she retired from the Harrahs Casino and decided to partner with Tasha on their new food truck project Sugar's Place.
Tasha explained, "I do the business side and my mom does the cooking, along with my Uncle and cousin. We try to source our meat and vegetables locally, and my mom makes her cornmeal lye dumplings from fresh, stone-ground local corn."
Sugar's famous "Indian dinners" include these cornmeal dumplings from a local farmer who grows and mills the corn flour himself — as well as homemade gravy, fatback, beans and hominy and mac and cheese with tomatoes. The food cart faces challenges, including finding employees to help run the business, but the hard-working family business loves making the food that locals love.
Lulu's Food Truck- classic southern food and sandwiches, hand-pattied burgers and homemade desserts
Marsha Ensley has been serving local lunches and catering around southwestern North Carolina for seven years and was recently able to purchase a brand-new food truck. Marsha, with the support of her husband and family, has enjoyed seeing her food truck become successful and even has a bit of a local following. If you visit Lulu's on a weekday, you will find her $10 lunch special which includes a drink and dessert — not available on weekend events.
With such a great feel for what her clientele wants, it is no wonder people seek her out to cater for their special occasions. Marsha is grateful to the local community and notes that "our customer base has expanded, even during the pandemic, just from people telling others about it."
You can find her near the Cherokee Central School at 86 Elk Crossing Ln, Cherokee. Menu options could include fresh burgers, Philly steak or ribeye steak sandwiches, and mouth-watering desserts like cobblers, strawberry shortcake, and apple-walnut bread.
Nikki's Frybread- All things frybread, sweet and savory
Nikki Crisp is a third-generation frybread maker, keeping the tradition deliciously alive. She and her husband have been offering frybread meals for 12 years, cooking up both traditional style and frybreads with Nikki's own twist. They began their food truck two years ago and found Cherokee to be a very supportive community, even throughout the COVID-19 pandemic.
Nikki is looking forward to having the Food Truck Rodeo take place at the casino as it will set a precedent for future partnering between local food truck businesses and the casino; food trucks can provide a unique and convenient dining experience for clients of the casino and benefit from the crowds drawn there.