Rumble
Reproductive Rights Rally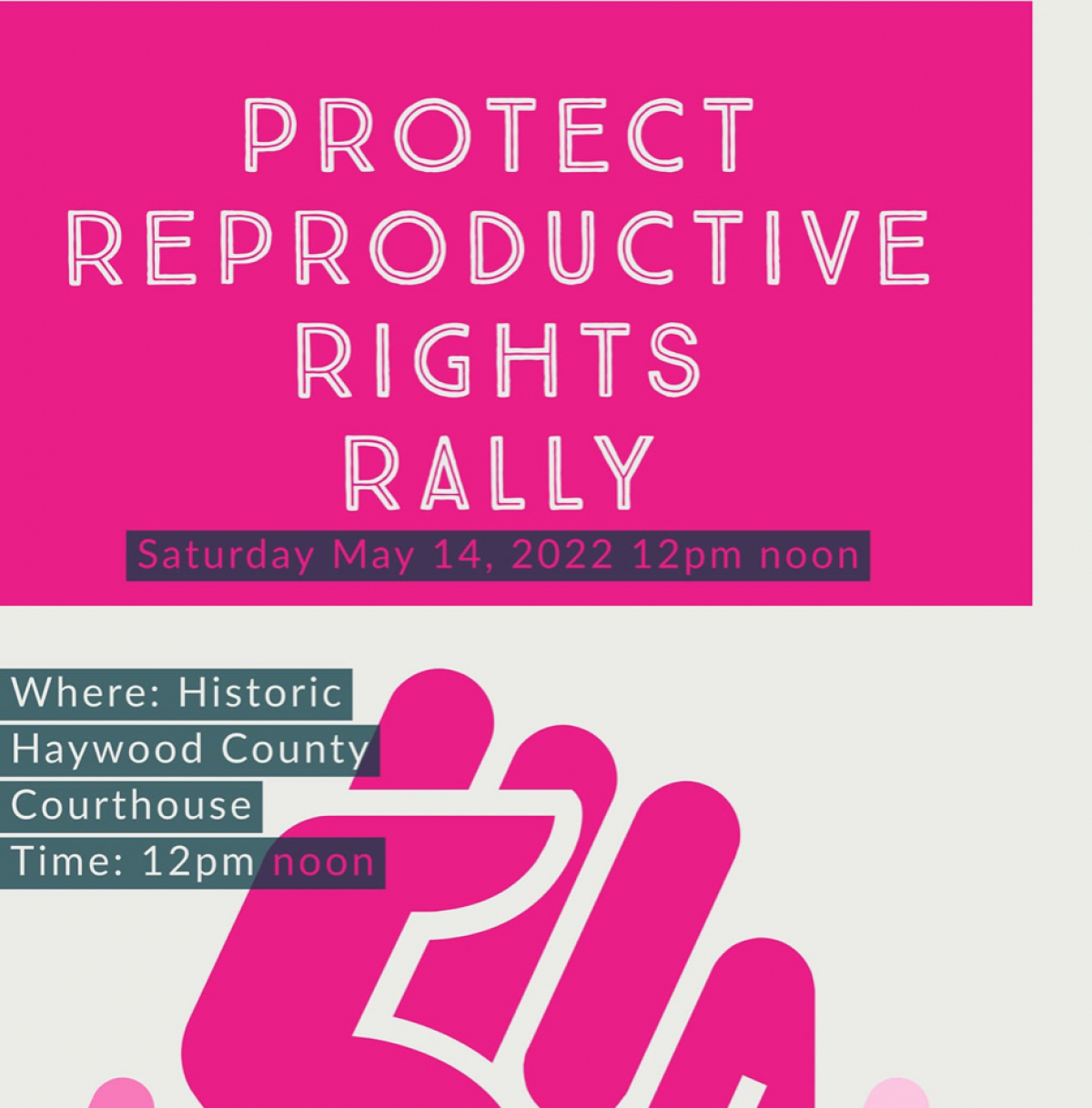 On Saturday, May 14, "We Are WNC" along with concerned citizens of Haywood County will host a rally in Waynesville to stand in solidarity that the right to choose an abortion be protected in the wake of a draft Supreme Court opinion that would overturn Roe. V Wade. The landmark decision from 1973 has given women and others who can become pregnant access to safe, legal abortions.
The Reproductive Rights Rally will be held on the sidewalk in front of the historic Haywood County Courthouse on Main Street from noon to 2 p.m. on Saturday, May 14. Guest speakers will begin at 12:30 p.m.
The Supreme Court draft leaked a majority opinion in Dobbs v. Jackson Women's Health Organization that overturns Roe v. Wade. If overturned, it would reverse almost 50 years of precedent and end federal constitutional protections for abortion. Twenty-six states could move to ban safe abortions.
"An abortion is a medical procedure that ends a pregnancy. It is a basic healthcare need for millions of women, girls and others who can become pregnant," said Heather Hyatt-Packer, event organizer. "Regardless of whether abortion is legal or not, people still require and regularly access abortion services. But when governments restrict access to abortions, people are compelled to resort to clandestine, unsafe abortions, particularly those who cannot afford to travel or seek private care. Preventing women and girls from accessing an abortion does not mean they stop needing one. That's why attempts to ban or restrict abortions do nothing to reduce the number of abortions, it only forces people to seek out unsafe abortions."
Participants are asked to show up at the rally at noon on Saturday and wear black. Signs are encouraged for the peaceful protest.
Leave a comment
2

comments
With vasectomies available to any male who does not want to father a child, abortions wouldn't be necessary for up to half of unplanned pregnancies. About 500,000 vasectomies are performed annually in the U.S.
Vasectomies remove the biological agent (sperm) that stops the natural menstrual cycle of fertile women. The average ejaculation is a single teaspoon of seminal fluid or semen, which can carry anywhere from 15 million to 200 million sperm. It takes several months to clear the male's tubes of viable sperm after vasectomy. Since vasectomies do not protect partners from sexually transmitted infections, condoms offer dual protection.
For unintended pregnancies, a DNA database can confirm paternity and provide the necessary information to establish financial support for the unplanned fetus and child. Binding agreements signed before sexual intimacy can declare 1) the couple's procreative intent to fertilize an egg or 2) that the male is sterilized to prevent impregnating fertile females.
Tubal ligation ("tubes tied") has 20 times the risk of major complications vs. vasectomy. Consenting adults are responsible for their decisions and should share in the prevention of and financial impact of adding children to their community – expenses like pre-natal care, pre-K to 12 education, and the overall support humans require through age 18 and beyond for those with special needs.
If Roe is overturned and mandatory pregnancy is enacted for women, then mandatory vasectomy is the logical step for males to prevent unwanted/unplanned pregnancies.

Thursday, 05/19/2022

With the morning after pill available over the counter in nearly every pharmacy and many other retail stores , abortions shouldn't be necessary that's why the pill was invented if taken within 24 hours the whole pregnancy stops before it starts that is what should be more advertised and that's available for women everywhere that needs to be pushed and used so no one would need an abortion if they weren't ready for Parenthood or were a victim of rape.

Wednesday, 05/11/2022