Rumble
Homemade Black Bean Burgers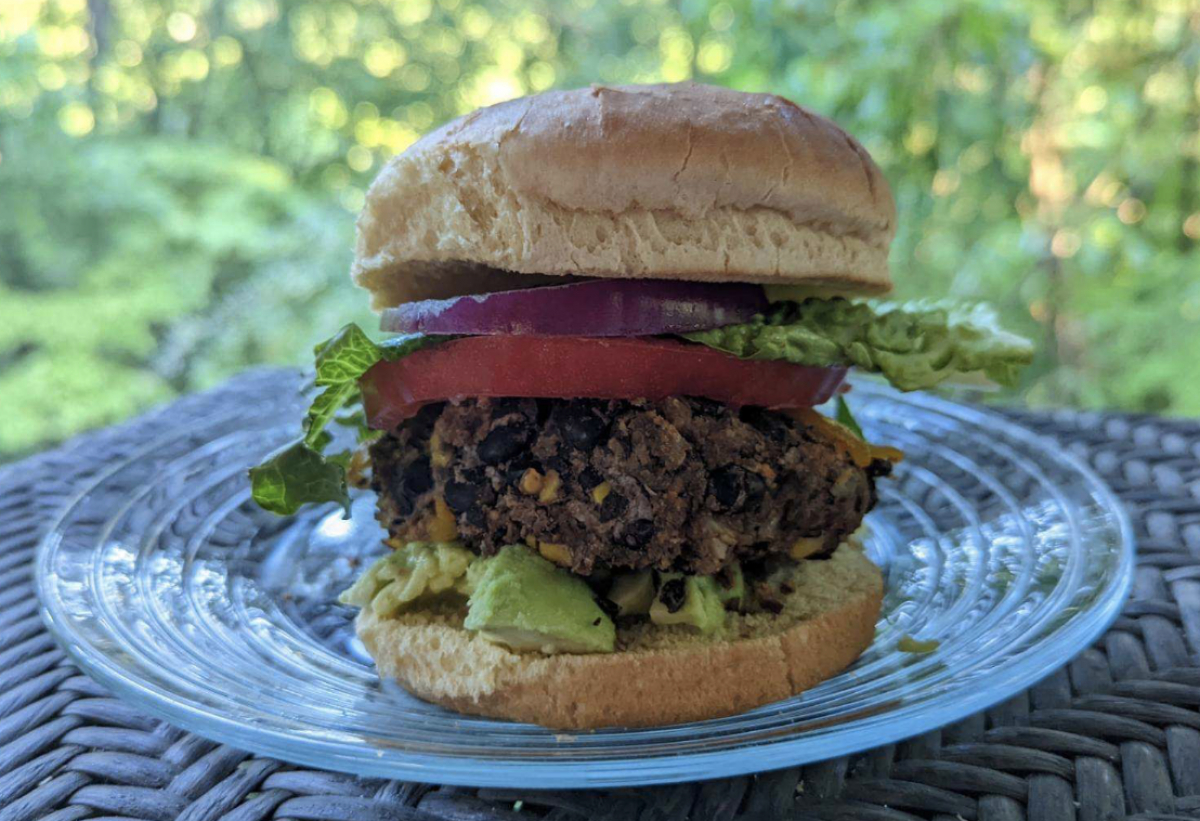 Over Memorial Day weekend, we decided to make homemade black bean burgers. I couldn't find an exact recipe that fit my fancy, so I combined several to create one that meshed with my culinary desires and preferences. This burger was so scrumptious and much less expensive than its beefy competitors.
Ingredients
1

small yellow onion, chopped

1

clove garlic, minced

¼ cup shredded carrots

¼ cup chopped red pepper

1 cup freshly-cooked corn cut from the cob (divided in half)

3 cups

cooked black beans, divided (I use fresh beans cooked in a dutch oven)

1 1/2 teaspoons

cumin powder

1/2 teaspoon

smoked paprika

1 teaspoon garlic powder

1 teaspoon

chili powder

1 teaspoon

sea salt

1 pinch

black pepper or red pepper flakes, to taste

2/3 cup

old-fashioned oats

½ cup almonds
Directions
Sauté onion and garlic in the olive oil for 8-10 minutes, or until soft and and fragrant

Add 2 cups of the beans, 1/2 . 1/2 c. corn, cumin, paprika, garlic powder, chili powder, sea salt and pepper to taste. Stir in the sauté pan till all is warm

Add shredded carrots and red pepper to where they're still just slightly crunchy

Preheat your oven to 350° F.

Add the oats to the bowl of a food processor and pulse them a few times. Add the bean and vegetable mixture. Process everything together until it's well combined but still has texture.

Transfer mixture to a mixing bowl. Add the last cup of black beans and 1/2 c. corn and mix well with your hands. Check for seasoning and season to taste. If the mixture is too mushy to form into patties, add a little more oats or bread crumbs.

Shape mixture into 4-6 patties, depending on size. Transfer burgers to a baking sheet and bake for 30 to 35 minutes (or until golden), flipping once. If you have time, you can chill the patties for twenty minutes before transferring them to a grill and cooking through. You can also pan fry them in olive oil until golden on each side.
Serve with sliced avacodo, lettuce, tomato, onion and your choice of bun. Enjoy!