Doing business in Haywood County
Down in the flood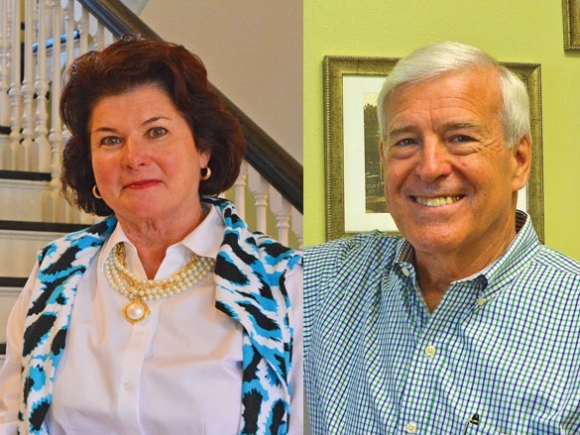 CeCe Hipps is one of the very few people in North Carolina who can say that she was at the epicenter of the two most significant postwar economic expansions in the state.
Born on a naval base in Norfolk, Virginia, but raised in Black Mountain, Hipps, an Appalachian State University alum with a background in special needs education, began working for the Chamber of Commerce in Cary as the Research Triangle Park was experiencing explosive growth in the late 1980s, thanks to the likes of high-tech firms like IBM, pharmaceutical giants like Burroughs Wellcome and dozens of others who flocked to the region due to government incentives and top-notch universities.
"I just watched this little town just absolutely explode," she said.
In 2002, Hipps went to work for the Chamber of Commerce in Asheville, which was in the midst of a 60 percent population increase from the 1980s through today.
"Both of those chambers were experiencing extreme growth and I hit it at about the right time," she said.
Hipps estimates the Cary chamber more than doubled its roster of 400 members while she was there, as did Asheville, which had about 800.
"When you go through that kind of growth in any chamber organization, that's a lot of hard work, to get to that point," she said. "You've got to always be ready for that kind of growth."
Ready for growth, Hipps became president of the 400-member Haywood County Chamber of Commerce upon leaving Asheville's chamber in late 2004, but probably didn't know what she was wading into.
On the night of September 7, 2004, the yet-potent remnants of Hurricane Frances laid down a curtain of cool mountain rain in Western North Carolina that quickly saturated watersheds.
About a week later, Hurricane Ivan's lingering leftovers dropped on the region another half-dozen inches of rain that caused deadly mudslides and loosed the Pigeon River from its banks.
Canton and Clyde bore the brunt of the damage in Haywood County, just as an entrepreneur and department store heir with a big-city aviation background was dipping his toes into the oft-murky waters of economic development.
"Being an entrepreneur, I never would've dreamed — if you'd have asked me 30 or 40 years ago — that this is what I'd be doing," said Mark Clasby, executive director of Haywood County's Economic Development Council. "But it's amazing how your experiences prepare you for things. It'll be 14 years this summer that I've been doing this."
An Oklahoman, Clasby has been in Haywood County for almost a quarter-century. He used his degree in aviation management from Embry-Riddle to land a job with American Airlines, living in New York and Washington, D.C., until Marriott recruited him to become the regional vice president for its airline catering division.
"I learned that I didn't like that business very much," Clasby laughed. "Food is challenging. But I learned a lot, and I had some great teachers."
Once that company was sold to a group of private investors, Clasby bought a 3M business in South Florida. But back home in Oklahoma, his family's 300-unit department store chain was being sold to Citicorp Venture Capital, who asked him to help run the operation after the sale.
He ended up staying there for about a decade. After a few more years in the greeting card business with his then-wife, Clasby landed in Haywood County and began in 2003 working for the EDC, which was at that time called the Economic Development Commission.
The floods of 2004 were a watermark in the history of Haywood County; when people talk about the doings, it's either "pre-flood" or "post-flood."
Pre-flood, Clasby and Hipps had only just begun to work on economic expansion in their roles at the commission and the chamber but instead had to concentrate on helping businesses get their heads above water first.
And they did — just in time to see the looming clouds of the Great Recession on the horizon.
"We had almost 700 members at the start of the recession," Hipps said. "We lost real estate, construction, small shops. That has been slow to come back for us. They consider us as a marketing expense, and that's the first thing everyone cuts, is their marketing budget."
Since then, Clasby and Hipps haven't had to face a disaster of that scale, but they still continue to fight to attract every job and every resident they can, until the only thing flowing through Haywood County's streets is a river of cash.