Archived News
Flag flap far from finished
Wednesday, August 15, 2018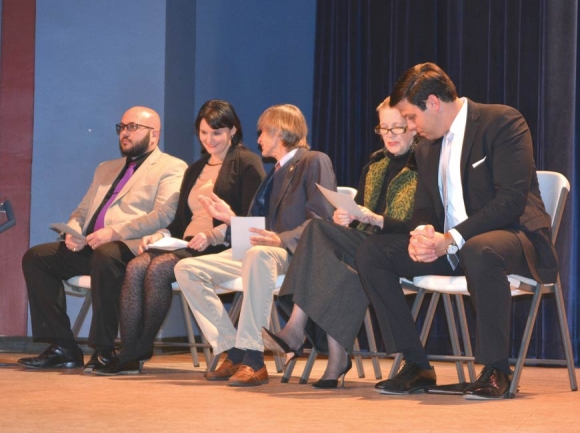 Members of the Canton Town Board James Markey (left to right), Kristina Smith, Ralph Hamlett, Gail Mull and Mayor Zeb Smathers attend an event at the Colonial Theater Nov. 29. Cory Vaillancourt photo
Just weeks after a violent "Unite the Right" rally in Charlottesville last August, complaints arising from the display of Confederate imagery in the Town of Canton's 111th annual Labor Day parade prompted an alderman to propose regulating the display of controversial speech in town-sponsored events.
One year later, and after considerable public outcry, the 112th annual Canton Labor Day parade — the oldest in the South — will take place without Dr. Ralph Hamlett's proposed "parade entry policy" having been heard or acted upon by the town board, but that doesn't mean the fight is over, according to Hamlett.
Hamlett likes to keep his promises; within an hour of returning home after Canton's Sept. 4, 2017, Labor Day parade, he said he'd already received complaints about Confederate flags in the parade. He told The Smoky Mountain News at the time he promised the complainants he'd look into it.
"Because of the display of symbols that could be regarded as hate, and because of concerns addressed by some individuals who were upset, I checked with Canton's parade policy and, frankly, we don't have one," said Hamlett, also an associate professor of political communications at Brevard College.
Embedded amongst the myriad logistical stipulations outlined in Hamlett's parade entry proposal was something else entirely.
"It was very broad, and also into the minutia of how far vehicles should be from one another in the parade, who would be authorized to drive a car in a parade, and requirements of the insurance," said Hamlett. "I drafted a policy which was much broader than any one symbol which sought to protect an event which is a family event — such as the Canton Labor Day parade, the Christmas parade, or any event sponsored by the town of Canton — from hate speech, the occurrence of hate speech, but also much more broadly to protect people from obscenity, from the promotion of illegal drugs."
Hamlett's proposal would have prohibited the display of "any image or content that includes nudity, profanity, lewdness, illegal drugs, violence, obscenity, hate, [or] racism," in town-sponsored events, and further prohibit "anything that is vulgar, sexually explicit, insulting or offensive to any ethnic, religious, political or other identifiable group or individual, or that may incite violence."
The Anti-Defamation League, with whom Hamlett consulted in drafting the policy, calls the Confederate flag "a white supremacist symbol," while simultaneously acknowledging its use by heritage-minded individuals and groups without racial superiority agendas.
On Oct. 26, 2017, Hamlett introduced the proposal under former Mayor Mike Ray. It was tabled so Town Attorney William Morgan could have a look; at the town's next meeting Nov. 9, dozens of people showed up to express their disdain, even though the policy wasn't on the night's agenda.
"The individuals who came to the meetings I don't think really understood the specifics of the rules and regulations," Hamlett said. "There was much misunderstanding about 'banning' speech and that's not what was intended."
At issue was not only Confederate imagery but also other symbols that could — albeit in a far-fetched interpretation of the policy — conceivably leave some groups excluded from of town events; one, a Christian group, worried that others could purport to be "offended" by their faith. Another, an anti-drug organization, has a marijuana leaf on its banner.
The arguments even stretched up into the nuanced complexity of the First Amendment, with some in attendance asserting that governments can't regulate speech.
They can, according to a number of widely cited, decades-old court cases, and they have, regularly, for centuries. Far from a "ban," however, the power of governments to regulate speech instead focuses upon the time, place and manner of its display.
"Now, does it prevent people from exercising their First Amendment rights in regards to displays, no matter how offensive one person might view them? No, it doesn't, it just suggests time, place and manner," said Hamlett. "And the time, place and manner for the Labor Day parade, for instance, is one of a town-sanctioned family event."
Supporting Hamlett's argument that he's not trying to ban unpopular speech is the fact that there will always be a way for groups advocating pretty much any cause to share in the freedoms of the First Amendment.
"If individuals do want to come together for whatever reason to make a statement then they would follow procedures of contacting law enforcement, arranging a place that wouldn't interfere with traffic or pedestrians, where such a protest can be made," he said.
But the policy went nowhere as the town worked its way through another municipal budget season. However Hamlett did mention it during a May 10 meeting — this time, to a new mayor, former alderman Zeb Smathers, and two new board members, Alderman James Markey and Alderwoman Kristina Smith.
"I haven't forgotten," he told them.
This year's parade will take place the morning of Monday, Sept. 2, in downtown Canton, with no appreciable change to what sorts of displays may be included.
"Some type of rules and regulations, as far as I'm concerned, are needed," said Hamlett. "Not to stop speech but to determine when where and how it can be displayed. Again — time, place and manner."
Hamlett voiced optimism that even though his proposed policy won't be part of the 112th annual parade this year, it may be ready for the 113th.
"At present the Town Manager Jason Burrell has the rules and regulations, which I drafted, and the town attorney also has a copy, so it's under review and I would surmise that once that review is completed hopefully it will be brought to the town board for action," he said.
Alderwoman Gail Mull helped Hamlett draft the proposed policy, and new board members Markey and Smith have already weighed in on it.
"We want to make sure anything we do ensures that town events will always be open and welcoming events for all citizens and visitors to Canton," Smith told The Smoky Mountain News Dec. 13, 2017, shortly after taking office.
Markey said he'd support a policy preventing displays "generally seen as an affront to decency," but added that he wouldn't support any policy "that could potentially violate First Amendment protections."
Smathers last year said the debate over Confederate imagery was "a conversation we have to have," and reiterated that whatever happened in the end, Canton would "remain a community."
Hamlett sounded similar when he put the whole thing into perspective.
"I've lived here pretty much my whole life, with the exception of being away working on various degrees and teaching at other universities," he said. "I came back to Canton, because there's a genuine niceness, and people care for one another, and we need to remind ourselves of that."
The 112th annual Canton Labor Day Parade
In conjunction with presenting sponsor Champion Credit Union, title sponsor Ingles Markets and an array of corporate partners, the Town of Canton presents the South's oldest Labor Day parade.
• Date: Sunday, Sept. 2
• Time: 10 – 11:30 a.m.
• Location: Downtown Canton