Archived News
New president named at Haywood Community College
Friday, September 20, 2019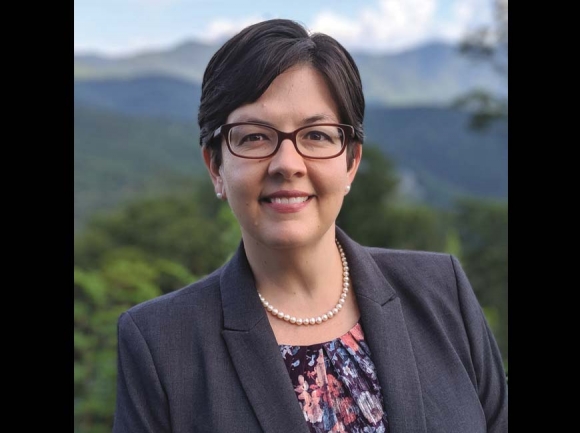 Dr. Shelley White will assume her new role as president of Haywood Community College on Jan. 1, 2020. HCC photo
After more than six months spent searching, the Haywood Community College Board of Trustees announced on Sept. 19 that it had identified a successor to retiring President Dr. Barbara Parker. Parker will leave the school in December after six years, but not before spending her remaining days working with the school's next president, Dr. Shelley White.
White's been a Haywood resident for almost two decades after growing up "all over" North Carolina. She has significant roots in the Rutherfordton area, and is herself a graduate of a community college — Isothermal, in Rutherford County.
Over those same two decades, she's worked her way up from being an instructor at Asheville-Buncombe Technical Community College to serving as the Vice President of Economic and Workforce Development/Continuing Education since 2014.
According to a press release issued by HCC, White headed up development of the Composites Training Center of Excellence for GE Aviation's expansion in Asheville, and the creation of A-B Tech's Advanced Manufacturing Center.
Her economic development focus is also apparent in the organizations she's partnered with, including the Economic Development Coalition of Asheville and Buncombe County, and the Mountain Area Workforce Development Board.
The Smoky Mountain News sat down with White just days after the announcement to hear her thoughts on the community she's long called home, but now will have a hand in shaping.
Smoky Mountain News: You have a strong background in economic development and workforce development. How does that fit into your role as an educator?
Dr. Shelley White: I think that the core of what we do is workforce development. So whether students are seeking a transfer degree to a four-year institution or if they're looking at a career and a technical degree where they immediately go into the workforce, I think it's very important that a community college be aligned with the workforce needs of the area and the region it serves so that we're in tune with the job opportunities for students.
I think the community college has an opportunity to be part of that economic development engine for our community because we have programs that can help support industries as they're making decisions to come to an area, to relocate or expand. We have training funds that are available to help, train up a workforce or improve and build skills for our workforce. For me, having that background is part of the mission of what we do in community college.
SMN: You've been doing that at Asheville-Buncombe Technical Community College for 18 years, in various roles. What was that like over there, and what's that going to be like over here?
SW: My progression there, I started as a part-time instructor when I was still a graduate student earning a master's degree at Western Carolina University. I was teaching a program called human resources development, which is an employability skills program that's provided at all community colleges, free of charge, for people who are job-seekers — if you need help with a resume, or learning computer skills, it helps to address any barriers that might be in place for you to to find the job that you want, and then also helps you connect with further educational opportunities.
So I taught in that program for a couple of years, and during that time was when I actually moved here and also taught part time at Haywood Community College. For the first several months, I taught in the GED program there before I got on full time at A-B Tech, and so I worked full time in that human resources program for about four years and then just progressively took on greater responsibility as director of occupational training, which is short-term training in pretty much any workforce sector that's important to the area economy, like health care, manufacturing, hospitality.
Over the past five years, I've been vice president for economic workforce development, which then brings in things like the small business center. We have a business incubation program at A-B Tech that helps businesses to have a location, like an office space or a light production facility.
What I've seen over time is that it's so important to develop partnerships with community agencies, with, groups like the economic development coalition or the workforce development board along with your industries. I think that that translates to Haywood County very directly in terms of the opportunities for the college to be connected with the economic growth of the community.
I know there's a partnership now in place between the Buncombe Economic Development Coalition and Haywood County, so I'm very excited about that partnership and being connected regionally with groups like the workforce development board. It's very important for the college to be at the table, in conversations that are important to this region.
SMN: Which of those conversations are missing here?
SW: Just from observation, I wouldn't say that they're missing. I would say that there are always opportunities to strengthen and grow new partnerships. I think that's one thing that's so important with the community college system is that we are designed to be flexible.
It's very important we remember that, when we're looking at programming and when we're looking at new opportunities. We might need to shift gears or change our focus on programming as needs become available.
Over time, Haywood Community College has been very responsive to the community in terms of building the regional high tech center and having that investment in advanced manufacturing. More recently, it was the announcement on the development of the new healthcare education building.
SMN: Right now Pisgah High School sends a lot of their students to GE Aviation, with whom you've worked extensively in the past. How does HCC see itself fitting into the GE Aviation world when you already have this public high school doing a phenomenal job of placing these kids in these high paying jobs?
SW: Knowing the hiring needs at GE Aviation, they are always looking for good talent, so I think if the high school has this direct pipeline, which is strong, that's a wonderful opportunity for those students and we would want them to continue making those connections, but I think the college certainly has a role to play in that.
We had this same conversation at A-B Tech several years ago when GE made their announcement to expand, because we knew about the program at Pisgah. What we've worked to do is build more apprenticeship-type programs within, for example, Asheville High. We've worked more with Asheville High on being their partner in machining through a program called Career and College Promise. I know there's ways to engage, for example, other community members, other high school students who maybe aren't in those programs. There's ways to connect other members of the community who maybe aren't in that program with these great employment opportunities.
And then, we'll look at building new partnerships. I mean, there's no reason we couldn't work with existing industries here to develop similar partnerships or apprenticeship/internship models like they've developed with GE.
Something that we can do more of is to partner with the colleges around us on our messaging, working with Blue Ridge Community College, kind of along that Interstate 26 corridor. Although we don't really have a model where we offer joint programming, we do a lot of joint messaging out in the community, so through our workforce board we talk a lot about our collective advanced manufacturing programs or our collective workforce development opportunities.
That message is the message that we want to send to the community, and to the region, but also to employers who might look to locate here, because it's hard to think that one college might be able to support a [company the size of] GE aviation.
SMN: We recently published a story on a study of the UNC system looking at demographics over the next 20 years, and what to expect. They're calling for declining enrollment. Haywood Community College appears to be thriving, so how do you plan to keep that up in the face of what could be decreasing demand?
SW: I think there are strategies that we can use to help offset what might be a natural decline. We've seen a pretty sharp decline since the recession, when it was the height of our enrollment across the community college system.
That's either sharply or just kind of naturally leveled off over the past couple of years as we've settled into a really strong economy, but I think it's in this time when we really can make investments in programs like increasing awareness and this tuition-free guarantee program to connect with students who might not have otherwise come to us. That'll be our continued mission.
I'm very encouraged by the tuition-free guarantee program that Haywood has put into place and I was reading some reports that it really has had a positive impact on their enrollment this fall.
I think we'll build on that and continue to connect out in the high schools and let those students know that this is a great opportunity without having to necessarily leave home, without having to pay a lot out of pocket. They can get their first two years of college or a technical degree free of charge, and that's important to help them start off on a good foot. I think focusing on that will also help enrollment.
Another kind of mission or tenet of the community college system is lifelong learning. You may earn part of a degree, or you may earn a certificate when you're younger, but then you can build on that over time and work towards degrees or come back and get additional degrees or work towards your professional certifications once you're in your career.
Ensuring that we're helping people hear of these opportunities throughout their lives — that they can come back to the college — I think that's one piece of helping keep our enrollment strong.
SMN: You're talking about letting students know, or letting people know about the opportunities here. How do you see HCC's marketing telling that story to people in the community?
SW: It's so important, and I think we have to engage, now. I've seen Haywood Community College engage in a way that I think is great and we can continue to build on, and it's through social media.
Having a strong social media presence is very important and I think we have to continue to be creative on that front. If we're wanting to connect with middle school and high school students, we need to be on social media resources that they're using. Whereas now, I understand that Facebook is really more for Gen X and older, younger students really aren't hanging out on Facebook. That's where we might be reaching their parents or even their grandparents, but at the same time, where can we connect to make sure that we're staying relevant in the minds of younger students who are coming up?
That's a very important strategy for our marketing, moving forward. I see Haywood Community College in the newspaper and I see it online. Just being a member of the community and knowing that we have such a great reputation, I would want to see us continue to build on that and make sure that we are continuing to address any kind of an awareness gap about what we can offer, because one thing I never want to hear is, "Wow, I didn't know you guys did that."
SMN: Everything that we've just talked about, especially the tuition-free guarantee, is aimed at breaking an intergenerational cycle of poverty in Appalachia, and in Haywood County. What are some other ways that we can lift everybody in this county as opposed to just the people who are able to get into community college or go onto four-year colleges?
SW: That's a good question. And I think one issue that is of extreme importance is helping to address things like the opioid crisis and, what potential role the college could play in that.
For example, potentially making connections with individuals while they're in recovery. When it comes to community college and being able to access education, no one should be left out. It's important for us to dig deeper in areas where maybe it's harder to connect.
My husband and I, we're licensed foster parents with the Department of Health and Human Services here in Haywood County. We don't currently have any children living with us during this transitional time of me taking on this job, but what that has done is it's given us more insight into the issues that are faced by many members of our community. They're challenged with issues like drug abuse and generational poverty and physical abuse to the point that they lose their children, they lose custody of their children.
I've seen through the work that I've done, we've been able to add programming to our list of services, things that we offer to help support our workforce continuing education students in Asheville, Buncombe County and Madison County where we're able to, through grants, provide more "wraparound" services for individuals who maybe are interested in adding to their training and getting better paying jobs.
[Wraparound services are] more of an expanded case management model that we call navigators, someone who might have a similar background or have gone through similar struggles, a peer navigator who can say, 'You know, I've been where you are. I've experienced that. Here's some resources that will help you."
We've seen a lot of success with being able to provide kind of an additional layer of service for people who are experiencing greater challenges, or greater barriers. Just in the past few days I've had conversations about connecting with health and human services to see, as I'm coming into my new role, what opportunities we have to partner, to maybe look at some of these ways to help support students.