Archived News
Backing the badge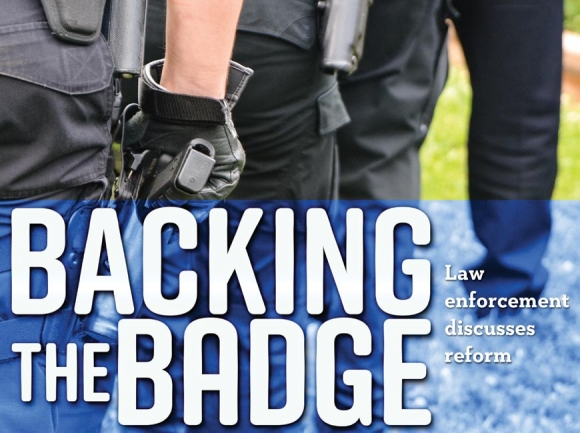 The death of George Floyd at the hands of Minneapolis police officers less than two months ago has added new fuel to the long-simmering debate over criminal justice reform.
In addition to now-common discussions over pretrial incarceration, mental health resources and substance abuse treatment, advocates of reform are perhaps for the first time taking a serious look at policing itself, and they're demanding radical systemic change.
Whether those demands are practical or beneficial for Western North Carolina communities will be argued for the foreseeable future, but it all comes down to one simple question.
What does it mean to "back the badge?"
Over the past few weeks, writers at The Smoky Mountain News delved into that very question, utilizing extensive public records requests and interviews with the region's top law enforcement officials.
Beginning this week, we'll bring readers a series of stories focusing on the context of police reform and the realities behind it.
SEE ALSO:
• Law enforcement training — a constant job interview
• The conversation to defund the police
• Defund the police or back the badge — either way, prepare to pay
• Macon sheriff pleads for law enforcement pay increases
For example — becoming a police officer isn't easy, even after extensive basic training is completed, but does that training give cadets the tools they really need to be effective police officers?
Some bemoan a lack of police funding and entry-level salaries described as "disgraceful," but what do law enforcement officers really make, and what's the impact of that on the average taxpayer?
Others call for "defunding the police" in favor of social workers or crisis intervention teams, but what would that look like from a public safety standpoint, and does it make financial sense?
The overwhelming majority of law enforcement officials acknowledge the presence of the same "bad apples" that exist in every profession, so why are current public records laws constructed so as to impede accountability?
Our investigation — conducted in conjunction with law enforcement agencies in Haywood, Jackson, Macon and Swain counties as well as the towns of Bryson City, Canton, Clyde, Franklin, Maggie Valley, Sylva and Waynesville — will add facts to a conversation that's traditionally been long on opinion and emotion.
From all of that, one fact has become exceedingly clear — backing the badge means addressing the systemic shortcomings in policing that sometimes result in deaths like that of George Floyd and Breonna Taylor, but it also means addressing funding strategies that can result in poorly trained, underpaid, ill-equipped, inexperienced officers being thrust into situations and places most people fear to tread.