Latest
Negotiations continue on Ela Dam removal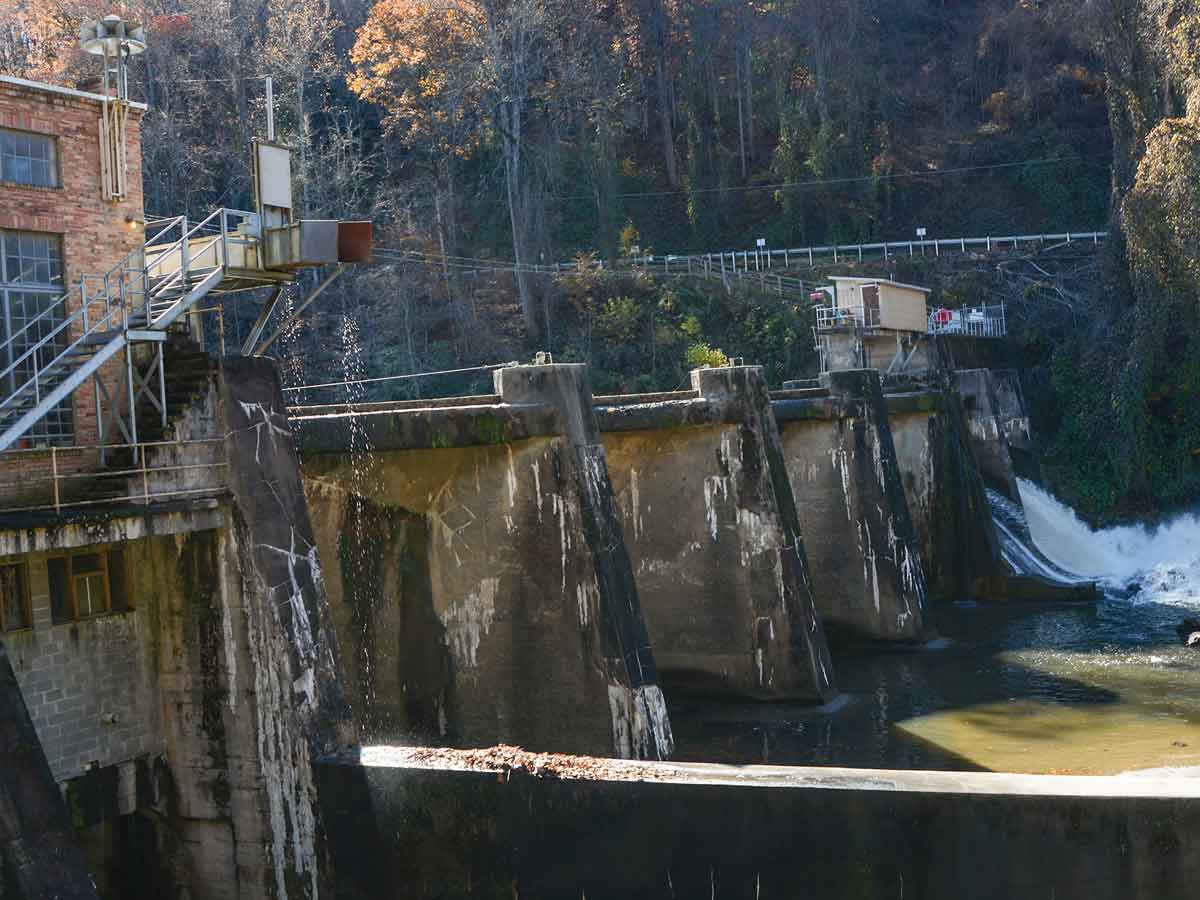 In use since 1925, Ela Dam sits above an ecologically important stretch of river. Holly Kays photo
According to public documents filed with the Federal Energy Regulatory Commission, a decision on whether to pursue removal of the Ela Dam in Swain County is coming up in the next month or so.
The dam, which made headlines last October after a massive sediment release blanketed the downstream river and presumably wiped out the aquatic communities established there, sits half a mile above the confluence of the Tuckasegee and Oconaluftee rivers and is owned by Northbrook Power Management. In February, the Eastern Band of Cherokee Indians announced an effort to lead a coalition to get the dam removed completely.
Public documents filed shortly thereafter showed that Northbrook intended to support the removal efforts, but subsequent filings reveal that the company sees continued remediation and support of dam removal as an either/or proposition.
"Licensee has made clear to the ECBI (and its growing coalition of interested parties and agencies – termed here the "EBCI Coalition") that it cannot afford to both pursue more sediment remediation and/or mitigation and/or litigation regarding the Bryson Event, and then further surrender the investment value of the project to enable a decommissioning," reads a letter from Northbrook Power Management President Chuck Ahlrichs to FERC Secretary Kimberley Bose filed March 31 in response to an information request from the agency.
Northbrook could contribute its investment in the dam to the coalition's dam removal project as an alternative to further mitigation or litigation, Ahlrichs wrote. But it can't afford to do both, and it also can't afford to pay for the removal itself.
"The EBCI Coalition would need to develop decommissioning plans and locate funding to implement those plans," he wrote.
Sediment removal efforts on the river began Dec. 21, 2021, and continued through March 15. At that point, in-river operations halted to avoid impacting spawning season, especially for the rare sicklefin redhorse fish. Spawning season necessitates a pause lasting until June.
Before sediment removal resumes, FERC as well as resource agencies, will need to review the affected river segment, Ahlrichs wrote. Northbrook has no specific remediation plans right now, because any further efforts would reflect the river's condition come June.
"Moreover, we foresee the potential for conflicts over regulatory jurisdiction among federal, state and local agencies regarding remediation issues, and different judgements over the merits of further remediation approaches," Ahlrichs wrote. "Such potential conflicts may or may not emerge, but if they do, the concern is that resulting litigation will absorb resources better directed to improving the Oconaluftee River."
Northbrook and coalition members are targeting June to have a finalized dam removal agreement ready to present to stakeholders and agencies, Ahlrichs wrote. If that presentation is well received, then the parties could proceed with a formal application to FERC. Terms could include Northbrook surrendering its license, or an interim license transfer to a designee of the coalition.
However, Ahlrichs wrote, the parties want to hammer out these terms in private before bringing forward a proposed agreement.
"We are certain that attempting to negotiate these kinds of arrangements in an open public forum would be impossible," he wrote. "Any results will be available for public comment and the Commission's review, but in the interest of a rational process, we would not anticipate filing with the Commission any interim proposals, contract drafts or similar negotiation materials."
Leave a comment
2

comments
This is not accurate. Northbrook Power Management does not own the project.

Friday, 05/20/2022

I am sure the walleye in the Tuck. will love all the stocked trout on the reservation.

Wednesday, 05/11/2022