Archived Reading Room
Making your business a success; making success your business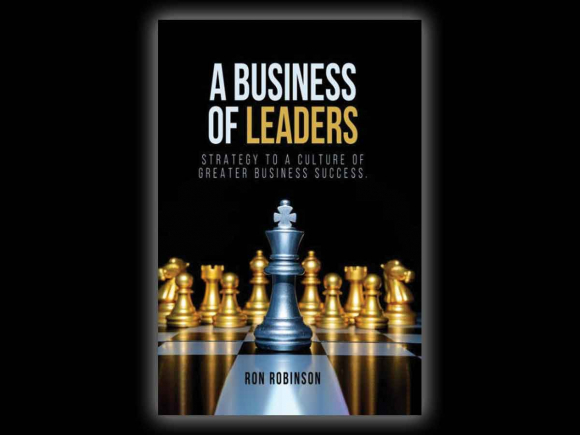 It's not often, if ever, that I would review a book about "how to succeed in business." But I'm in the mood and the mode for reviewing books by local authors, and as I said in my last review in these pages our local authors have been hard at it during the pandemic cranking out new volumes of interesting, innovative and important work.
Such is the case for author, entrepreneur, consultant, public speaker and Jackson County resident Ron Robinson and his new book "A Business of Leaders" (2022). While he does get down to brass tacks discussing strategies and practices as to how to create and build a successful business, he goes the extra mile by also including personal and psycho-spiritual dimensions to his successful tactics in creating businesses that are not only sustainable, but that prosper. With chapter headings such as: "Cooperate or Compete," "Thinking Outside the Box," "Communicate," "Bring Out the Best," "Awaken the Spirit," Robinson goes on and writes candidly: "The purpose of this book is to first describe my journey from losing everything to starting again and, secondly, to share how that experience shaped me as I grew from barely surviving to thrive. In the process, I learned a business model that now assists companies to become nimbler and thrive in today's new world of continuous uncertainty." That said, the thing that sets this book apart from others is the personal stories and examples and the passion and compassion with which he writes.
Robinson puts us in the moment and the current financial and cultural climate here in the U.S.: "As a conservationist focused on climate change and someone concerned with the health and safety of my family, friends, and community, I find the idea of small actions catalyzing unpredictable outcomes both unsettling and encouraging as our planet deals with tremendous tragedy and slow recovery from Covid-19."
His sentiment stems from experience and the belief that we can't just lean on the business practices that were dominant in the 20th century ("plan, organize, direct and control"), but that we need to adapt to our current situation and change our approach and our behavior with regards to creating a successful and stable business and overall economy and culture. Or as he quotes from Sir Richard Branson: "In business, know how to be a good leader and bring out the best in people. It's very simple, listen to them, trust in them, believe in them, respect them and let them have a go!" Once employees realize that their bosses are just people like them, they're going to trust them more. A certain amount of ethics have to be figured in, Robinson says, in order to attain a community environment whereas people are willing to work in groups in honest communication with one another and with "the bottom line" no longer the single goal of any company or its employees. But at the same time Robinson in "A Business of Leaders" is practical and addresses subjects such as "Success Stories in Turbulent Times," "Bring Out the Best in your Sales Skills," "A Proven Model for Business Success in the 21st Century," and "Navigating Uncertainty."
In talking about his own losses and dark times Robinson playfully says: "Like Humpty Dumpty, I suffered a great fall. I thought I could not be put back together again, and then I learned to power through adversity, not give up and fight the crisis life had thrown my way. Hope lit a hallway leading to countless doors and blessings, which led to growth, prosperity, and wisdom."
In the end (and literally at the end of the book) Robinson adds a twentieth chapter citing aspects and assets that set some successful companies apart from others. This additional summation giving, as I mentioned, a psycho-spiritual dimension to his plan for creating not only a successful business, but a successful and harmonious life. Here's how his enlightened list reads: (1) Find the good in others. (2) Stand up for yourself and the ones you love. (3) Have at least three revenue streams. (4) Set goals and reward yourself. (5) Be honest with yourself and others. (6) Work hard. Work very hard. (7) Smell the roses. (8) Show respect to others.
This is not the standard capitalist model that has been predominant for the last century or more. Robinson has come up with what he calls "a culture of engagement and inclusion" to accommodate the changes in technologies, markets and the economy and for businesses to respond rapidly to these and other changes. What we, as readers, can take away from all that Robinson has to offer in "A Business of Leaders" is the same hope that Robinson was able to achieve after his own personal collapse. And from this hope, to start again and build a business and a life that is more practical for our current epoch and that just may be sustainable going forward during these strange and uncertain times.
[This book is available at City Lights Bookstore in Sylva and at www.ronspeaking.com]
Thomas Crowe is a regular contributor to The Smoky Mountain News and author of the multi-award-winning non-fiction nature memoir "Zoro's Field: My Life in the Appalachian Woods".)