Archived Outdoors
At a crossroads: Parking fee would signal a new era in Smokies history
Wednesday, April 20, 2022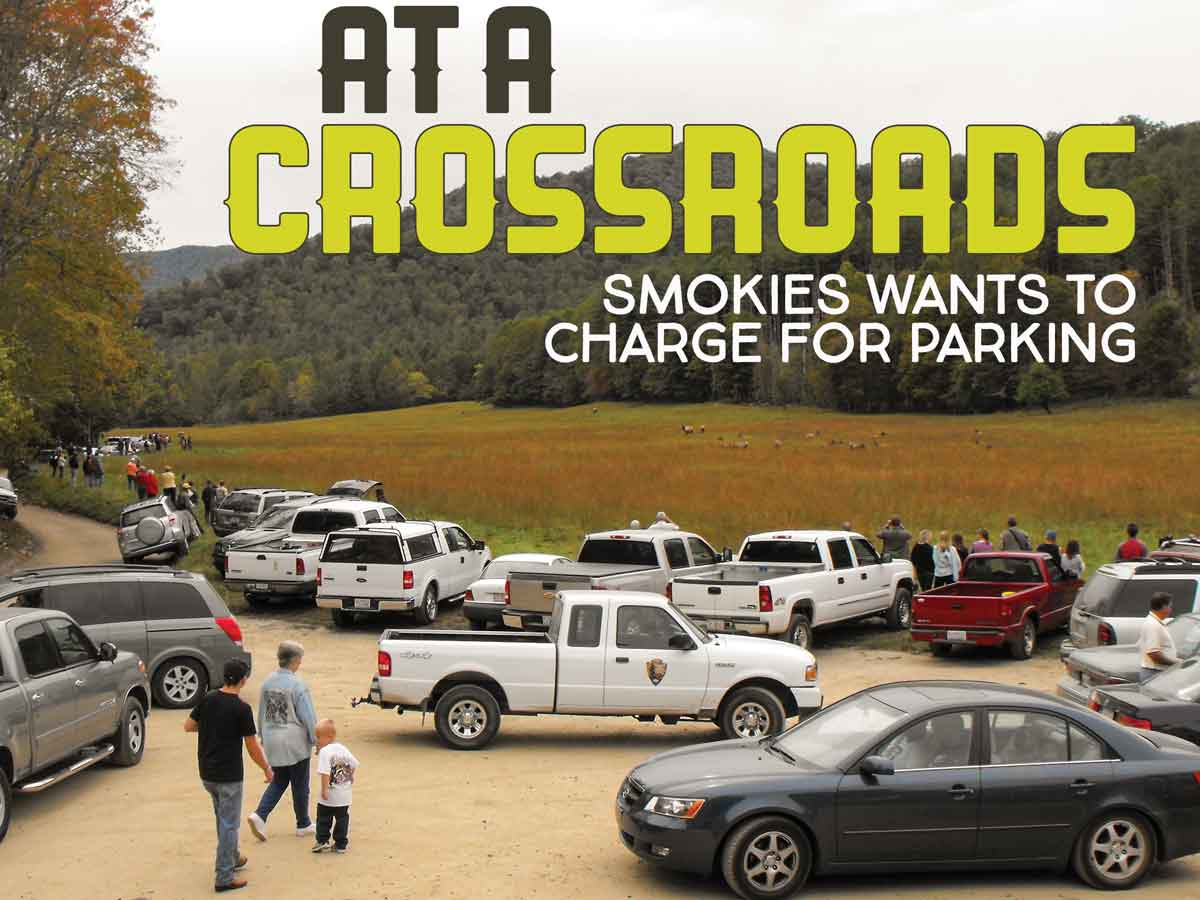 Since its official opening in 1934, the Great Smoky Mountains National Park has been free to enter, to park, to hike, to explore. The intervening years have made free access a core principle of the park's identity, cherished by residents of gateway communities like Bryson City and Gatlinburg — many of whom are descendants of the families forced from their homes to make way for the park's creation.
That tradition of free access could soon change. Skyrocketing visitation and stagnant funding has pushed park resources to their breaking point. This month, the park released a proposal that, if enacted, would strike a seismic shift in park policy — a mandatory, park-wide parking fee along with significant rate increases for existing amenity fees. Park leaders say they know the plan is controversial, but that without the resulting revenue the park can't carry on.
"Our facilities and our resources are strained, and for years we've been applying a lot of Band-Aid fixes to meet our needs," Management Assistant Dana Soehn said during an April 14 virtual meeting discussing the proposal. "We've shifted our donation dollars to support operational needs. We've chased grant monies, we've chased project dollars, but with this extreme demand for visitor services in our park and the use, we simply can't meet the needs without drastically cutting services or access to the park."
In the park's first decade of existence, it surpassed 1 million visits only once — in 1941, the year after President Franklin Delano Roosevelt officially dedicated it. Its popularity grew steadily after the end of World War II, but the last decade has seen especially dramatic growth . Visitation increased 57% between 2011 and 2021 to land at a whopping 14.1 million annual visitors last year. During that same 10-year period, overall National Park Service visitation increased by only 6.5%.
Meanwhile, the federal funding the park relies on for 80% of its budget has remained stagnant — with inflation factored in, it's fallen.
In 2011, the park received $18.95 million in federal funding, with that number inching up to $20.66 million for the current fiscal year. President Joe Biden's proposed budget for fiscal year 2023 would substantially increase the dollar amount to $24.09 million, but even that wouldn't give the park the same buying power it had 10 years ago. In March 2022 dollars, the $18.95 million it received in 2011 would be worth $24.74 million, according to the U.S. Bureau of Labor Statistics' CPI Inflation Calculator .
To balance the budget, the park has had to reduce law enforcement staffing by 18% and maintenance staffing by 32%, Soehn said — even as ever-increasing visitation numbers demand those services more than ever before.
"We are at a crossroads, this park is," Superintendent Cassius Cash said in an interview. "How do we identify a sustainable funding source that gives the millions of people that come to this park an opportunity to give back in a way that this park has given to so many others?"
Smokies leadership has been mulling that question for years, especially since the visitation bump that followed the pandemic's arrival in 2020. A complete closure at the pandemic's onset meant that total 2020 visitation was slightly lower than for 2019, but during the height of the season, many areas of the park experienced double-digit percentage increases compared to the same portion of the previous year. Issues with congestion, litter and chewed-up roadsides led park leadership to conduct a series of virtual public meetings to take input on possible solutions .
Last year, the park conducted a pilot project at Laurel Falls, one of the park's most popular trails, to try out new regulations aimed at reducing congestion, including pay-to-reserve parking and a trailhead shuttle from Gatlinburg. Visitor feedback was positive, but perhaps the most important thing the park learned is that it needs revenue to support any of the congestion management strategies it's considering.
"No one has a scientific formula for 'sustainable,'" said Cash. "What I do know is we have hosted 14.1 million, and I would like to believe with more people and more resources that is a plausible number that we could support. But who knows if it's going to stay at 14 or go down to 13 million or go up to 15 million? Regardless of the number, the fee that we're seeking is needed regardless, because just to do business it costs so much differently than it did a decade ago."
The proposal
The "Park it Forward" proposal would levy a $5 daily fee to park a car at any designated parking spot in the Smokies — and to prohibit parking in undesignated areas. Visitors could also choose to buy a weekly pass for $15 or an annual pass for $40.
"We feel we were very price sensitive to the numbers we picked," said Cash. "This parking pass is not intended to be an economic barrier, but it does, we feel, with the volume of people that visit here, capture and recognize the needs that we have here so we can continue to give our visitors a quality experience."
Because National Park Service regulations exempt members of Native American tribes from paying entrance fees to visit national parks for traditional activities, Cash has committed to provide no-cost parking tags to Eastern Band of Cherokee Indians citizens. No such regulatory structure allows the park to institute a similar exemption for local residents, Soehn said.
Even with only 30% compliance when the fee is initially enacted, the park expects to pull in $10-$14 million each year if visitation stays at 2021 levels. That would represent close to a 50% increase over the park's current budget. According to calculations from Smokies staff, the park receives about $25 million each year from all revenue sources combined, while similar national parks with entrance fees bring in about $70 million. The park currently spends about $2 per visitor, while similar national parks with entrance fees are funded at about $15 per visitor.
Soehn said she and her team determined the proposed rates through a "very standard" comparison process. In gateway communities where parking fees are charged, the cost is $15 daily or $68 monthly. On National Park Service sites with parking fees, the average fee is $9 daily or $50 annually, the comparison found.
The proposal would also double backcountry camping fees from $4 to $8 per night, with a maximum of $40 per camper, and increase frontcountry fees parkwide. While campground rates currently vary between $17.50 and $25 per night, they would be standardized to $30 for primitive sites and $36 for electric hookups. Fees at group camps, horse camps and picnic pavilions would increase by 20%-30% depending on size and location, and rates for daily rental of the Appalachian Clubhouse and Spence Cabin in Elkmont would change to a standard daily rate, resulting in an average increase of the weekly rate and decrease of the weekend rate.
All revenue from the passes would stay in the park. The park plans to use parking fee money to increase park ranger presence, restore recreational habitats and better care for park facilities. Frontcountry revenue would offset inflationary costs of operating those amenities, while backcountry revenue could support additional backcountry trip planning tools, maintenance and improvement of the Backcountry Permit System and maintenance of backcountry signage and amenities.
Cars overflow from the Alum Cave Trailhead parking lot to line both sides of the road during a busy Saturday in July 2020. NPS photo
Support for the fee
Many community members and park proponents have expressed support for the proposal.
"In an ideal world, there would be no need for parking fees, entrance fees (in other parks) or even Friends groups," hiking guide author and hike leader Danny Bernstein wrote on her blog Hiker to Hiker. "In an ideal world, our government would fund our parks properly. But the park needs the money because your taxes are not doing it."
"I am making my stand in supporting the Park in getting what it needs to operate, in supporting my friends and the employees who work there," North Shore Cemetery Association Chairman Henry Chambers wrote in an extensive statement posted to Facebook. "If you want to hate me for my support, that is your business. No matter what happens, we are all like a yoke of oxen: we will move together, one way or another. If you want to see a beautiful well-maintained Park, join with me. If you want less, that is your choice and your decision."
While park partners Friends of the Smokies and Great Smoky Mountains Association aren't taking a position on the specifics of the proposal, both said there's no question that the park badly needs sustainable funding far beyond the nonprofits' fundraising capabilities. With more visitors, the park needs more money to maintain the quality of visitor experience and preserve the natural beauty that makes the place so special, said Friends of the Smokies Development Director Marielle DeJong.
"Both of our organizations were created originally to provide a margin of excellence in visitor services supporting the park, and more and more we find ourselves being the margin of survival for the park," said GSMA CEO Laurel Rematore. "In that respect, that's why we understand that the park really needs to do something significant in order to create a sustainable source of funds that is well beyond anything that my organization could certainly provide."
'A travesty'
Not everyone supports the fee.
An April 13 Facebook post asking Smoky Mountain News readers their opinion drew 29 comments with a definitive yes or no answer, and the results were nearly split — 16 people in favor, 18 opposed.
Of those who gave a reason for their opposition, most cited the fact that the Smokies is a federal park, owned by all Americans.
"Don't start the cycle of fees. They get bigger, and they multiply," said Jackson County resident Frank Huguelet. "Parks are owned by all American citizens. We should not pay for the privilege of using them."
Others brought up the history behind the park's creation.
"My family was one of the families that the government forced out of Cataloochee to create this park," wrote Erica Montene Hannah. "While I am grateful to be able to visit their homestead and the graves of my fourth great-grandparents and third great-grandmother and aunts uncles etc., I should not have to pay them to visit their graves because parking is required and a hike to visit those graves!"
In an interview, Jim Casada — a Bryson City native who is an author and retired university professor with a deep interest in park issues — gave a succinct summary of his opinion on the proposal.
"I think it's a travesty," he said.
Casada is also a board member of Southern Forest Watch , an organization created in 2011 to oppose the backcountry camping fee the park proposed that year. The group took the park to court over the issue, but the lawsuit was unsuccessful. Since 2013 backcountry camping has cost $4 per night.
Casada took issue with the park's finding that similar parking options in gateway communities cost an average of $15 per day. None of the gateway communities in North Carolina charge for parking — with the exception of $6 all-day parking for Great Smoky Mountains Railroad customers in Bryson City — meaning the figure is mainly reflective of conditions in Gatlinburg. The park is an integral part of life for Western North Carolinians, with many Swain County residents using it for daily walks or running routes.
"The response might be, 'Well for $40 a year they can do that,' but $40 is real money to a lot of folks in the area," said Casada. According to the U.S. Census Bureau , the median household income in Swain County, expressed in 2020 dollars, was $45,554 for 2016-2020.
Casada concedes that the park needs more revenue but believes that the parking fee is the wrong way to go about getting it. It's "punitive" to locals, he said. It's a federal park, and the federal budget should pay for it.
"I think they need first and foremost to talk to the Washington politicians serving Tennessee and North Carolinas," he said. "That's where the answer lies."
Not an entrance fee
Casada — and many others who oppose the fee — may prefer to see the federal budget fill the gap, but that's not how it works at any of the other high-visitation national parks. In 2021, when the Smokies drew 14.1 million visits, the second-busiest park was Zion — at 5 million, it logged roughly one-third the visits seen in the Smokies. Glacier National Park closed out the top 10 at 3.1 million visits.
Of those 10 parks, the Smokies is the only one that does not charge an entrance fee after Indiana Dunes National Park enacted a new $25-per-vehicle fee on March 31. Fees for these highly visited parks range from $25 to $35 per vehicle.
But the Smokies will never charge an entrance fee, because it can't. The reason dates back to 1951, when the Tennessee legislature enacted a deed transfer giving the federal government ownership of Little River Road and Newfound Gap Road. A restriction on the deed stated that "no toll or license fee" could ever be imposed to use the roads. A 1992 federal law built on that restriction, prohibiting fees from being charged for "entrance on other routes into the Great Smoky Mountains National Park or any part thereof unless fees are charged for entrance into that park on main highways and thoroughfares."
"We are not pursuing an entrance fee," said Cash. "I want to make sure that's clear."
People who are cruising through the park as a scenic drive won't need to pay, and neither will commuters traveling between Gatlinburg and Cherokee.
"If you park to use facilities, the trails, the picnic areas, then we would be asking that you now help contribute to the care of those resources," said Soehn.
Implementation issues
Cash said that a final decision on the proposal will be made no later than Sept. 30 — though it could come earlier — and that the park intends to wait six months after that decision before implementing it.
During that time, park staff will be making decisions about what, exactly, they will be implementing, and how it should be carried out.
"We're still working on implementation issues," Soehn said.
Those issues include whether parking tags will be transferrable between multiple cars within a household, whether registered campers will need a parking tag too, and whether America the Beautiful passholders could receive discounted parking tags.
Also unclear is which spots will qualify as designated parking.
"We're doing that assessment parkwide on all our 384 miles of roadways," said Soehn. "How do we clearly define what is a durable, sustainable parking space that will then be clearly identified as designated parking versus some of the locations that have developed over time in unofficial parking areas that's simply not sustainable? That's something that right now is not clearly defined in the park. But we do have a team that's working on that right now."
Don Casada, who is Jim's brother, an avid history buff and president/founding member of Friends of the Bryson City Cemetery , is worried about the outcome of that assessment.
"In the Oconaluftee area alone, there are multiple cemeteries which are by far more easily reached from roadside, undesignated parking areas," he said. "These include the Floyd, Queen, Conner and Dock Conner Cemeteries. The only other option is to park well away from there and then either walk along the highway and/or by bushwhacking. The same is true for accessing old home sites."
If roadside parking is no longer allowed in those areas, the park would "completely preclude" visits to these emotionally important sites, he said.
While they couldn't speak yet to the specifics of where parking will be allowed, both Soehn and Cash said the park will ensure that locals and descendants retain access to cemeteries.
"I can't speak to every situation, but in a broad sense, certainly for the cemetery access we are providing a tool and mechanism to be able to get people into those spaces and parking in a way that's not destructive to the roadside," Soehn said.
Events operating through the Special Use Permit System — such as the decoration and reunion days that occur every week between April and November — would be exempt from the parking fee, with that cost baked into the permit itself.
The park was created as the result of enormous sacrifice on the part of the Cherokee people who lived there first and then of the white settlers who came after them. The park's birth meant the death of their communities and way of life. While some, like Jim Casada, view the parking fee proposal as a punitive measure against the descendants of the people who made those sacrifices, Cash sees it differently.
"What we are wanting to do is to shift the weight of those sacrifices of local Tennesseans and North Carolinians to the shoulders of the millions of visitors that come to the park to maintain in perpetuity," he said. "In the Park Service we're in the forever business, and we feel that with parking fees, that ensures that we'll be able to do that in a way that we're proud and that you're proud of."
Leave a comment
3

comments
I believe the parking fee would create more of a parking problem. Under the this plan people who pay to park are not guaranteed a spot to park. People will feel entitled and park anywhere they can.
A better solution is to bus people to the more popular spots, such as Cades Cove, popular trail heads and Clingmans Dome. A multi level parking garage should be built in the Visitor center with a fee by the hour.
The park could also offer a few parking permits to those sites at $10. This will insure less cars on those roars and a better experience for all

Monday, 04/25/2022

I believe the parking fee would create more of a parking problem. Under the this plan people who pay to park are not guaranteed a spot to park. People will feel entitled and park anywhere they can.
A better solution is to bus people to the more popular spots, such as Cades Cove, popular trail heads and Clingmans Dome. A multi level parking garage should be built in the Visitor center with a fee by the hour.
The park could also offer a few parking permits to those sites at $10. This will insure less cars on those roars and a better experience for all

Monday, 04/25/2022

Thank you to the Casada Brothers for their research and leadership in drawing attention to the need to honor those who sacrificed with a fee waiver for the descendants. As I would expect to pay a small fee to visit other parks, I'm sure visitors from other places will be willing to pay to visit our Park. But, the Park is a way of life for our tiny little county which is at least 82% Federal Lands, much of which is the Park. Allowing a waiver for locals and descendants is just a small way the Park can honor their ancestors' sacrifices. I understand the Park needs extra revenue, but the small amount that would be collected from our little community is a drop in a larger bucket that will include millions of other visitors. It is a small ask. Thank you

Thursday, 04/21/2022