Archived News
Locked in the longest-running ping-pong match in mountain politics, Joe Sam Queen reflects on his latest loss
Wednesday, November 30, 2016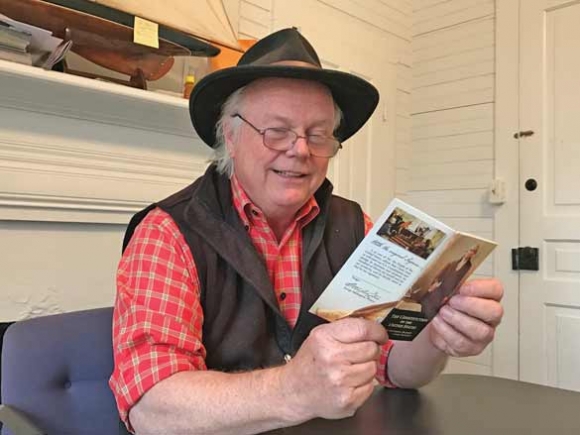 Joe Sam Queen counts his campaign wins and losses like innings in a baseball game.
He's run a staggering eight times for the state Senate and state House, nearly all of them hard-fought and high-dollar.
He wins some, and he loses some, but he's never fancied the bench. He's always back up at the plate, bat in hand, ready to take another swing.
"I've run eight times, and I've lost three," said Queen, a Waynesville Democrat.
Queen's upset this November came as an unexpected shock, however. He narrowly lost his seat in the House of Representatives — by less than 300 votes out of 35,000 cast in the race — to Mike Clampitt, R-Bryson City, who Queen had fended off twice before by a comfortable 3 to 5 percent margin.
"No one was more surprised on election night than me," Queen said. "I didn't think I would get beat."
Queen's rise and fall over the years — with a total of six years in the state Senate and four in the House — has closely mirrored the national political tide. Queen's races have tipped on a fickle fulcrum according to the top-of-the-ballot current.
"I've always had tight races. We are in a transitional time in a transitional region," Queen said.
Party affiliation isn't a tidy affair in Southern Appalachia. In a region where Lincoln Republicans and Southern Democrats differ in name only — a mere label that harkens back to what side their ancestors were on in the Civil War — reading the electoral map is increasingly more art than science.
But Queen, like the vast majority of America, didn't see the Trump curveball coming his way this election.
"We didn't think Trump had a snowball's chance," Queen said. "It was the most unpredicted outcome of my political career."
Queen spent time and money during the campaign season stumping and fundraising for fellow Democratic candidates running in other Senate and House seats. Queen was frustrated after four years of fighting a Republican majority in the legislature and governor's mansion, and wanted to see more Democrats join him in Raleigh.
"You might say 'Joe Sam you needed to worry about your own election,' but I wanted to build a majority," Queen said. "I worked extra hard for Roy Cooper's election. No one worked harder in Western North Carolina than Joe Sam Queen for Roy Cooper."
Queen began to see warning signs as Election Day approached, however. A fellow Democratic candidate who overlapped with his district shared internal polling data with Queen in late October that hinted at a Trump landslide in the rural west.
"If you get in a big wave and you're down the ballot you can get swamped," Queen said.
Queen wasn't alone.
The trend was acutely rural. Elsewhere in the state, four sitting Democrats from rural districts lost their House seats. Democrats picked up four House wins in urban areas where Trump was trounced — like Charlotte where Hillary won with 62 percent.
While Queen didn't think he was vulnerable, he didn't take his seat for granted either.
"I was not arrogant. I did not slack up. I was attentive and I listened. Elections are for listening," Queen said. Nonetheless, "If I had thought I was going to lose by a scant 277 votes, I would have doubled down and done some more."
Collateral damage
Queen is no stranger to the sting of defeat. His first loss came in 2004, after just two years in the state Senate. The election that year was marked by a dismal showing by presidential candidate John Kerry in the mountains.
"I got a presidential slam that year," Queen said.
Queen is accustomed to his lot as collateral damage over the years.
"In politics, it is sometimes better to be lucky than right," Queen said.
Luck had been on his side when he first ran in 2002.
Queen's home base of Waynesville was but a speck on the edge of the sprawling six-county district, reaching as far north as Linville and far east as Morganton, taking in counties where registered Republicans outnumbered Democrats eight to one.
"It was a wild district," Queen said. "I was not supposed to win."
Yet, he'd scratched and clawed his way to first place, but he technically only netted 49 percent of the vote. If not for a Libertarian on the ballot, who stole votes from his Republican opponent, Queen likely would have lost.
"I won on hard work and sweat — and the luck of a Libertarian candidate taking 3 percent of the vote," Queen said.
His first two years in Raleigh were a honeymoon. He was an upstart darling of the Democratic leadership, a folksy mountaineer who knew how to lead a square dance but was also the only architect in the legislature. Marc Basnight, the powerful Democratic Senate leader from down east, even took Queen under his wing as a protégé.
The state Republican Party poured big bucks into ousting Queen in 2004, hoping to stop him before he got entrenched in the seat. But Queen's real undoing that year was the trickle-down effect from John Kerry's miserable showing among rural mountain voters.
Where Queen fell short on votes, he made up for in resolve.
"I decided on Wednesday morning after the election, I would run again and try to win that seat back to help the mountains," Queen recalled. "I was literally running from that Wednesday morning until Election Day two years later. Most people still thought I was their senator those two years. If someone had a constituent issue, even though I wasn't a senator, I could still take it to Raleigh and get it solved for them because my party was in the majority."
Despite his low odds in a Republican leaning Senate district across six far-flung counties, Queen reclaimed the Senate seat in 2006 and held it again in 2008.
"I had worked this unbelievable district into a Democratic district," Queen said.
Queen had been bracing for another hit in 2008 like he witnessed in 2004, however.
"I thought I was going to get slaughtered by the presidential vote, but it was one of those parabolic elections," Queen said.
While Obama didn't carry the mountains, his grassroots, on-the-ground campaign fared far better than predicted here. Obama netted 10,000 votes more than Kerry had four years earlier among voters in Queen's Senate district.
"That was huge for me. My good luck was Obama worked like a son of a gun," Queen said.
But it was a win he ultimately couldn't sustain. In 2010, Queen lost the Senate seat again.
And once more, he pledged on the spot to run again.
"I was committed," Queen said.
But new legislative lines drawn in 2011 shifted Haywood County into a new Senate district, meaning Queen would have had to challenge former state senator John Snow in a 2012 primary to try and wrest the seat from then-freshman Sen. Jim Davis, R-Franklin, who had beaten Snow in 2010.
So instead, he ran for a seat in the House of Representatives — a district representing Jackson, Swain and the greater Waynesville area of Haywood County. That seat had long been held by Rep. Phil Haire, D-Sylva, but as luck would have it, Haire retired just as Queen needed something to run for.
Four years later, Queen is at a crossroads once more.
This time, Queen isn't as quick to commit to another run. He isn't sure what the cards will hold. But he doesn't plan to bow out either.
"I'm not going to give up politics because I've got it in my blood," Queen said. "I want public education to thrive. I want to stop fracking before it begins. I am committed to advocacy for health care, education, rural economic development, and the environment. I will continue in some role to be an advocate. These are important issues to the future of North Carolina."
Queen has reached out to Governor-elect Roy Cooper to offer his assistance.
"I plan to help Roy Cooper be successful," Queen said.
A higher calling
Despite his personal and financial sacrifices over his political career, Queen doesn't have any regrets and doesn't want anyone's pity following his latest loss.
"I didn't do this for myself. It cost me money, absolutely. But it is important to my children's future, my region's future and my state's future," Queen said. "It's your life, your fortune and your sacred honor. That's what politics is. The writers of the Declaration got that right."
Queen rose from his chair and began rummaging through the jumbled piles of books and papers spilling from the bookshelves that ring his office. Artifacts paying homage to his Appalachian heritage topped the precarious mounds — a powder horn engraved with the Sons of the American Revolution, a set of Cherokee stick ball sticks, a random jar of honey.
Despite the disheveled façade, Queen knew the wheat from the chaff and quickly located what he was looking for: a pocket-sized copy of the Declaration of Independence. He flipped to the last line.
"We mutually pledge to each other our Lives, our Fortunes and our sacred Honor," Queen read. "It means you will either stick together or hang together."
Queen comes from a long family line of Jeffersonian and New Deal Democrats, and he believes a progressive government plays a fundamental role in a strong society.
"I love liberty, but you have to have justice. It is liberty and justice for all, and justice has to do with the general welfare and the public good and the common purpose," Queen said.
In the tradition of great Southern orators, Queen was a populist before it was en vogue.
"I believe in government by the people, of the people and for the people. That is America's great contribution to civilization. We brought good government to the world," Queen said. "The idea you would drown it in the bathtub is treasonous to me."
When Queen launched his political life at the age of 52, he knew it would take a toll on his career as an architect. But he's managed to keep his shingle up, pulling in one or two jobs a year — including high-profile projects like the new Haywood Arts Regional Theater building and the renovation of the Folkmoot Friendship Center.
Queen laughed when recalling his wife's reaction to his mid-life career transition.
"I said 'Well, sweetheart, what do you think about me going into politics?'" Queen recounted. "She said 'Well Joe Sam, I always hoped you'd amount to something.'"
Queen's wife, Kate, is so devoted to her professional life as a doctor, she was OK with him going to Raleigh part of the year.
"My wife works 100 hours a week. She always has," Queen said.
Queen's top concern when deciding to run back in 2002 was missing out on his son's last years at home. His daughter, Sarah, was already in college, an architect student at North Carolina State University like her father.
But his son, Charlie, had two years of high school left. So they made a deal: if Queen won, Charlie would apply to the School of Math and Science, and they would head to the Triangle together.
"We had a wonderful two years down there," Queen said.
Born a populist
There's one thing Queen won't miss about Raleigh: the dismantling of a progressive government that state Democrats were forced to witness.
"I won't miss the frustration of feeling powerless," Queen said. "I was in the minority and couldn't stop it and that was very frustrating."
Queen lamented a long list of Republican carnage from the past four years — cuts to higher education, public schools, unemployment benefits, environmental protections, Medicaid expansion and rural economic development initiatives.
"They were unraveling all of the institutions that made our state great to pay for rich people's tax cuts," Queen said. "I was fighting against a conservative ideology of trickle down economics. Cutting the rich people's taxes was the only strategy they had. And it was just poppycock."
Aside from his architectural firm, Queen owns and manages around 150 rental properties. It gives him a front-row seat to the struggles everyday people face.
"My tenants don't have jobs. If you are trying to house people without income, that's a real problem," Queen said.
He shared the latest down-and-out story of one of his tenants, a minimum wage worker at McDonald's with a physically disabled girlfriend. They eat at the Open Door soup kitchen regularly and struggle to make ends meet after losing $130 a month in food stamps due to state cuts in social welfare support, he said.
Queen isn't angry at Trump voters for dragging him down. He claims he's on their side actually. He's been battling against rural disparity and for the struggling middle class for years — the very demographic that drove Trump to victory.
"The rising middle class, that's what I've always fought for," Queen said.
While it had repercussions for Queen, he's glad they've come to the table.
"I am glad they are out there voting. I want citizens to be interested and I want the populist message to thrive," Queen said. "Now they need to see if their standard is met."
Queen pointed out that a couple thousand Trump voters crossed over and voted for him. Trump won among voters in House District 119 by 54.5 percent, but Clampitt only won the district by 50.39 percent — or 19,214 Trump voters compared to 17,757 Clampitt voters.
"Joe Sam got a lot of Trump votes, because he represents a broad spectrum and the people like him and I will continue to be a voice for them," Queen said.
Queen also pointed out that he fared better than any other Democrat on the ballot in Jackson, Swain or Haywood.
Queen gave Clampitt credit where credit is due, however. Like Queen, Clampitt didn't give up running for the seat despite losing the first two times he took Queen on.
"God kept tapping me on the shoulder and saying 'Don't give up,'" Clampitt said. "I did get a little tired from time to time. It does take a lot out of you. But sometimes you do the things that are hard because God wants you to do things that are hard."
Clampitt kept trying, despite the Democratic-leaning voter base in Jackson, Swain and Haywood.
"I felt in my heart it was winnable from the very first time I ran in 2012," Clampitt said. "My message was consistent all three times I ran: belief in God and country and family. My opponent had not fufilled a moral obligation to the communties he was wanting to serve. His positions just did not represent the values and traditions and morality of the people of Western North Carolina, and people finally picked up on it."
By the numbers
N.C. Rep. Joe Sam Queen, D-Waynesville, was narrowly defeated by his Republican opponent Mike Clampitt from Bryson City this fall. Since 2002, Queen's yo-yo wins and losses for state House and Senate seats have mirrored national political sentiment.
2016 Results for House District 119
Clampitt: 17,757 (50.39%)
Queen: 17,480 (49.61%)
Swain
Clampitt: 3,275
Queen: 2,669
Jackson
Clampitt: 9,164
Queen: 8,970
Haywood*
Clampitt: 5,318
Queen: 5,841
* The N.C. House of Representatives District 119 includes all of Jackson and Swain counties but only a portion of Haywood, namely the greater Waynesville area from Balsam to Lake Junaluska.
Presidential results among voters in House District 119
Trump: 19,214 (54.5 %)
Clinton: 14,068 (40 %)
Other: 1,935 (5.5%)
Swain
Trump: 3,566
Clinton: 2,196
Jackson
Trump: 9,870
Clinton: 7,713
Haywood*
Trump: 5,778
Clinton: 4,159
* Presidential results shown here are only for the Haywood precincts that lie in N.C. House District 119, namely the greater Waynesville area from Balsam to Lake Junaluska.