Archived News
In the wake of the drought, Haywood towns besieged by water shortage search for answers
Wednesday, January 04, 2017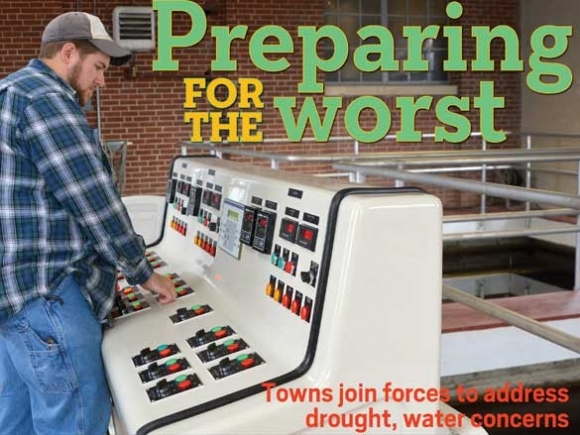 But his main water intake on Campbell Creek had dried up during the prolonged drought gripping the mountains, and now the back-up intake on Jonathan Creek was dropping fast. Unless rain came soon, the trajectory wasn't pretty.
"We were within a couple weeks of taking all the stream had to offer to keep up with the demand," said Carpenter, the director of the Maggie Valley Sanitary District, a water utility with a footprint reaching from Maggie to Jonathan Valley to Dellwood.
Across Haywood County, Canton was in the same boat — one about to be dry-docked. Canton gets its water from the Pigeon River, with a single intake about half a mile upstream from Pisgah's football stadium.
The Pigeon's flow had slowed to a veritable crawl by November, dropping from its normal volume of 110 cubic feet per second to only 57 cubic feet per second.
Appealing to the public to conserve water had made a dent in demand, but as the drought wore on and the Pigeon dropped lower, it got harder to keep up. Despite ample capacity at the water plant — its can churn out 4 million gallons of treated water a day, three times the average daily demand — the problem was the intake itself.
"It's not that we can't pump the water in, but we suck a lot of air and dirt in with it so we have to pump a lot slower and we can't meet demand," Canton Manager Seth Hendler-Voss said. "We know when the river drops to a certain level that we are going to experience a water shortage."
Evergreen Packaging was in trouble, too. It pulls 35 million gallons a day directly from the Pigeon River for is manufacturing process — with 80 percent of it being returned to the river downstream of the mill, according to state withdrawal reporting. But if the river kept dropping, the mill would have to cease operations.
Clyde, which buys water wholesale from Canton, was growing more nervous by the day as well. If Canton ran short, it would naturally mean less to go around for Clyde.
But there was one water system that wasn't struggling.
While Maggie and Canton were battening the hatches against an impending water shortage, Waynesville was barely hurting. A small but deep lake high in the mountains above town feeds Waynesville's water lines.
Steep slopes coursing with streams and springs encircle the bowl-shaped lake, which catches the bountiful flow like a funnel.
Canton and Maggie can't catch and store water like Waynesville. They merely siphon water out of the creek or river as it runs past their intakes. And when there's less water running by, there's less to siphon.
But Waynesville's water cache — fed by a catch basin of 8,000 acres — is far less fickle.
And before long, everyone was eyeing it, wondering how to get a piece.
Priming the pump
While Waynesville is certainly the water kingpin of Haywood County, Waynesville Town Manager Rob Hites was nonetheless feeling antsy.
With half the county in a water crisis, how long would Waynesville's supply hold up if its neighbors came knocking?
"They were very nearly running out of water," Hites said of the other towns.
An emergency water connection — built several years ago for this very scenario — links Waynesville's water system with Maggie Valley. With the punch of a button, Carpenter can open and shut the valves that connect the two systems.
"We can ramp it up and cut it back, and monitor it from here," Carpenter said.
Carpenter began a regular dialog with Waynesville's water plant to set the stage for opening the connection if need be.
"I was in constant contact with Waynesville in terms of their capacities," Carpenter recalled. "They were in much better shape than we were and were more than willing to help be the good neighbor and were going to let us use that connection as long as they had water to give."
Meanwhile, Clyde was eyeing Waynesville for help as well.
Clyde isn't directly linked to Waynesville's water system, but can tap into Waynesville's supply by using the Junaluska Sanitary District as a bridge.
The stand-alone water and sewer utility known as JSD buys its water wholesale from Waynesville. Thanks to an old interconnection dating to the 1980s, JSD could act as a middleman to wheel water from Waynesville to Clyde.
As the drought wore on, Clyde officials reached out to Junaluska Sanitary to set the stage for opening the interconnect if the need arose.
"What we told them was 'You tell us when,'" recalled Josh Nickol, manager of Junaluska Sanitary District.
"I think everybody in this community would do what is necessary to help their neighbor out. This was a scary scenario," said Clyde Town Administrator Joy Garland.
Naturally, Canton officials began wondering if it could somehow get water from Waynesville, too. Since Waynesville's water can make it to Clyde, and Clyde normally gets its water from Canton, could the lines be reversed to push Waynesville's water on down the road to Canton as well?
Hendler-Voss was concerned whether Waynesville would have enough to go around, however.
"If you look at what Waynesville needs for its daily usage, and then what Maggie needs and Canton and Clyde, there are only so many days they can operate before their reservoir gets down to a critical level," Hendler-Voss said.
That was the same question on Hites' mind in Waynesville. While Waynesville wanted to help, how much did the other towns need? And moreover, how much could Waynesville truly spare?
"When I learned how much water they all wanted and it was considerably more water than we were pumping, it took about a microsecond to realize this was not going to work," Hites said.
Waynesville's reservoir was dropping as well. A submerged intake for the water plant normally sits two feet below the lake's surface. As the water level steadily sank, it dropped to just 8 inches above the intake.
By mid-November, Hendler-Voss decided it was time to sound the alarm bells. He called for a countywide meeting of all the water players in the county.
"I said, 'We are all facing a huge threat here. Let's get together and meet,'" Hendler-Voss recalled.
Stepping up to the plate
By now, Canton and Clyde had called for voluntary water conservation, and Maggie had already triggered mandatory restrictions.
For Maggie Valley, voluntary water reductions had been in place since September.
"That was much earlier than the rest of the county," Carpenter said. "We just weren't getting the rain. The thunderstorms we depend on in the summer were just going right over us."
The community embraced the voluntary reductions with gusto. Carpenter's goal — a 5 percent reduction in water use — was blown out of the water. Daily water use dropped from an average of 1 million gallons a day in September to 850,000.
"We saw over a 10 percent in a drop in demand," Carpenter said.
Maggie Valley's lodging industry pooled together to cut water use — from closing down their pools to washing only full loads of linens.
"We got a lot of calls from our hotel owners saying 'Help us. What can we do?'" Carpenter said.
It was a promising sign, since businesses make up nearly 40 percent of Maggie's water demand — a larger percentage than most systems.
But Carpenter was still worried going into the peak tourist month of October, when water use typically spikes by 50 percent.
Hoteliers invited Carpenter to a monthly meeting of the Haywood County Lodging Association to share strategies. There were the obvious ones, like guests forgoing fresh towels in their rooms every day.
"We are all in this together, so they'll have to hang it up and let it dry," Carpenter said.
But there were also the less obvious, like putting bricks in toilet tanks to displace water volume. It only saves a quart or two per flush, but cumulatively it adds up.
"Take as many flushes as some of the hotels have, and it can be significant," Carpenter said.
Restaurants only served water if asked, and some began using paper products to avoid washing. Vacation rentals, a booming sector of Maggie's tourism industry, were encouraged to shut down hot tubs. It was a big ask for cabin owners to disappoint guests who'd been promised a hot tub.
"The hot tub is a big draw," Carpenter admitted. "But if we run out of water, they aren't coming at all. It was approaching a public health issue."
The cutbacks worked, posting a nearly 20 percent reduction in water use compared to a normal October.
But still the drought wore on, and by mid-November mandatory water restrictions kicked in. Anyone washing a car, filling a pool or watering a lawn faced a fines of up to $250 — or even a suspension of water service for repeat offenses.
As a last resort, utilities have legal authority to vet customers' bills to see if they are meeting individual water reduction benchmarks.
"Luckily we never got to that point," Carpenter said.
Meanwhile, Clyde was so proud of how residents responded to the call to conserve water, that it posted the results on the home page of its website.
Average daily demand before the drought was 205,000 gallons a day. That dropped to a low of 185,000 gallons a day during the peak of mandatory conservation in late November.
"I think everybody was very diligent about it," said Garland. "When they came in to pay their water bills, they made comments that they were using paper plates and I think the small things really added up this time."
In Canton, water demand dropped from 1.2 million gallons a day to 1.1 million gallons. Unfortunately, the numbers were skewed due a major water line break, offsetting the overall reduction among residents.
Water restrictions were one of the talking points on the table when the countywide water task force convened before Thanksgiving. The water players crafted a plan to coordinate their water restriction schedules. Immediately following the meeting, Canton and Clyde made the call to impose mandatory restrictions, and Waynesville — though late to the party and in far less dire straits — called for a voluntary water reductions.
"It helps send a message to the whole county that we are in this together and we are all dependent on each other. It shows solidarity," Hendler-Voss said.
Back to the drawing board
The first meeting of the countywide water task force before Thanksgiving laid the challenges bare, but ultimately led to more questions than answers.
Namely, how far could Waynesville's water reserves go to help its neighbors?
"Basically and correctly they said the only source of emergency water in Haywood County is the Waynesville reservoir and we need to look at how we can wheel emergency water to the towns," Hites said. "They wanted us to know we may very well be facing a crisis and we hope you'll go back and make some preparations to help us in a worst case scenario."
For Canton, there was an even bigger unknown.
"If we needed water from Waynesville, could we get it up over Radio Hill to fill our tanks?" Hendler-Voss asked.
Before push came to shove, however, rain came at last, quenching the drought and replenishing water supplies.
But by now, the county's water players were ready to roll up their sleeves and tackle the water conundrum before the next emergency struck. The time to craft an emergency plan is now, not when an angry mob with pitchforks is on Waynesville's doorstep demanding water.
"I want to do this when people aren't saying 'You're killing me,'" Hites said.
The emergency countywide water task force has now morphed into a standing committee and expects to craft a countywide water supply plan over the coming year.
"We had been talking indirectly and independently for a long time and it made sense to say 'OK, let's all pull together and talk about how Haywood County as a whole can work together with both sides of the county,'" Nickol said.
On a well? Here's why you should still care
Statewide, about three-fourths of the population is on a public water system, but the number is far lower in the mountains.
In Haywood County, half of all households are on a well. But even for those on a well, the water supply issues faced by the towns and water systems in times of drought still matter.
The six water systems in Haywood County are critical to the economy, serving the majority of businesses and industry, not to mention schools, the hospital and churches.
In Waynesville, 750 businesses and industries use nearly as much water as the 5,700 households on the system put together.
In Maggie Valley, 90 commercial business account for nearly a third of total water usage from the Maggie Valley Sanitary District, according to state water system reporting.
The water supply landscape is unique in the mountains. In the eastern part of the state, water systems from Raleigh to Winston-Salem are interconnected.
But in the mountains, it's common to have tiny, isolated water systems — separated by steep topography and sparsely populated countryside. As a result, water supplies in the mountain are siloed off from one another, making them more vulnerable to emergencies.