Archived Outdoors
Off the beaten path: Alarka Institute leads quest for rare mountain flower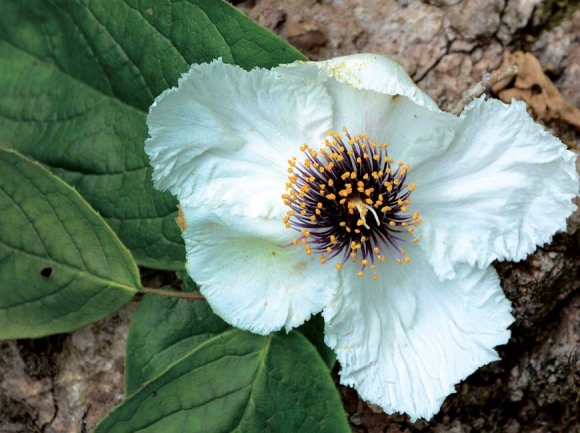 The native mountain camellia has one of the largest blooms of any shrub in the U.S. Holly Kays photos
For even the most woods-savvy of plant lovers, a blooming mountain camellia is a rare to non-existent sight.
A member of the tea family, it's picky about its habitat, easily susceptible to drought and fire, and reticent to reproduce. All that adds up to a tenuous existence in scattered, isolated populations through the Southern Appalachians. To find a mountain camellia, you've got to know where to go and what to look for, and be willing to tromp through the backcountry until you see it.
At least, that's true for most everyone except Brent Martin.
Martin, who operates the guide service Alarka Institute with his wife Angela, has only to walk out his back door to see some of the most dramatic camellia blooms around. He has 19 of the shrubs growing in the yard of his Cowee home, and he and Angela are probably the only people in Western North Carolina who can make that claim — mountain camellia is notoriously hard to grow and impossible to transplant. Brent Martin has planted at least 125 mountain camellia seedlings over the years, and of those only 19 have survived.
"Don't plan to grow these for money," Jack Johnston, Martin's friend and fellow camellia enthusiast, joked to a group of Alarka Institute students gathered in hopes of spotting a camellia in the wild.
In search of the mountain camellia
The group stood on the banks of the Little Tennessee River within the Needmore Game Lands, promised a day full of time in the woods and beautiful blooms. But first, a botany lesson.
Johnston, who is also an emergency room nurse, handed each member of the class a sheet detailing all the major bullet points of knowledge he'd gained from more than 30 years of studying and growing the mountain camellia, whose scientific name is Stewartia ovata. Don't fertilize it, he said, because the roots can't take it. If growing in a pot, drainage is key, but definitely don't let it get dry. After planting a seed, give it up to six years to germinate, and don't expect a flower until the 10-year mark.
It's safe to say Stewartia ovata is a finicky plant.
"When you have drought, I'm telling you these plants are disappearing," said Johnston. "I have seen places where they are gone. One dry year and it kills the roots. They can't resprout. They are dead. They are no more."
Yet somehow, Stewartia ovata persists in the wild — and that's more than can be said for its cousin, the Franklinia alatamaha. Renowned botanist William Bartram discovered the Franklinia in a 2-acre area along the banks of the Altamaha River in Southeastern Georgia during a 1765 expedition, collecting seeds during a return trip in 1773. The tree was never found growing anywhere else, and while it's been grown in cultivation ever since Bartram delivered the seeds to Philadelphia, it's been extinct in the wild since 1803.
"Franklinia, which is now extinct in the wild, does fantastic here," Johnston told the class. "I can grow that stuff all day long. It's the easiest to grow and it's extinct. Then the silky camellia you find out on the coast are easier to grow than these mountain camellias."
The mountain variety is rare enough that Johnston has mostly mapped out where individual shrubs are present in the wild. And the Alarka Institute group was going to get to see some of those plants firsthand.
But getting there would require some doing. First there was a splash across the clear little creek running down to the river, then a scramble uphill to an old logging road, which carried the group through a cutover forest of younger trees and out to the river, where an old, long swinging bridge maintained by the state, though rickety-feeling enough to inspire some trepidation — granted passage to the opposite bank.
The bridge ended where a narrow and sometimes overgrown trail began, running along the riverside through patches of forest and even larger patches of brambles featuring a healthy share of blackberries and poison ivy.
Suddenly, Johnston veered off the barely-there path and straight uphill, barging through a thicket of rhododendron before bending down to scoop up a handful of whiteness, throwing it to the group trailing below him. They were mountain camellia flowers, fallen to the ground, and they were beautiful — large, white petals that contrasted sharply against dark purple filaments topped with bright yellow anthers.
In the United States, Johnston said, magnolias are the shrubs with the biggest flowers. But Stewartia comes in second.
"Of the eight species of this name, in my experience these mountain Stewartias are as good of a bloom as you can find," Johnston said.
From the gasps and oohs and ahs of the students, it was apparent that nobody had any fault to find with the flowers as they passed the fallen blooms around. Overhead, more flowers could be seen sitting like halos atop green leaves reaching toward the sun.
The uphill march came to a quick halt, however, when Johnston spotted a seedling. Then two, then three and on up to eight. It was a startling sight, because, as Johnston had explained before starting the hike, "mountain camellia very, very seldom propagates itself." He urged the class to retreat downhill to avoid trampling these rare offspring.
Even in this case, the seedlings were likely the result of a bit of human intervention — Johnston's intervention, that is.
Jack Johnston (left) and Brent Martin work together to plant a mountain camellia seedling in Martin's yard.
"Years ago I came in here with a little saw —there were rhododendrons that were choking it — and opened it up a little bit," he explained. "It's taken years for those seedlings to appear."
Johnston hadn't come unarmed on this outing, either — he led the way with a pair of clippers that he used to cut away brambles obstructing the path and rhododendron branches obstructing the Stewartias.
In truth, the Alarka folks were along for more than just a botany lesson. They were witnesses to an ongoing effort to pave the way for an imperiled plant to succeed.
"Some of this is just a checkup on how the species is doing," Johnston said. "The only way it's going to survive is in the wild. It's simply a matter of having the space for it to grow."
Creating a niche
Johnston and Martin have been teaming up on Stewartia-seeking expeditions for years, ever since Martin first arrived in Macon County in the early 2000s to take a job with Mainspring Conservation Trust, then called the Land Trust for the Little Tennessee. Offering that experience through the fledgling Alarka Institute seemed a natural fit, but it's far from the only genre of educational outing to be found at Alarka. From classes in mushrooms to birdcalls to cultural history via canoe trip, as well as explorations of nature-based art and writing, the institute has a broad range of courses, also offering custom trips.
The goal, said Martin, is to let folks dig deeper into the mountains surrounding them through "niche experiences" that provide an opportunity to "do something out in the mountains that isn't just getting out and walking around, but getting out and learning something about the place." Alarka is an off-the-beaten-path kind of company.
The institute turned one year old in May, and Brent and Angela Martin are still in the process of tweaking and experimenting, figuring out how best to grow the business and deliver the kind of experience they want to give their customers. While it's been a hard road, in many ways it feels like the right road.
"Every job I've ever had in conservation has had an educational component to it, and I taught school five years before getting into this field," said Martin as he hiked back from the Stewartia sighting. "Education has always been a calling for me. And I wanted to do the educational work that I really enjoyed myself. Most of the courses we offer are courses I would want to take. Plus, it allows you to be around people who love nature, who really enjoy learning about the outdoors."
In truth, Martin had been thinking about launching a venture like Alarka for years, but the timeline accelerated when he unexpectedly lost his job as regional director for The Wilderness Society last year. Martin told The Smoky Mountain News for a November 2017 story that he'd been fired at the behest of a key donor, who didn't appreciate Martin's work collaborating with the divergent groups invested in the forest management plan for the Pisgah-Nantahala National Forest to come up with a compromise proposal. When contacted for that story, The Wilderness Society declined to state the reason for Martin's termination, say that it couldn't comment on personnel issues.
"We literally started (Alarka) the day Brent lost his job," said Angela Martin.
"We feel like we got a lot of expertise under our belt in previous years by trying to get people passionate about the woods and nature and wilderness and various aspects of our natural world so we could help protect it and advocate for it, but now we're doing it not only to do that but also to sustain ourselves in this world," she added.
For now, Alarka is a shoestring operation, run out of the Martins' home in beautiful but remote Cowee Valley. However, the hope is that won't be the situation for long. The Martins are aiming to get a storefront in Franklin soon, driving walk-in traffic and making the classes an easier sell for folks who are interested in learning but don't want to venture out to a stranger's house in the middle of nowhere.
"It takes a special kind of participant to be willing to drive out to the boonies, and we want to be a little more accessible, so to speak," said Angela Martin.
Though, bringing students back to the house does have its perks — especially when it comes to Stewartia season. Brent Martin's 19 plants, many of them blooming, feature a greater volume and diversity of blooms than could be found in even a full week of tromping through the woods.
They're beautiful, and that's because he works as hard to bring beauty to his backyard as he does to bring Alarka students to its presence.
Explore the institute
Alarka Institute, named for the beautiful and wild Alarka area near owners Brent and Angela Martin's home in Cowee, offers a diverse array of classes in natural history, cultural history and nature-based art and writing. Here's a taste of what's on the calendar this summer:
Story- Based Medicine Part I: Medicinal Syrups. Get to know the personality or spirit behind various plants and create a medicinal syrup with Katie Ballard of Tears of Ra. July 7. $65.
Mountain Mycology. Spend all day hiking with "Mycol" Stevens in search of native mushrooms. July 21. $70.
Cultural and Natural History of the Little Tennessee River Valley. Take a gentle 7-mile paddle through the landscape of the middletown Cherokees, also learning about William Bartram's 1774 visit, plants and songbirds. July 28, Aug. 18.

$50.
Lichens with Jennifer Love. Learn about basic lichen ecology, identification and natural history with someone who's been teaching and learning about lichens since 2006. Aug. 4. $65.
Story-Based Medicine II: Hydrosol Distillation. Explore the alchemical process of using hydrosol, considered by some a byproduct in essential oil extraction but actually the form of plant medicine most harmonious with our bodies, with Katie Ballard of Tears of Ra. Sept. 8. $65.
To register, visit www.alarkaexpeditions.com/upcoming-events.
This email address is being protected from spambots. You need JavaScript enabled to view it. or 828.524.7400.