Archived News
Bullock murder case remains unsolved after 55 years
Wednesday, August 29, 2018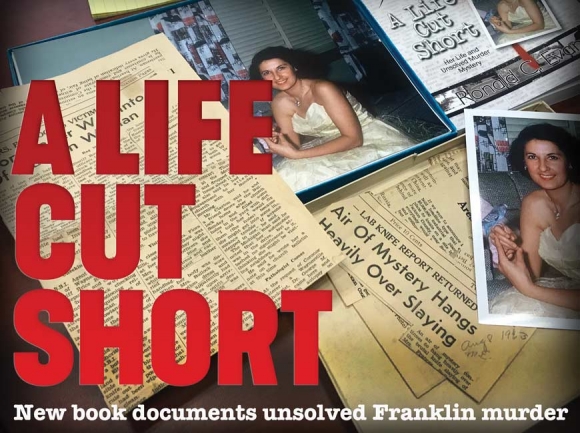 Ronnie Evans tries to remember his cousin as the beautiful and spunky woman pictured on the cover of his new book — the sparkle emanating from her party dress and her eyes — but the image he can't get out of his head is the one of her lying on a cold slab following her autopsy in 1963.
"I see these beautiful photos of her and realize she'd be 95 today if she lived, but I also saw her on a slab after the autopsy was done," he said. "That and knowing how it happened to her — to know what she was subjected to — that's why I've kept searching for answers."
At 77 years old, the Franklin man has spent the last 12 years investigating the unsolved murder of Frances "Frankie" Bullock. The 40-year-old woman was stabbed six times in her Franklin home in the summer of 1963 and the case remains unsolved after all these years.
Now Evans has put all his research into a book about Bullock's life and the tragic circumstances surrounding her death. Frankie — A Life Cut Short is being released on the 55th anniversary of her death. It's still a mystery that's talked about to this day in Macon County, with many rumors propagated through the years.
"It shook Franklin to the core. It was something that had never really happened before in town," Evans said. "It's hard to say something is legendary, but it has become legendary in Franklin. She was known in town — she and her husband were a part of the town's fabric. Frankie was an attractive lady and what happened to her was so brutal, but no one was ever named as a true suspect."
Evans was only 21 at the time of Bullock's murder. His second cousin was a regular fixture at his home since Bullock and Evans' mother were close in age. She leaned on Evans' family even more after her husband died in a tragic power company accident just a few years before her death. The unsolved murder was an incident that has haunted the family for a long time.
Frances Bullock pictured in the pink Bobbie Brooks casual dress she was wearing at the time of her murder. Donated photo
As one of few remaining relatives in the area, Evans has been determined to find answers despite the fact that all of the people of interest in the case are now deceased.
"When it happened I was stunned — the entire family was devastated. I know where I was when I was notified," Evans recalled. "I was still a kid, still living at home and going to school. I thought the people in charge of the investigation knew what they were doing and would see to it the murderer was found, so it bothered me for a long time."
The crime scene
Bullock's body was found around 1:30 p.m. Monday, July 29, inside her brick home near town. Authorities concluded she was killed some time between Friday night and Saturday. There was no forced entry. No sign of a struggle. The doors of the home were locked, which means whoever was in Bullock's house that night was an invited guest. Evans said two chairs at the kitchen table were turned out like Bullock and her guest had just gotten up from the table when the attack occurred.
Blood trailed from the kitchen into the dining room where Bullock's body was found. A knife found on the kitchen counter was believed to be the murder weapon.
If the murder would have occurred in today's world of investigating, it might have been a simple open and shut case and the murderer would have been quickly apprehended, but this was 1963 — no DNA testing or other advanced forensic techniques were available. From the beginning, Evans said the small town investigation wasn't handled properly, which is probably why the case has eluded law enforcement agencies for so long.
"They dropped the ball quickly the day the body was discovered. The crime scene was not protected," he said. "The new sheriff had only been in office for six months — something like this he wouldn't have had experience in — crowd control wasn't there. The house was inundated with people."
Bullock's house was right along the main thoroughfare through town at the time and there was a shift change at the nearby Burlington Industries just as law enforcement was arriving on the scene.
France Bullock's home where her murder took place is still standing in Franklin.
"People could see patrol cars around the house and curiosity seekers stopped to see what was going on," Evans said. "Witnesses I've talked to said certain people from town — like the mayor or other dignitaries — they let them in the house while trying to do finger printing. Even in 1963 they dropped the ball on that. One official called it a dog and pony show."
Another factor that wouldn't prove valuable until years later when crime scene investigation technology advanced was a lack of detailed photos from the house. Evans said law enforcement relied on the local newspaper photographer to document the crime scene. While the photos he's seen are good quality, no photos were taken of the body in the place where it was found and nothing documenting the blood splatter and cast-off patterns.
"That could have been something we could use recently. Forensics experts can theorize how it took place, but without the splatter and cast-off they couldn't draw a final conclusion," Evans said.
People of interest
Evans said 12 people were questioned following Bullock's murder, but ultimately there were three key people of interest in the investigation — Bullock's estranged fiancé, her brother, who was also her part-time business partner and another man Bullock had just recently started dating.
She had ended an engagement with Gordon Forrester, an IRS agent who lived hours away in Elizabeth City. With a history of heavy drinking and domestic violence against his ex-wives, Evans said he was a prime suspect with the most motivation.
Elizabeth City police picked him up for questioning around midnight Tuesday — about 10 hours after Bullock's body was discovered. He was cooperative at first and provided an alibi placing him in Elizabeth City over the weekend. He told authorities that Bullock was supposed to visit him that weekend for his birthday, but they'd gotten into an argument and she'd broken up with him. Evans has a letter she wrote to Forrester that confirms the break-up story.
Law enforcement determined it was highly unlikely he would have been able to get to Franklin and back during the murder timeframe — no flight or rental car records could confirm he traveled by plane. When investigators called him in a second time for questioning, Forrester got a lawyer.
The second person of interest was Bullock's brother Charlie Stanfield, who helped her with her antique business. Evans said the brother and sister were often at odds and Bullock had loaned him money on several occasions that he didn't pay back.
"There was contention over the years just like there usually is with siblings — they both had bad tempers," he said. "Turned out her brother also had a history of domestic violence in his first marriage and was discharged from the military for mental health issues, but the man I knew was easy-going and amiable."
Stanfield's behavior was somewhat suspicious the day Bullock's body was found. He and his wife showed up at the crime scene to see what had happened. Investigators wanted to question him but he said he needed to go tell his mother what happened. He was supposed to meet investigators later that day but never showed up. They went and picked him up, brought him in for questioning, but Evans said Stanfield went into a rage whenever investigators started talking about the murder. Knowing he could just be in shock, investigators gave Stanfield some time to collect himself before trying to question him again a couple days later but once again he went into a rage. He and his wife did have an alibi — they were at the drive-thru theater watching a movie.
"The third time they questioned him the SBI advised him of his rights and still he didn't get a lawyer," Evans said. "They asked him and his wife if they'd take a polygraph test and they agreed. Went to the Bryson City Highway Patrol office unescorted to take the test but they both failed it."
Even then, investigators said they didn't have enough evidence to make Stanfield a suspect.
The third person of interest, which Evans thinks is less likely, was a man named Lewis Clayton that Bullock had just recently started dating — actually she started seeing him before she broke things off with Forrester. Clayton was from Michigan but in Franklin on business — he was an antique finder. He took Bullock out to dinner several times and they had made plans to attend a dance in Dillard, Georgia, Saturday night — just two days before her body was found.
Clayton told authorities she never showed up for the dance. He also said he came to her house Sunday to fill some holes in the yard with dirt.
"I told her I would fix them because she might get into some insurance trouble if anyone stepped in one," he was reported as saying at the time to The Franklin Press.
Clayton also cooperated with investigators and took a polygraph test.
Evans was most interested in Forrester's story and researched his life extensively during his investigation. Turns out he had been married four times and was still married when he started dating Bullock. Evans tracked down the ex-wife and the son they had together in Manteo.
"She said he (Forrester) was abusive when he was drinking," Evans recalled. "The son told me he didn't know his father and had been adopted by his stepfather."
Forrester died in the mid-1970s and was buried in a Louisiana cemetery next to his first ex-wife. Even though two of Forrester's ex-wives later admitted to his abuse when questioned after the murder, Evans said none of them had documented the abuse or filed charges against him at the time — not uncommon in the '50s and '60s.
Technician turned sleuth
Evans worked as a radio broadcast technician most of his adult life. The role of investigator is something that he felt compelled to do but something he was fairly good at, as it turns out. Though Bullock's death had always left a nagging feeling in the back of this head, it was his cousin Charles Davidson who had originally kept a close eye on the investigation through the years.
"He shadowed the investigators wherever they went," Evans said. "When he passed I thought someone better pick up where he left off. I had just retired and I got all the information, clippings and letters he'd collected. It's in my nature once I get a hold of something I'm just like a dog with a bone — I won't let go."
His first stop was the sheriff's department, which had jurisdiction over the case originally before it was turned over the State Bureau of Investigations. Evans got a hold of the SBI agent Charles Moody and they met at the Macon County Detention Center along with Chief Deputy Andy Shields. While he originally felt like the officers were questioning him about the case, Evans said his partnership with Moody would prove to be beneficial throughout his investigation.
"Moody eventually retired and went to work for the sheriff's office, so he became an ally in this thing," Evans said. "I realized he had a deeper interest because he had taken the case with him to Washington, D.C., in 1991 to the FBI academy. He wanted to know more."
The initial meeting with Moody and Shields was fruitful — Evans got to view crime scene photos and hear input from two men who had interest in the cold case.
"That meeting got me really started. I came away with a lot of information and theories they had," he said. "The next thing that started to occupy my mind was that she was stabbed six times and had a defensive wound in her hand — so what's the evidence and where is it?"
The only evidence included the dress and undergarments Bullock had on the night of her death and the knife left at the scene, but Evans had a hard time locating it. The sheriff's department said they didn't have it. The Franklin Police Department said they didn't have it and that it was eventually given to SBI.
In the meantime, Evans was also in search of the investigative report done at the time of the murder. The SBI told him the report wasn't public record because it was still technically an open case and they had to "protect the investigation techniques of the SBI," though Evans doubted techniques from the 1960s would mean much today.
"Meanwhile the files are archived at the SBI office. I don't know why the family can't know what's in the report — that's where we get our closure. My mother was getting up in age and she wanted to know what happened," he said.
He reached out to John Snow, his state senator at the time, and explained his dilemma. Snow reached out to the SBI director who agreed to a compromise. The report would have to be turned over to the SBI attorney who would have to review the file in depth and then allow the family — Evans and Bullock's niece — to ask questions. It took a couple of months before the meeting was arranged. Evans had prepared a long and a short list of questions for the attorney, not knowing how much time they'd have with him.
"We met at the Hickory SBI quarters at 10:30 a.m. and finished around 4:30 without a lunch break or anything," he said. "We barely finished the short list and we were all tired and hungry. We'd talked about trying to schedule a follow-up but that never happened."
He did get to ask the attorney about the missing evidence. He told Evans that the SBI doesn't keep evidence and that it had been sent back to the sheriff's department in 1963. The sheriff's office once again said they didn't have the evidence. Nearly a year after his first call to the police department, Evans decided to check again. This time it was good news. The chief found the evidence and turned it back over to the sheriff's office.
"That was my first win and it took over a year," Evans said about the slow progress in the case.
After speaking with the sheriff and the district attorney, Evans was allowed to examine the evidence with certain stipulations. He wanted to have experts with him ready to make the most of the meeting. While watching a PBS program one night about how the Sherlock Holmes tales by Sir Arthur Conan Doyle led to modern-day forensics, Evans got the idea to reach out to two of the people featured in the series — Karen Smith and Henry Lee.
He tracked down Smith — a blood splatter and cast off expert — teaching CSI classes in Florida. She showed interest in the cold case and directed Evans to reach out to a touch DNA expert in Colorado who had worked on the JonBenet Ramsey case. Evans contacted him but discovered he couldn't afford his services.
Ronnie Evans, Frances Bullock's second cousin, spent 12 years investigating her death and trying to find out the truth behind her unsolved murder. Jessi Stone photo
"He said he would like to get involved but his retainer was $5,000 and each sample would cost a $500 lab fee," Evans said.
However, he also contacted Dr. Max Noureddine, a DNA forensics expert who is known for helping indigent clients and the wrongfully incarcerated. He and Smith were willing to make the trip to Franklin in exchange for the cost of gas and a hotel stay. Evans and the experts met with the sheriff to examine the evidence — the pale pink Bobbie Brooks dress, Bullock's Italian-made sandals, and the crime scene photos.
There were small holes cut out of the dress where Moody had more recently sent the dress to the crime lab for testing to see if any of the blood on the garment could have belonged to someone else. It was another dead end. Smith also went to great lengths to be able to test for blood underneath the oak floors of Bullock's former house, but Evans said she wouldn't have been able to prove how long the blood had been there after all these years. The interesting story about that process is detailed in Evans' book and ended up being a forensics breakthrough featured in law enforcement journals.
The last option was to conduct touch DNA sampling on the dress to identify any other fingerprints, but it was another expensive long shot. The evidence had been shuffled around so much over 55 years and it would cost $500 per lab sample. Noureddine said he'd probably need two-dozen samples done, which obviously didn't fit into the sheriff or DA's budget.
"Also, the two prime suspects — Charlie and Forrester — were around her a lot and could have touched her at any time but it didn't mean they killed her," Evans said. "At that point I decided it was time to halt the investigation and wait for science to catch up."
Finding closure
For 50 years, Bullock's headstone at Woodlawn Cemetery in Franklin didn't have a date of her death inscribed on it. They'd hoped someday they'd know for sure what happened and add the correct date, but that never happened. Just five years ago, Bullock's niece Faye Wells decided it was time — July 26, 1963, was engraved on the stone she shares with her late husband Ebion Bullock.
After 50 years, Frances Bullock's niece finally decided to settle on a date of death to inscribe on her grave. Editor's note: Though Bullock is the correct spelling of Frankie's last name, her mother-in-law chose to use the ancient spelling of the family name on her son's headstone.
Evans said closure might not be the best word to describe how he feels after 12 years of searching for answers in his cousin's murder.
"Someone mentioned the word enlightenment to me, and I think I've been enlightened by all this. I wanted to find out what in her life led up to this and that's where I started in the book," he said. "I could have covered the murder itself in one chapter, so that's what I did, and then we go back to the day she was born and come forward with the things I know and then the investigation beyond the murder."
During that process, he also discovered plenty of surprising facts about his family history. As with any family, some well-kept secrets were unpleasant to think about and most certainly difficult to publish for the world to see.
"There's been times I've felt guilty about putting relatives' names in the book," he said.
But then the image of the autopsy photo makes its way to the forefront of his mind again and he's reminded that justice never prevailed in Bullock's case.
"No one should be excused from being examined," he said. "Even before her death she'd already suffered quite a bit with the death of her husband and then less than two years after Frankie died her younger sister committed suicide. Her mother outlived all her children."
He also discovered quite a bit of unreported domestic abuse surrounding Bullock's life with her brother, the estranged fiancé and his ex-wives. Though the crimes have gone unsolved, Evans found a way to not let her death be in vain.
"I dedicated the book to the families of the victims of unsolved homicides who have suffered the anguish of waiting for justice and closure and to those who have suffered and survived domestic violence and abuse," he said. "As far as this book, I plan to make no profit off of it — net proceeds are going to REACH of Macon and Jackson counties."
Book release
and signing

Ronnie Evans of Franklin will be signing copies of his book Frankie — A Life Cut Short, from 11 a.m. to 1 p.m. Sept. 1 at Books Unlimited in Franklin. All proceeds from the book will benefit REACH of Macon County, which also provides services in Jackson County.
Leave a comment
4

comments
Very interesting and well told. It makes me want to investigate myself!

Monday, 08/22/2022

Very interesting and well told. It makes me want to investigate myself!

Monday, 08/22/2022

I noticed some very interesting inaccuracies, abnormal behavior, and some obvious details that were never mentioned, yet are very telling. I agree no one should get a pass on being scrutinized. The SBI was first law enforcement agency contacted and on scene. The coroner did not unlock the home until their arrival and I assume SBI would have taken the lead in the investigation and securing the crime scene. The sheriff was not notified or present to stop the parade of people contaminating the crime scene.

Tuesday, 06/07/2022

It was the brother, Charles Stanfield. Story says she would loan him money.
Maybe he got to some point that he couldn't repay, so to cancel his debts, he killed his sister.

Saturday, 03/12/2022