Archived Reading Room
When love is illuminated
Wednesday, April 24, 2019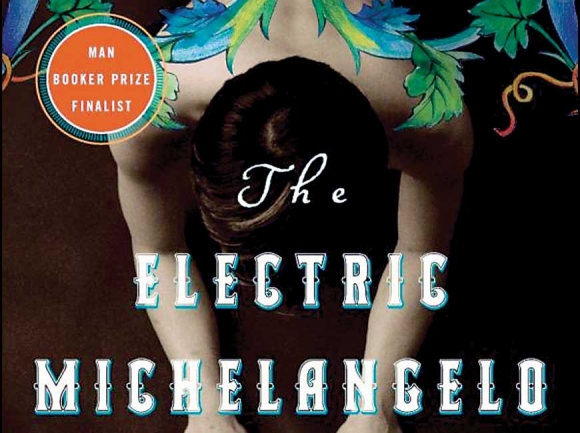 Sarah Hall, born in the Lake District of the Cumbria region of northwestern England in 1974, began to take writing seriously at the age of 20. First as a poet, then as a fiction writer. She studied and earned English and Creative Writing degrees at both Aberystwyth University in Wales and at St. Andrews University in Scotland before moving to North Carolina where she lived for several years before moving back to Norwich, England, where she now makes her home.
Now 44 years of age, in her 15-year career as a published author she has won many literary awards both n the U.S. and Europe. In 2004, at the age of 30, her second novel — The Electric Michelangelo — was short-listed for the Man Booker Prize for the best original novel written in the English language and published in the United Kingdom. A high honor nomination for any author from any English-speaking region of the globe.
The Electric Michelangelo is something of a Bildungsroman in the vein of Joyce's Portrait of the Artist As a Young Man and Dylan Thomas's Portrait of the Artist As a Young Dog and set on the windswept front of Morecambe Bay in the northwest of England where Cy Parks spends his childhood years first in a guesthouse for consumptives run by his mother, then as apprentice to alcoholic tattoo artist Eliot Riley. Thirsty for new experiences he departs for America and finds himself in the riotous world of the Coney Island boardwalk in the early years of WWII, where he sets up his own business as "The Electric Michaelangelo." In this carnival environment of roller-coasters and freak shows, Cy becomes enamored with Grace, a mysterious immigrant and circus performer who commissions him to cover her entire body in tattooed eyes. Hugely atmospheric, exotic and familiar, The Electric Michelangelo is a love story and an exquisitely rendered portrait of seaside resorts on opposite sides of the Atlantic and reads like a game of literary hopscotch working detail and time to perfection and at a pitched pace.
Before going into any more detail from the text, I am going to say right up front that this is maybe the best book of fiction that I have ever read. Not only is the story compelling and deeply evocative, but Sarah Hall's writing skills are, for lack of a better word, stellar. Her writing is intelligent, imaginative, knowledgeable, experiential, and super loquacious. Her vocabulary and knowledge of the places and subject that she is writing about in the literary world would be the equivalent in the culinary world as being haut cuisine. And this book is like going to a five-star restaurant of the mind. I have listed no less than twenty passages while reading The Electric Michaelangelo that are truly poetic and rivals anything I've read by any writer one could name from the international canon. I realize that this is very high praise and would probably cause questions and concern in academic quarters, but I feel this strongly about this book.
Sarah Hall's novel is essentially a love story. It's a story about love of craft and love of a woman/women and about place/places. We get a glimpse of this from about half way into the book beginning with Cy Park's arrival and first impressions in America and his taking up residence in New York on the Coney Island boardwalk.
"Within weeks he had secured a rental tattoo booth on Oceanic Walk, one of the honky-tonk alleys that ran through the catacombs of amusement facilities on the Island. A cacophony of technology was employed to make people rapid and exhilarated. The Steeplechase ride made Morecambe's ghost train look like a caterpillar crawling beside a great wooden and iron python. There was the buzz, buzz, buzz of adrenalin everywhere, from the loss of gravity on the spinning rides, to the awe-invoking tattoo guns and the shrieking commotion over the freaks, the spectacle of a three-headed cow. Who had sold the Americans those magic beans that when planted would grow a city overnight, crushing myopic imagination upwards as it grew so that visions elongated and defied limit? Sword-swallowers guzzled blades, fire-breathers spat flaming rings, twisted females were pierced on beds of nails, shrunken heads hung from walls and adorned pikes, wrongly made people were revealed behind curtains of shame. The crowds could choose their indelicate pleasure or poison. They came, they paid, they saw, and they were entertained."
The descriptions of Coney Island are followed by long narrative scenes that describe Cy's actual tattooing procedures as well as those in metaphysical terms like this: "There were instances when Cy's needle unwittingly delved down into a soul and struck upon meaning, then confidential matter came up, unstemmable as arterial blood or gushing oil, and customers confessed the reason behind the art." And then, finally, we meet Grace. "Her brows were dark but her face was pale and vividly sloped, with prominent, Tartar cheekbones. This woman made him want to be very sure of himself, to stretch his brain an inch more and grasp what was going. And in that sense she was magnetic, pulling in thought and concentration, bringing him to her without moving herself."
In a story that does have some imaginative and unusual conflict and violence, in the end love, or at least the illusion of love, prevails in what one would have to describe as a "happy ending." And how rare is that these days? It's about as rare as trying to find a love poem in any collection of contemporary verse. And, as Thomas Wolfe has written, you can go home again, and Cy does. To his roots on Morecambe Bay in the U.K. and after a somewhat debauched life on Coney Island to a sober and somewhat idyllic life in his elder years, coming full circle and taking on an ear-pierced young teen-aged girl apprentice not at all unlike Grace from his earlier American experience who has remained a stalwart inhabitant of his consciousness.
"He thought of Grace on the walk, the dark borders of her against which the lighter colors and aspects shone. He thought of her dark hair with its red undertraces, her hands gently pushing against the tattooed ship on his stomach as if she was launching what it carried, a heart pierced by a tall mast, and the way she always called him by his moniker, as if identity was only a matter of choice. She was subjective and brief and random in his life, but she was still strong in him, and interlocking, like crystal in stone, like roots in the earth."
Thomas Crowe is a regular contributor to Smoky Mountain News. His historical novel The Watcher/Like Sweet Bells Jangled was published in 2015. He lives in the Tuckasegee community of Jackson County and can be reached at This email address is being protected from spambots. You need JavaScript enabled to view it.