Archived Outdoors
National parks battle invasion
Monday, December 23, 2019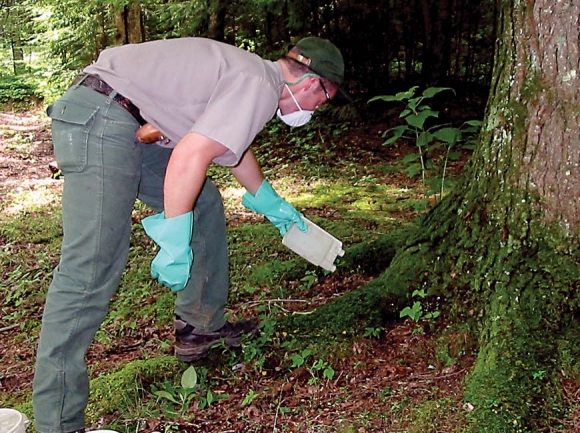 A Smokies staff member treats a hemlock tree to protect it from the hemlock wooly adelgid. NPS photo
The National Park Service is embarking on a system-wide effort to crack down on invasive animal species following the conclusion of a three-year research endeavor conducted by a panel of experts in fields ranging from park management to emerging technology.
The Park Service reached out to members of the group in 2016, asking them to review the agency's existing approach to invasive animal management and to look at the results of data collected from park units across the country. Combining panel members' expert knowledge with data results and information gleaned from questions to park staff, the group produced an internal report to the Park Service as well as a scientific paper published this month in the journal "Biological Invasions."
The authors concluded that "the global threat of invasive animals substantially undermines the National Park Service mission" and that coordinated action, partnerships with neighboring agencies and public engagement are needed to address the threat. While the Park Service has had a service-wide invasive plant management program for nearly two decades, there was no such program focusing on invasive animals — that must change, the authors said.
In the Everglades National Park, the invasive Burmese python competes directly with the native top predator, which is the American alligator. NPS photo
A pressing issue
The Park Service listened, earlier this year hiring a national invasive animal coordinator who is now working to develop a system-wide effort to control invasive animal populations.
"There has been information about the concerns associated with invasive animals species for over 100 years within various parks. It's certainly not a new issue," said lead author Ashley Dayer, a conservation social scientist who holds a doctorate from Cornell University and is currently a fish and wildlife conservation professor at Virginia Tech.
It's not a new issue, but it's a pressing issue. As human populations have become more mobile and numerous, the pace of invasive species introductions has picked up, with those species throwing the natural rhythm of the ecosystems they inhabit off-balance and often outcompeting or otherwise adversely affecting native species.
Dayer wasn't surprised to see the study conclude that invasive animal species are a problem for the national parks, but she was surprised to learn how big the problem is. Parks responding to the group's survey reported a cumulative 1,409 populations of invasive animals species representing 331 species. Invertebrates accounted for the largest share of those species, at 130, followed by 103 fish species, 37 mammal species, 36 bird species, 17 reptile species and eight amphibian species — these invasive were causing impacts to all major biomes, from ocean reefs to inland deserts.
Local national park units, including the Great Smoky Mountains National Park, Blue Ridge Parkway and Appalachian Trail, are no exception. Invasive animal species listed on the Smokies' website include feral hogs, rainbow trout, hemlock wooly adelgids, balsam wooly adelgids and Asian lady beetles. Most of these species are present across the region, affecting public lands throughout Western North Carolina and even Appalachia.
The Smokies dedicates significant resources to controlling invasive species, with at least 20 employees whose primary responsibility revolves around those efforts, said park spokesperson Dana Soehn. Policies like requiring firewood brought into the park to be certified heat-treated are aimed at preventing additional invasive species from establishing, and the park has staff that focus on removing invasive plants, treating trees to combat pests like the hemlock wooly adelgid, removing rainbow trout from certain stream segments and removing feral hogs. As a larger park, the Smokies is better equipped to address the issue than are some smaller parks that may not even have any positions focused specifically on natural resources, let alone invasive species. However, the nation's most-visited national park is also a large one — it's next to impossible to thoroughly monitor all 816 square miles for invasive species. The Parkway has no positions that are completely dedicated to invasive species issues, though it does cooperate with other agencies, and some staff members with other primary job descriptions work on those issues when possible.
Feral hogs thrive in the Great Smoky Mountains National Park but are dangerous and destructive invasive animals. Bill Lea photo
Upper-level action needed
As a whole, the national parks don't have a good handle on invasive species control, and they know it.
"I think what's also really concerning is that they feel like only 11 percent of them were under control, and only 23 percent of them did they actually have a plan for," said Dayer. "Given the resources and time they had available, they just hadn't been able to put in the effort to come up with a plan for what to do with them."
It's no secret that the national parks are underfunded and, in many cases, over-visited. As of the end of fiscal year 2018, the Park Service had a total $11.92 billion in deferred maintenance. There's a lot that needs doing and not enough money to do it with. However, putting invasive species management on the backburner is likely to pass on higher costs to the future.
"There's a lot of evidence that suggests that first making sure they aren't introduced is the way to go, but after that dealing with them at the beginning of the time when they show up in a landscape is much more cost-effective and easier to be successful," said Dayer. "Without a plan you would expect it would be even more challenging to have that effect."
Addressing the threat will require action from the Park Service's highest levels. Threats from invasive animals are currently under-prioritized and under-funded, and park staff say it's hard to communicate the importance of control efforts to their park leadership.
"Lacking national prioritization, park units may not prioritize invasive species management because other challenges are more pressing or because they want to avoid the bureaucratic obstacles to meeting compliance requirements for management efforts," the paper said.
However, the paper added, the Park Service should avoid siloing decisions related to invasive animal species in a structure that prevents staff in that program from effectively communicating with programs that deal with other, potentially competing, objectives. Investment in cross-issue decision-making is critical, the paper said. However, it acknowledged, "this alternative approach would require institutional change in NPS far beyond invasive animals and may be more of a long-term goal."
Such an effort will require partnerships with communities and agencies outside park boundaries, the paper found, because in many cases invasives enter parks when populations spread from adjoining lands. Additionally, many invasives found on park lands are a problem outside the park as well — collaboration could increase the effectiveness of interventions and avoid duplication of efforts.
The Park Service must also make public engagement a priority. The public's support and cooperation is critical to success, the paper said, and there are many differing opinions about how to deal with invasive species. One such example relates to the paper's finding that the Park Service should look to emerging technologies to aid in invasive species control. eDNA can be used in tandem with boat inspections to look out for quagga and zebra mussels, plant pathogens can be used as biocontrols to eradicate undesirable species and gene drives can control invasive animals.
"With emerging technology and with invasive management in general, in many cases there are philosophical decisions to be made, and there's also weighing what the public thinks about them as well," said Dayer. "There's really wide-ranging thoughts from the public on what to do related to invasive species."
Of course, enacting any of these ideas would require money, and there's no word yet as to what type of commitment the Park Service might be able to make to a system-wide invasive animals program. The group's work did not include development of a cost estimate for implementing its recommendations, but the figure would likely be significant. To be truly effective, an invasive animal control program would have to hit hard and continue afterward with long-term monitoring.
And, while land managers would no doubt like to see every single non-native species disappear from America's national parks, that's unlikely to occur — prioritization will be key.
"It certainly will be challenging to address every single population of every species of invasive in every park," said Dayer, "but I think we can make wise decisions about the ones that are having the worst impact to what people value and where we think we can have results."