Archived News
Maggie Valley looks forward to reopening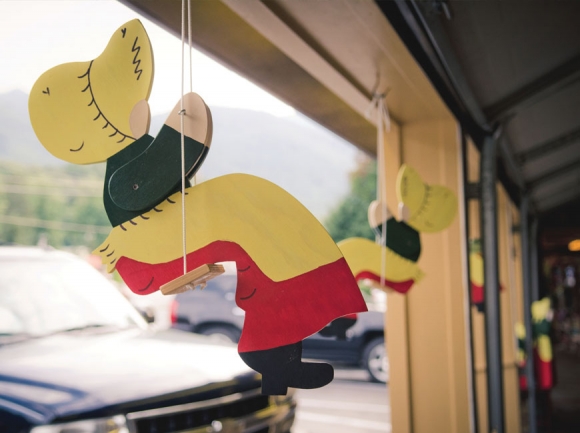 With the current stay at home order in place at least through May 8, the Maggie Valley Town Board of Aldermen is discussing putting a plan in place to begin reopening town businesses.
Maggie Valley — a town with an economy based heavily in tourism — has been shaken hard by the Coronavirus Pandemic stay at home orders. At an April 21 meeting, the town board approved changes to the Maggie Valley Festival Grounds calendar in order to postpone several events, and cancel some others. Slingshots in the Smokies, originally scheduled for May 27-30 has been rescheduled for Aug. 10-16; Kustom Kemps/Icons in the Smokies, originally scheduled for May 15-16 has been rescheduled for Aug. 22-23; and Mini Trucks, originally scheduled for April 24-26 has been rescheduled for Oct. 23-25. Thunder in the Smokies (the May 1-3 dates), Americana Featuring Balsam Range & Atlanta Pops and Elk Fest have all been canceled.
Town Manager Nathan Clark said that with the TDA revenue in decline, the organization is preparing to roll out a huge Reopening of Haywood County tourism campaign. The TDA wants to put as much money behind that effort as possible, instead of other things it was interested in, to make sure the word gets out when the county has reopened. For this reason, the TDA decided to use the money that was tied up in putting on the second annual Elk Fest to advertise Haywood County to the fullest.
Alderman Phillip Wight raised the subject of how and when the town should go about expressing to county or state officials that a "slow reopening would be strongly welcomed as opposed to extending a deadline of grief and despair."
Mayor Mike Eveland told the board he would like to have a plan in place before May 4 with dates and times concerning a slow reopening.
"When you look at Maggie Valley specific to Haywood County, as we go into June, July and August we need to have the ability to be able to start to make reservations and to be able to have the summer and the impact that we usually have on the financial side," he said.
In prepared remarks, Alderman Tammy Wight said, "I understand the fears and concerns brought about by the COVID-19, but as the governing body it's our responsibility to provide protection, goods and services — just as business owners have financial burdens as well. While we should certainly focus on public health, economic impact cannot be ignored in the process. Our economy includes many small businesses that consumers and employees rely on for their livelihood. Some entrepreneurs here have invested their lives in their businesses, and we don't need to see them shut down for good. A healthy economy creates a reduction in poverty and provides resources to combat viruses and illnesses. A weak economy causes destruction of the quality of life for people without job security or large financial revenues. I think it's time for us to try to find ways to slowly get our economy back up and going."
Clark said that future budget proposals could set aside money to advertise locally and regionally for Maggie Valley, that the town could use its resources to supplement the TDA Reopening Haywood County tourism campaign.
In a follow-up interview, Clark said that the town was ultimately at the mercy of state and federal guidelines for easing stay at home orders and reopening businesses when possible.
"It's really kind of driven by the public health component," he said.
The focus of a reopening plan would be on reminding people of all that Maggie Valley has to offer when it can reopen. As part of the 2019-20 budget, the board of aldermen set aside $40,000 for economic development activities. Most of that money has not been spent. Though no expenditures have been authorized yet, the board is considering teaming up with the TDA tourism campaign to craft a message and get it out via multiple advertising platforms.
"We want to be here to do the things we can do to support our business community to get them back to their business… we want to supply additional funding to help the businesses that are suffering by using the collective draw of Maggie Valley instead of them having to rely on their individual pocket books to try to get business back to them," said Clark.