Archived News
Galleries adapt to the struggle of pandemic shutdown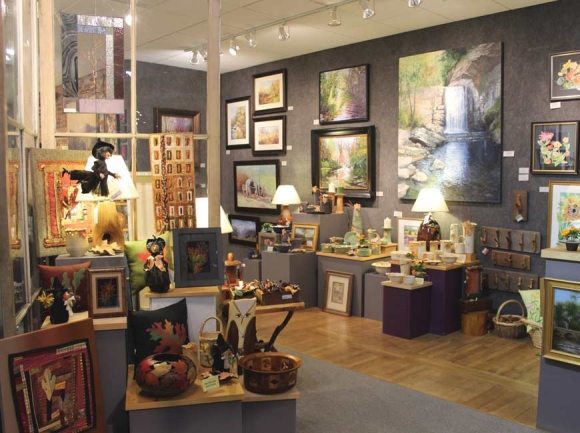 Twigs and Leaves in Downtown Waynesville is one of many art galleries closed during the COVID-19 Pandemic. Donated photo
Like much of the economy in Western North Carolina, art galleries in the region depend on tourism for survival. Just ask co-owner/manager of Twigs and Leaves, located in downtown Waynesville, Carrie Keith.
"We rely heavily on the tourism industry," she said. "I am not sure how soon people will be comfortable with traveling, let alone when we are going to welcome them back with open arms. Even most half-timers, and the locals that come in most of the time are coming in because they're bringing their guests that are visiting."
Dr. Zella Hannum, co-proprietor of Gallery Zella in Bryson City, said, "I think the pandemic will serve to reduce the number of visitors to Bryson City for the rest of this year, perhaps maybe next year as well."
While the shutdown has halted all travel and tourism for the time being, Keith expressed fear that the economic fallout from the shutdown would hinder tourism for a long time to come, with effects similar to the 2008 financial crisis.
"We've already been down this road one time, with the recession. I hope that it doesn't last near as long as that did. I hope that we can come back faster. Spending really changed after the recession, the way that people spent. Very cautiously and not as impulsive," said Keith.
Though galleries have to be closed to the public, many have adapted to processing online and telephone orders.
"The time I spend on sales has shifted to direct sales only. Before the governor's shutdown order, I made private appointments with clients at the gallery and/or the person's home or business. During the lockdown, I phone and email clients to facilitate artwork sales; then ship the art directly to our collectors. These custom orders during the pandemic have been a godsend and we are very grateful to our loyal clients" Hannum said.
Of course, it is not only galleries and their staff that are having to adapt during the shutdown. Each gallery hosts and provides a platform for so many artists.
"I have 140 artists that need me to open," said Keith.
At Gallery Zella, Hannum said that fortunately, none of their artists rely solely on income derived from the gallery.
"We did reach out to two of our best-selling artists who had drastic income drops due to art fair and show cancellations. We decided to purchase what we could to help them out. They really appreciated our loyalty," she said.
As galleries look toward reopening, possibly within the first phase of the reopening plan proposed by Gov. Roy Cooper, keeping staff and customers safe is a priority. Keith said Twigs and Leaves would take precautions like masks, sanitizing thoroughly and limiting the number of people allowed in the gallery at one time.
Similarly, Hannum said she would look to successful neighbors in Bryson City like Walgreens and Ace Hardware.
"Encourage six-foot distance between customers, wear our own masks, install a plastic shield at the cash register and touchless credit card transactions. We have also freshened up our showrooms with new artwork," she said.
Before the pandemic, Hannum said she could rely solely on foot traffic to sustain the gallery. Now, the future of gallery business may look different.
"We shall rely more on our website's online store, private appointments, and direct selling," she said.
Hannum said people would be surprised at how many folks have visited the gallery website, taken the virtual tour, and called for phone appointments during the pandemic.
"Passion for art nurtures the soul, especially now. And technology actually helps to keep this passion alive," she said.
Keith sees bumps in the road for galleries as they move toward more online traffic. "Though we have an extensive website, online is made difficult because each piece of work in the gallery is unique. That is a daunting, full time task to maintain" she said.
These gallery owners are confident that the essential nature of art will ultimately bring their galleries back to life, even if the pace of that return is lacking. "I think the return of business is going to be a slow crawl, especially for galleries," said Keith.
Gallery Zella has taken this time to slow down and reflect, something Hannum finds rewarding. She said the pandemic had given her a "month of Sundays."
"I have had the time to analyze the gallery's strengths and to institute changes that capitalize on these strengths. I have also taken time to strengthen relationships with our loyal collectors and artists. After all, our loyal collectors and artists are our 'raison d'etre' (reason to be)," she said.