Archived News
Jackson commissioners terminate billboard lease
Wednesday, September 30, 2020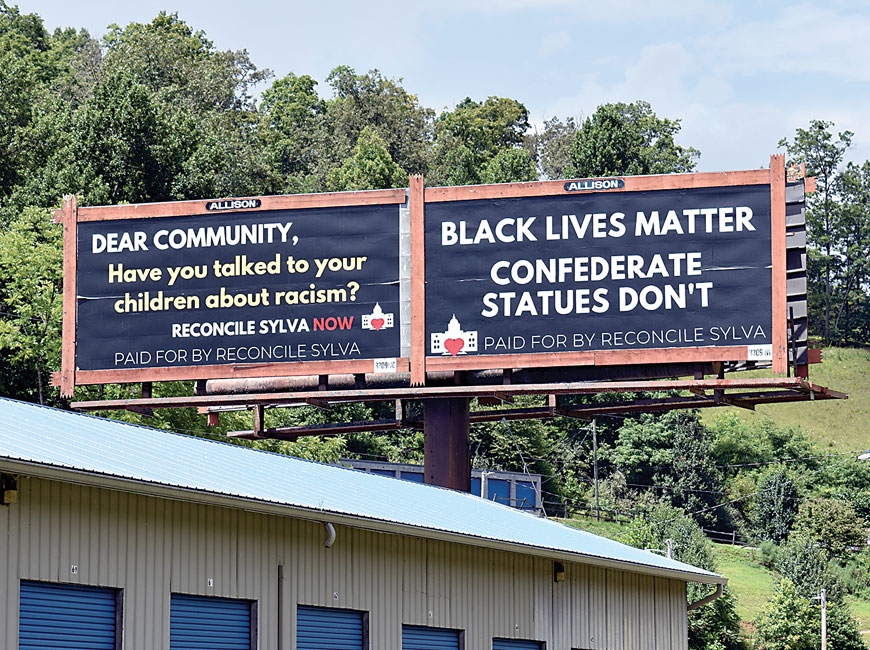 After being denied a billboard location in downtown Sylva, Reconcile Sylva posted its message at this site along U.S. 441 next to A-1 storage. Donated photo
During a Sept. 15 meeting, Jackson County commissioners voted unanimously to terminate a pair of billboard leases the county holds with Allison Outdoor Advertising, the oldest of which has been in place since 1976.
The vote came following Reconcile Sylva's August attempt to rent space on one of the county-owned billboard sites, located next to the American Legion building at the bottom of courthouse hill, and display a message opposing the Confederate soldier statue that has stood on the steps leading up to the historic courthouse since 1915.
However, Allison denied the request after it turned out that the billboard lease included a provision prohibiting use of the billboards for "political ads or issues, or for promotion of subjects which are politically sensitive or which might tend to imply the County of Jackson has taken a position in regards to a political matter."
That revelation spurred a discussion in county chambers as to whether the county should be in the "billboard business" at all. Asking county staff to adjudicate particular language choices and messaging on the billboards puts them in an awkward position, County Manager Don Adams told the board, and the income the county receives from the billboards is minimal. The 1976 lease for the billboards in downtown Sylva stipulates a payment of just $50 per year, and a 2012 lease for billboards located next to the 911 Center along U.S. 441 nets the county $2,200 per year.
Commissioners were initially poised to vote on terminating the leases during their Aug. 18 meeting, but they tabled the vote at the request of Allison Outdoor President Claude Dicks, who wrote commissioners a letter proposing some potential solutions that would allow the billboards to remain in place.
Those suggestions were discussed during a Sept. 8 work session, and commissioners expressed differing opinions as to whether it would be wise for the county to continue holding a lease with Allison. However, they all agreed that a sensible first step would be to terminate the existing leases. The terms of the leases require that the county give Allison at least six months' notice on any termination, so the Sept. 15 vote just starts that clock ticking.
"That places the burden upon them to reach out to us with favorable language that we all could agree with, and we have six months to work it out," said Chairman Brian McMahan during the Sept. 8 work session. "If we don't get it worked out then they come down."
Following the Sept. 15 vote, the leases are set to end on March 19, 2021.