Archived News
COVID-19, a difficult problem for nursing homes
Wednesday, December 09, 2020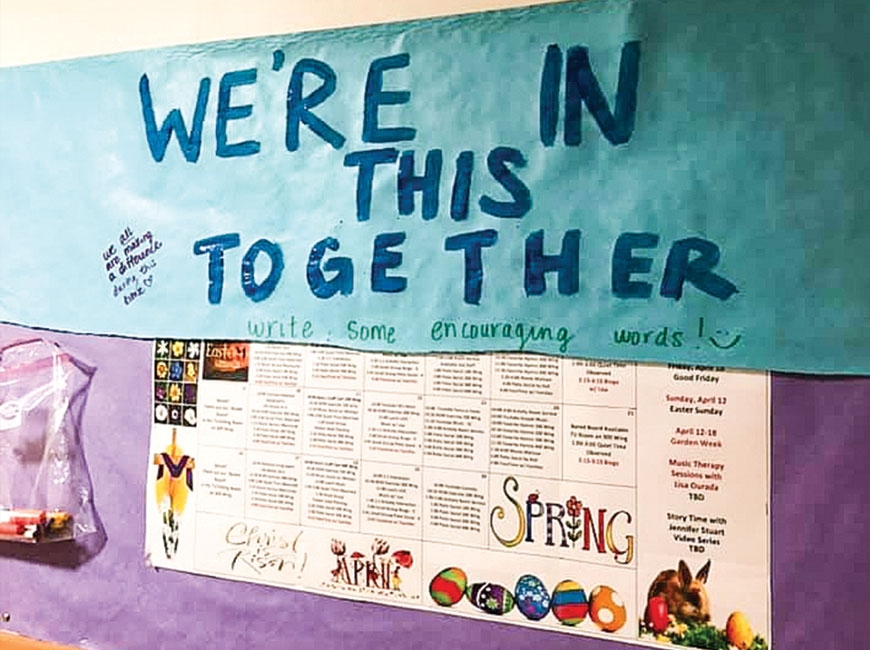 As the holiday season progresses, Western North Carolina has seen a sharp uptick in COVID-19 cases. This rising spread has made its way into long-term care and assisted living facilities, where the elderly are at a higher risk for contraction and death.
According to the Centers for Prevention and Disease Control, long-term care facilities are at high risk of being infected by respiratory pathogens like COVID-19. In Haywood County, one-third of current cases are among residents of long-term care and assisted living facilities.
The North Carolina Division of Public Health defines an outbreak in a long-term care setting as two or more laboratory-confirmed cases of COVID-19 within two incubation periods (28 days) in the same facility.
According to isolation orders, symptomatic individuals who test positive are required to remain in isolation until at least 10 days have passed since symptoms first appeared, at least 24 hours have passed since the last fever without the use of fever-reducing medications and symptoms have improved. Asymptomatic individuals who test positive are required to remain in isolation until at least 10 days have passed since their positive test, assuming they did not develop symptoms after their positive test.
In Haywood County, Autumn Care of Waynesville, Haywood Nursing & Rehabilitation, Maggie Valley Nursing and Rehabilitation, Spicewood Cottages and Silver Bluff all have current outbreaks. Two residents at Maggie Valley Nursing and Rehabilitation died after contracting COVID-19 during its outbreak.
In Jackson County, six residents at Vero Health and Rehab of Sylva have tested positive for COVID-19. On Nov. 30 a new outbreak was announced at Hermitage Assisted Living and Memory Care in Sylva. Skyland Care Center in Sylva has also had an outbreak.
In Macon County, Macon Valley Nursing Home, Eckerd Living Center and Drake Cottage have all had outbreaks.
This marks the second outbreak at Silver Bluff in Canton since the pandemic started. The latest outbreak has caused 11 residents and five staff to tested positive. Back in August during the first outbreak, some 30 Silver Bluff residents died due to COVID-19.
Five of the deaths list COVID-19 as the secondary cause of death (the disease that initiated the events resulting in death.) One lists COVID-19 as the primary cause. The individuals were all over the age of 80 and all had underlying medical conditions. The initial outbreak led to 150 Silver Bluff staff and residents being infected with the virus.
Lisa Leatherwood, administrator for Silver Bluff Village, said the source of the outbreak was a new resident, who most likely contracted COVID at the hospital. She said the new resident tested negative upon admission into the facility and then tested positive six days later.
All new intakes stay in a wing separate from the rest of the village. Each new resident is put on isolation for 14 days upon coming into the facility. They have a private room with a private bathroom. Staff wear full PPE and test new residents every three days for 14 days. According to the CDC, anyone who tests positive within the first 14 days of admission contracted it prior to coming to the facility.
Leatherwood said Silver Bluff started limiting contact between all departments back in March to mitigate spread among staff. They also require masks at all times. But during an outbreak, things are even more strict. Before entering the room of a resident, staff must sanitize, put on a gown, N-95 mask, face shield that covers the mask, gloves and shoe covers. Once that resident has been cared for, staff exits the room, peels off all PPE, sanitizes and does the same thing before entering the room of the next patient.
"You do that over and over and over, all day long for 12 hours," said Leatherwood.
Leatherwood said Silver Bluff Village underwent five infection control inspections by the North Carolina Department of Health and Human Services during its first outbreak in August and underwent another one last week. Inspections are always unannounced. During these inspections, inspectors will choose a staff member at random, within each department, and observe them carrying out their tasks. Silver Bluff received no recommendations during any of those inspections.
"Especially when we had our big outbreak, you know, we were worn out and they would come and say, 'we have no suggestions' and I mean, my director of nursing and I just sat there and cried," said Leatherwood. "If we're not doing anything wrong, why has this happened? You know, I think that's the hardest part."
With another current outbreak, residents are only allowed to have outdoor visits.
"The residents being stuck in their rooms, that's been very, very tough on them and there for months they couldn't have visitors, so they could only do window visits," said Leatherwood.
She said her staff tried to do a lot of virtual visits with family and loved ones, but because many residents are hard of hearing and/or not familiar with that sort of technology, those types of visits are difficult.
"The thing people need to think about is that maybe it's no big deal if you get COVID because you're 23 years old and healthy, but you could have an underlying condition, like the kid that died at Appalachian State, and not know it, or you could give it to your grandparents or the person you love most," said Leatherwood.
Health care workers and nursing home residents will receive first priority for vaccinations once they are approved by the FDA for use in the U.S.