Archived News
Buncombe Commissioner Jasmine Beach-Ferrara wants Madison Cawthorn's seat
Wednesday, March 03, 2021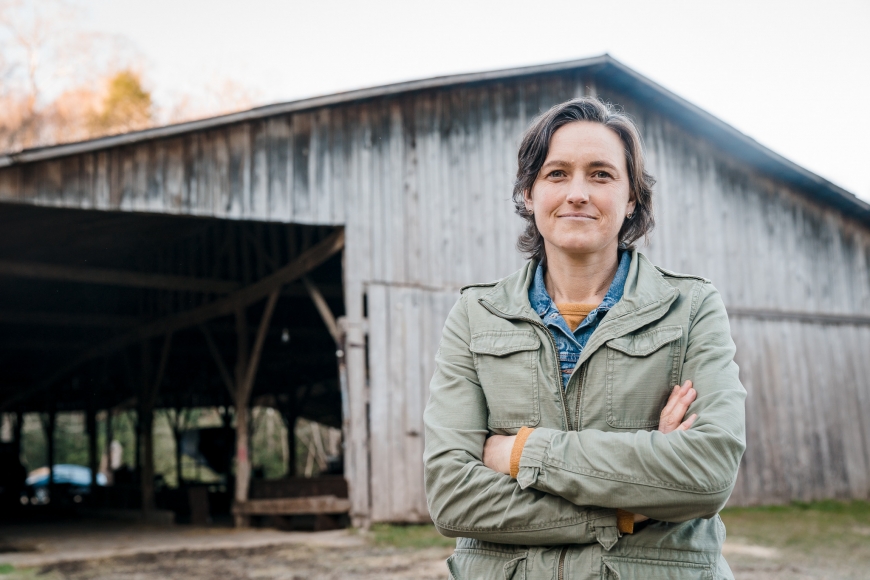 Jasmine Beach-Ferrara
Donated photo
Some people will say a gay woman who's a Christian minister just can't get elected in the South.
Those are the very first words spoken by Democrat Jasmine Beach-Ferrara in a launch video for her 2022 congressional campaign. Although she's already proved the skeptics wrong – Beach-Ferrara is currently serving her second term as a Buncombe County Commissioner – she's looking to do it again in North Carolina's 11th Congressional District.
"I'm running because Western North Carolina families deserve better than they're getting from Madison Cawthorn. My faith teaches me that leadership starts with empathy, compassion and listening and then getting to work to help people. That's the kind of leadership I want to offer instead of the division and mean-spiritedness we're getting now," Beach-Ferrara said in a press release. "This is going to be a campaign built on bringing people together, finding common ground, organizing everywhere and talking about the issues that actually matter to people's lives."
Beach-Ferrara, who lives in Asheville with wife Meghann Burke, is a United Church of Christ minister and a founding executive director of the Campaign for Southern Equality, an Asheville-based non-profit working to reduce legal, political, health care and income inequalities for LGBTQ people.
Raised in Chapel Hill, Beach-Ferrara holds an undergraduate degree from Brown University, a Master of Fine Arts and a Master of Divinity degree from Harvard Divinity School. ​She also served on the Biden Foundation's Advisory Council for Advancing LGBTQ Equality.
While Beach-Ferrara may or may not be the first Democrat to enter the race formally, she's thus far been the loudest.
Previous Democratic nominee Moe Davis, who lost to Cawthorn by 12 points in November 2020, filed his statement of candidacy on Feb. 22 but has a statement on his website saying he's still "exploring" the idea of running again.
Henderson County businessman, Iraq War veteran and Democrat Josh Remillard, who lost a 2020 bid for North Carolina's 117th House District by 21 points, filed his FEC statement of organization on Feb. 25.
Another potential Democratic candidate, Jay Carey, is also exploring a run, and it's likely he's not the last.
Cawthorn has been a controversial personality almost since the moment he joined 11 other Republicans in seeking the seat then held by Mark Meadows. Meadows announced he wouldn't seek re-election a day before the filing period ended in December 2019, and then abandoned the seat shortly after President Donald Trump's first impeachment to become Trump's chief of staff. Meadows' seat remained empty throughout the onset of the Coronavirus Pandemic as well as during votes for some of the largest federal spending packages in U.S. history.
During the 2020 campaign, Cawthorn faced allegation after allegation – Nazi sympathies, white supremacist imagery, sexual harassment of women – but his national profile got a big boost when he spoke at the Republican National Convention on Aug. 26.
Just three days after he was sworn in, Cawthorn spoke at the now-infamous "stop the steal" rally held by President Trump on Jan. 6, immediately prior to the insurrection. Since then, he's been scrutinized for his potential role in helping to incite a crowd to storm the capitol building and another round of sexual harassment allegations has emerged.
To make matters worse for Cawthorn, a key supporter in the law enforcement community repudiated him, and his own state Senator, powerful Hendersonville Republican Chuck Edwards, chastised Cawthorn not once but twice and appears to be lining up for a primary challenge.
Edwards will also have a hand in drawing the new maps that should be ready in time for the 2022 Primary Election. With North Carolina expected to gain an additional seat in the U.S. House, it's anyone's guess as to what the 11th Congressional District looks like come election time.
While Beach-Ferrara's first words to the 11th District may have been bold, she closes her video with another strong message to the skeptics.
"This BBQ-loving, football-watching proud Southern mom of three is running for Congress," she said. "And you better believe I'm running to win."
A day after announcing her entry into the race, Beach-Ferrara issued a press release stating she'd raised $100,000 in 24 hours. While she's got millions more to go to be competitive against Cawthorn, she's got plenty of time to raise it – the Primary Election is still more than a year away.
The Smoky Mountain News: Looking back on this district over the last maybe 10 years or so, we've had some very similar issues in every General Election. The first one that I'd like to talk about is common sense gun reform.
Jasmine Beach-Ferrara: I believe in the right to gun ownership and I also believe in safe communities. I know it's possible for us to support gun ownership and also take common sense steps to make sure that everyone stays safe. I'm a mom and I think, like parents everywhere, there are few things that scare me more than the thought of a school shooting. We've all lived through too many of those to not do something to help keep our children and our community safe. So I support common sense gun laws, and things like comprehensive background checks to help keep us safe, red flag laws.
SMN: Another one of these seemingly persistent issues is Medicaid expansion. That's certainly a General Assembly matter, but the excuse that I continue to hear from opponents is that we don't know if the federal government one day is going to stop that 90 percent funding level and maybe slash it to 50 or 20 or zero. If this is something we want, why don't we elect Congresspersons who pledge to continue to fund the expansion of Medicaid expansion?
JBF: Healthcare is a basic right, and far too many people across Western North Carolina struggle because our country doesn't treat it as a basic right. It's long past time for this to be a top priority at every level of government. We need to ensure that there's access to affordable care. No one should get a serious diagnosis like cancer and have to immediately worry about whether they can afford their treatment. And you're right – in North Carolina, two of the top issues that I hear about from people all the time are the urgent need to expand Medicaid and also the urgent need to shore up our rural health care systems to and make sure that folks in rural communities and small towns have the access they need to get care in their hometown. These would be top priority issues for me in DC.
SMN: The last of these persistent issues is rural broadband. We've made some good advances with help from the state and especially the federal level with the Rural Digital Opportunity Fund. It's a windfall for these western counties and most are fairly pleased with the amounts, if not the pace. Do you think that there's more that can be done from a federal level?
JBF: This has got to be a top priority. How do federal, state and local governments and other anchor institutions work together to expand access but also accelerate the pace at which we're expanding access? We need to think about this like we would any utility. I see people from across the political spectrum coming together and getting to work on solutions.
SMN: I don't know that we've had a county commissioner as a congressperson maybe ever, but certainly not within recent memory. How has your experience on the Buncombe commission prepared you to go to Washington?
JBF: It has been and continues to be such an honor to serve on county commission and my role and responsibility there is very much like the role and responsibility of a congressperson. I think it starts by listening closely to people about what matters to them, what they need, what they dream of, and then finding ways to translate that into policies and actions that actually help people. When you actually look at the portfolio of issues that county commissions work on, there's actually a lot of mirroring of federal policy priorities. You've mentioned a couple of them so far – things like rural broadband – but some of the top priority issues that I focus on in county commission are things like responding to the opiate crisis and the mental health crisis in our community, expanding access to early childhood education and pre-K and job creation to help create a stronger economy where folks can get jobs they can raise a family on. A big part of why I'm running is the track record I've built as a county commissioner and the lessons I've learned in that process, and the fact that I know that what we also need in Western North Carolina is strong leadership on the federal level to wake up every day and focus on exactly those issues.
SMN: What do you think you learned from watching Moe Davis last year?
JBF: I've learned a lot from watching everyone who has run in this district on both sides of the aisle. And what I know about organizing I know because I've spent the last decade of my life or more organizing all across the South, including in a lot of small towns and rural communities. I know this as a minister and I know this as a county commissioner – our politics are at our best when it's about the people who are involved. It's about focusing on policies that speak to our highest dreams, our deepest values, and a shared sense of purpose. That's exactly the kind of campaign it will be. I'll be building from a strategic level. We'll be organizing everywhere in the district because that's how you build strong campaigns. We'll be talking to folks who perhaps haven't heard from a Democratic candidate in quite some time and we'll be building a campaign that's running to win.
SMN: One of the important things I think we learned last time is the important distinction between a Primary Election and a General Election. Some of the folks I've spoken to already about your campaign say that you may be too liberal to win a General Election in this district. How do you respond to that?
JBF: When I first ran for county commission in 2016, folks told me I wasn't gonna win. I ended up winning. When I ran this last cycle for reelection, I was running against a very popular Republican and people told me I wasn't going to win. I ended up winning. The way I've won these races is twofold, and it's the way I approached being on county commission, the way I'd approach being in Congress, which is that our politics and the work of our government is about serving our people. And it's about listening to what matters to people and developing policy solutions to respond to that. That approach is what I've done at county commission. You know, until quite recently we had a bipartisan body there and I'm very proud of the work that I was able to do along with Republican and Democratic colleagues, to respond to them as critical issues in people's lives, whether it's expanding access to treatment for opiate addiction, expanding access to pre-K. So what I like to do when people say that is just say, look at my track record, but also let's talk about the here and now, and let's talk about how we move forward together.
SMN: The overarching question about the November 2022 election is what this district ends up looking like. Do you have any insight into that or any feelings on how we may look at this map in a year?
JBF: When I announced that I'd be running for reelection in 2020 for county commission, the maps were being redrawn and the lines weren't finalized until several months after that. I won that campaign by organizing everywhere, listening to folks, running very strong field operations.
That's exactly how we'll be building this campaign, which is organizing in every corner of the district, talking to folks who haven't heard from a campaign for a while and also building big tables of folks who are ready to focus on meeting the needs of people in Western North Carolina.
SMN: Last one here for you. Tell me one good thing that Madison Cawthorn has done for this district since he was elected.
JBF: Let me tell you about the kind of campaign that I'm planning to run, which is a campaign built on love and hope and faith. I think those are the things that are important as we think about how we bring our community together. I'm actually less interested in talking about Madison Cawthorn and more about what's possible in Western North Carolina, talking about the politics of bringing people together around a shared vision of how we can help lift people's lives up.